End of year performance!
Year 4 gave a brilliant performance today for KS1 and lower KS2. Mr Storey has been working with year 4 all year and the progression was clearly noticeable. All children could play the correct chords by following the progression on our interactive teaching resource Charanga. All children were engaged, enthusiastic and showed they have a great talent with their musical ability. Well done Year 4!
ISING!!
Our Glee Club had a wonderful time showing off their musical talents at the Liverpool Philharmonic Hall. They joined in with many songs and dances and were a credit to our school for the whole day!
OLI'S Got Talent!!
What an amazing end to music week! All week classes have been working so hard to get their performances ready for our very first OLI'S Got Talent, as well as doing lots of there learning through musical ways.
KS1 and KS2 were an absolute credit to themselves and our school during the show, with some outstanding performances that encompassed many musical skills including singing, dancing,playing instruments and performing with confidence.
Here is just a handful of photos that sum up the hard work that was shown by all today! Thank you to all staff for getting involved with their classes performances, being judges, hosting the show and also for showing children we love music ourselves (by taking part in a KS1 dance off).
Spring!!
Year 3 have been lucky enough to be given a slot with Mr Storey to learn how to play the guitar. Today they have had lots of fun using the instrument and can't wait to have their weekly music sessions incorporating this new skill and improving even further!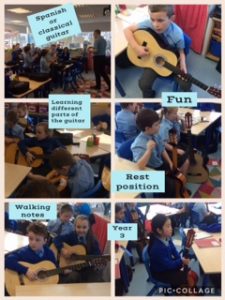 Year 2 have shown so much progress this term. They can now read music (with the support of Miss Hardwick) and play along at the same time! Click on the links to have a watch and listen!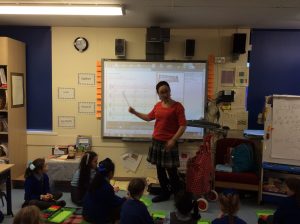 Our lady Immaculate sings it's way to success through working in partnership with Resonate Music Education Hub!
At Our Lady Immaculate we embrace new technology and our music curriculum is delivered through the digital music resource Charanga. The children work through a spiral of progression making music through singing, playing, improvising and composing. We are currently working with Miss Hardwick, a specialist teacher, from Resonate music education hub based at Notre Dame Catholic College. The Charanga scheme enables children to access the Music Curriculum through exciting lessons engaging children in interactive music making. Miss Hardwick works alongside staff in order to develop skills, confidence and greater subject knowledge to ensure all elements of the music curriculum are delivered.
Mr Storey from Resonate music education hub is teaching guitar to our Year Four pupils this is part of the nation wide initiative that all children within this age group should learn to play a musical instrument.
Follow the link to find out more about our partners as Resonate http://www.resonatehub.co.uk/uploads/files/Making_Music_Matters.pdf
Extra Curriculum Activities
During lunch times children from Year Two are invited to learn to play the recorder, they are currently working towards an end of year performance for their parents and friends. Some Year Five and Six pupils are part of a lunchtime guitar club, building on skills they have learnt in previous years.
Children from Key Stage Two can access the Lets Play and Resonate Singers ensembles which are based at Notre Dame Catholic College.
KS2 children are also able to access 'Glee' club which is a chance for them to show off their skills learned during music and gain confidence to perform as part of a team.
Autumn!!!