What is a School of Sanctuary?
A School of Sanctuary is a school which is committed to being a safe and welcoming place for those seeking sanctuary.
It is a place for those whose lives were in danger in their own country, who have troubles at home or are just looking for a place where they feel safe.
It is a school which helps its pupils, staff and wider community understand what it is like to seek sanctuary.
It is a place which extends a warm welcome to all and values everyone as being equal, valued members of the school community.
It is a school which is proud to be a place of safety and inclusion for all.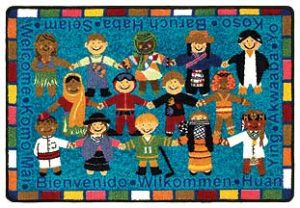 A School of Sanctuary is a school that helps its pupils, staff and wider community understand what it means to be seeking sanctuary and to extend a welcome to everyone as equal, valued members of the school community. It is a school that is proud to be a place of safety and inclusion for all.
Schools of Sanctuary is a growing network with more than 350 primary and secondary schools all committed to supporting the thousands of young people seeking sanctuary in the UK, creating a culture of welcome, and raising awareness of the issues faced by refugees and asylum seekers.
Refugee Week 2021
This year Refugee Week will be held from 14th-20th June 2021.
The theme of Refugee Week 2021, 'We Cannot Walk Alone', is an invitation to extend your hand to someone new.
"Reach out to the people you don't know. Find the unfamiliar, hold out your hand…
Refugee Week takes place every year across the world in the week around World Refugee Day on the 20 June.
In the UK, Refugee Week is a nationwide programme of arts, cultural and educational events that celebrate the contribution of refugees to the UK, and encourages a better understanding between communities.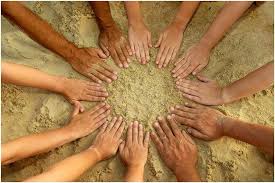 This week the children will learn what life may be like for a refugee.
That refugees are real people, just like us who we can welcome.
That God is three persons: Father, Son and Holy Spirit.
This poem was inspired by some of the children in our school who have, at some point in their lives, been troubled or encountered hardship. The thoughts and actions of others towards these children have convinced us that Christ exists in our school and in each and every one of us. 'David' represents any child who has ever needed the help and support of another. Those who helped him, allowed us to see that Christ is in us all – we simply need to show him from time to time.
"The life of each of us has an influence on others."
(Book of Wisdom – Old Testament)
I Saw Christ in you all that day
A grey Monday morning, the class in a huddle
A bell, a rush, leaping over each puddle.
But David's not there, it's been a bad night.
Police came the house again – his folks had a fight.
Twenty past nine and he shuffled in late
His clothes! His hair! He'd forgotten the date.
It was school photo – clean jumpers, tidy hair.
He blushed and in his head he thought "life's not fair."
But his pal saw him coming, he knew what was up
He said in his head, 'that kid's had enough.'
I'll catch him in a bit. Put a smile on his face,
It's a week 'till Christmas, kid should feel ace.
Then a girl turned her head, it was Elizabeth Shay
With a smile on her face, she looked David's way,
It was free! Cost nothing! Slight lift of the lip.
But his heart warmed slightly, took him out of his dip.
Then James patted a chair, said 'sit beside me,'
Whispered in his ear, "you'll be fine – you'll see.
You can lend my jumper and Joe's got a comb,
And time school's over things'll be fine at home".
The bell rang for break, no money for toast
"I've had a big breakfast" David pretended to boast,
But the teacher with the snacks, she knew him too well
She knew he was hungry, but too proud to tell.
So she beckoned him over, with a twinkle in her eye
"Forgot your change Tuesday, take a piece," she lied.
There were tears in his eyes—'cos Miss was so nice,
Then Stephen pointed his way and said "miss I've paid twice."
So with toast in each hand, he flew down the stairs
Safe in the knowledge that he had people who cared.
'Man of the match' when they played with the ball,
He knew he'd played rubbish, but he felt six feet tall.
Then onto the photos, "please sit in that chair,
Fix your tie. Keep still. Don't mess with your hair".
Miss said he was handsome, the picture looked great,
He wondered about the kindness…was it God, or just fate.
The police had called school, said "watch out for that boy.
He needs to feel good, bit of attention…bit of joy."
So the head and the mentor, they gave it some thought,
Drew on their experience, remembered everything they'd been taught.
So at lunch, Mr Wall, who takes kids to play chess,
Called him over, for what? Was anyone's guess.
They chatted about life, then onto the fight.
Said school would help, reassured him…it'd be alright.
In the afternoon it was Art, it helped him forget.
Miss helped him loads, felt like teacher's pet.
Then the kids all went home, but he had to stay.
Miss took him along the corridor, "she was going the wrong way."
She looked him in the eye, said 'can you be strong?'
'What happened last night was so, so wrong'.
'But we've spoke to Mum, we've spoke to Dad,
Told them we looked after you and for that they are glad.
We're getting them help, to make things better,
Give them these numbers and she handed him a letter.
"They're in the office, want to make things right.
They've told me…they've promised! They don't want to fight.
So David was pleased, things were going to be fine,
Life would get better but he knew it'd take time.
He thought of the kindness that everyone had shown
It was like they'd been there last night, like they had known.
But it was God who'd been there, at the time of the fight
He knew David needed help, needed to show him some light
So he appeared all day, in the guise of others,
Showing his love, like Sisters and brothers.
The compassion, the thoughts, which helped him that day
Was the presence of God, it was just his way.
And you know David, that kid, could've been Gemma… or Paul…
But the kindness existed cos God's there for all.