Here at Our Lady Immaculate Primary School, we have integrated a selection of excellent electronic learning platforms into our curriculum. All pupils have been trained in these platforms, and teachers have been trained to help them deliver and provide feedback to the children's remote learning, where possible. We feel we are equipped to take on the challenge of lockdown and offer excellent quality education to all pupils who are working remotely through isolation during the Covid-19 pandemic.
Our aim is to provide high quality online lessons and activities for our pupils to complete remotely that follow our curriculum as laid out in our curriculum planning. This means the work that pupils are completing remotely is the same or very similar as work that would be completed in class, in a normal school year. Please view our Remote Learning Curriculum Overview 2021-2022 for further details.
We are committed to offering our broad and rich curriculum to both pupils in school and those working remotely in the event of a pupils needing to isolate.
All work completed on Seesaw is marked and teachers will give feedback on each piece of work completed. When work is sent to year group emails, the children's class teachers will respond to them and provide feedback on work sent in. We will also be in regular contact with all parents through regular phone calls, emails and zoom calls with the children to give feedback, offer support and check on their wellbeing.
We follow DFE guidelines and set work that will take up to four hours per day for key stage 2 and up to 3 hours for Key Stage 1. If you need any support in this matter, please email the relevant year group below.
All children have been given their log in details for all of the online learning platforms, but if you need a reminder, please email the relevant year group and we will get straight back to you. The year group email addresses can be found in the 'Home Learning Portal'
Remote learning Support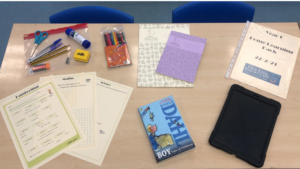 We have created Remote Learning Support Packs for our pupils who are working remotely. This pack has been produced to help support remote learning and we feel it will help create a "classroom at home". We are already thrilled by the levels of engagement with our remote learning and we are sure these packs will help you at home.
Remote Learning Books – these can be used if pupils want to complete work on paper and upload the photograph of the work
Remote learning planning overviews for each year group on the key stage home learning portal
Electronic passports for each child- a document containing all the electronic usernames and passwords in for your child linked to the remote learning platforms
Electronic devices– contact the school admin team to pick up a device today
Internet dongles– contact the school admin team to pick up a device today
Quality reading books chosen by your child's teacher to support reading at home
Mindfulness activities and support
Stationery packs available on request
Handwriting access to Letter Join
Paper Based Packs for children when using electronic devices can be a barrier to their learning
SEND support through the website and access to contact SENCO directly via email
Zoom welfare calls each week
Video messages from class teachers directing children to the learning each week if a bubble needs to isolate.
If you would like a pack created for your child, please email the relevant year group and we will prepare it for you. If you have a reading book at home or a completed paper pack that you would like the teacher to provide feedback on, please bring that with you when you pick up a new pack.