World Cup Football Tournament!
Today we had the privilege of attending a football tournament hosted by our friends at LSSP in the style of the world cup! The very ambitiously planned event saw 32 schools all competing in a format identical to that of the world cup, complete with a group stage, knockouts, penalties, all without the stress of having to watch England play! 9 year 6 boys (plus Finley from year 5!) arrived and couldn't wait to begin!
Our group that we were drawn into was a very difficult one, complete with some schools that have fierce reputations for amazing football. Our first match resulted in a 1-1 draw that was only possible thanks to a stunning last-minute equaliser from Josh! We then played St. Paul's, a fantastic team, and played brilliantly to only lose 1-0! On the way out at the end of the day we saw St Paul's playing a penalty shout-out to make the final and this made us feel really proud of our accomplishments! Our last match was an unfortunate 3-1 loss that showed every cloud has a silver lining given that we saw Zinedine (usually a reserved, tackling defender) score his first ever OLI goal!
Sadly, we exited the competition at the group stage but the best was yet to come! 16 other schools had exited with us and we spent the rest of the day using the time, the pitches and the talent to have a series of friendly games with some other local schools! Kacper was wonderful in goal, Kole showed how much his defensive skills have progress, Oliver captained the team amazingly, Zinedine played his best ever day's football, Ryan scored an amazing free kick, Jemylord played in several positions through injury, Ethan played his first ever competitive event and scored a goal, Finley played amazing football as the pitch's youngest player, Josh used his amazing pace and stamina and lastly Oscar played through adversity and bounced back from some missed chances! We had a fantastic day, thank you to LSSP for organising it!
Have a look at the photos below!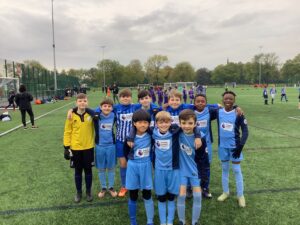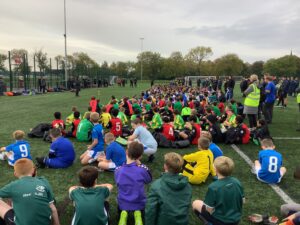 Click her to see a bonus video of a wonderful penalty!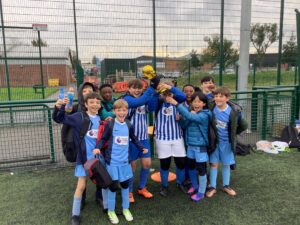 A Chess Tournament!
Today 5 lucky children were taken to North Liverpool Academy for a unique opportunity – a chess competition! Some of our children love to play chess during wet play and this was a wonderful chance for some children who might not usually represent our school at competition level to try something new! Our children showed that they are keen strategists and could think several moves ahead, adapting to the way that each of their opponents played! They also had to get used to working with a 'shot clock' that limited their time to use their reasoning skills! Mr Fairclough found it easy to pick his 5 children after having fond memories of being beaten by the children during wet play in the past! A great time was had by all and we'd love to see more children trying their hand at this fabulous game that broadens the mind! Have a look at the photos!
Liverpool 2-0 Everton – Red Neighbours Tickets!
6 very lucky children won a prize draw to attend Saturday's derby thanks to a generous donation from our friends at Red Neighbours! The children (and staff) were so excited before the game to see a derby and the seats were amazing! We were lucky enough to see 2 Mo Salah goals, a red card, a penalty and most importantly 3 points for Liverpool!
Tennis Tournament – An OLI First!
This afternoon, a group of key stage 2 children took part in our school's first ever tennis tournament! As part of our PE premium budget, tennis was chosen as a focus after we listened to the views of some school council members. Mr Fairclough (being an outstanding tennis player himself) saw to it that a net, new rackets and balls were bought for the school and that tennis would become a part of our playtime provision.
After several weeks of honing our skills in tennis on the yard, our PE team scheduled a competition of doubles to take place between children from our own school! It would be a test of teamwork and a chance to put the skills that we've been developing into use! After pairs were dramatically pulled from a hat, the round robin style tournament began! Some amazing shots were made and it was great to see children apply the techniques that they'd previously learned. A tense final was eventually set between 4 children in year 5 and the winners were Colin and Jacob! They received our brand new tennis shield but every player represented themselves and their school wonderfully. Will Colin and Jacob be able to hold onto their title next time…? Have a look at the photos below!
Dodgeball Tournament – A Historic Victory!
Today marked a historic moment in our sporting calendar as a group of year 5 children not only took part in a lovely dodgeball competition… but they managed to win it!
A group of 10 year 5 children went to North Liverpool Academy (with a quick cameo appearance from Mr Fairclough on his lunch break) and took part in a series of dodgeball heats. With the 10 split into an A and B team, they used all their skills in throwing, dodging, catching, teamwork and resilience to achieve some fantastic results. It was clear that the children were remembering their learning from year 4's PE lessons!
Eventually, OLI reached the final against the Beacon and after a tense best-of-3 match began a deciding game was played! OLI were on top until a final finishing throw from Jimmy made OLI the winners! This is the first time in a few years that our school has won an inter-school competition and we were overjoyed. It's not all about the winning and sportsmanship matters more… but it felt good to win!
All children received medals and our OLI sports team gave each child a customised certificate in celebration assembly! A huge congratulations to Colin, Bella, Elise, Jimmy, Raphael, Leighton, Pixie, Nathan, Charleigh and Dolly! Have a look at the fabulous pictures below!
Premier League Primary Stars Football!
Today 8 lucky children from year 6 travelled to the annual PL Primary Stars football tournament! The 'round robin' football event saw 7 schools take part in 'mini-matches'. The team did really well, winning, losing and drawing 2 matches to finish middle of the pack against some very challenging opposition! Here's a run-down of their achievements!
Kacper – A stunning display in goal (very big goals at that), conceding only 3 goals in 6 matches.
Oliver – Showing experience and tenacity at the back, possibly our player of the tournament!
Zinedine – The most talent person named Zinedine to ever play football; he supported the defence brilliantly.
Kole – Playing in his first school tournament, he held his own against some of the tournament's most prominent attackers.
Jemylord – A brilliant captain's display! Scoring our first goal and playing every minute of every match!
Josh – Tireless work-rate and being the recipient of a sportsmanship award from the event organisers at the prizegiving!
Ryan – A great display both on and off the ball; Ryan scored a lovely solo goal in one of the later matches.
Oscar – Assisting Jemylord with a clinical pass and thoroughly establishing himself as our school's number 9 to lead the attack!
Have a look at some of the photos below!
Tennis Launch!
School have used our annual PE premium budget to purchase a range of new tennis resources including a net, dozens of rackets and hundreds of balls! Our PE lead Mr. Fairclough is a huge tennis fan and he's loved seeing the children using the resources for our newly reformed playground provision! Children of all ages have been using tennis activities to practice their skills in teamwork, communication and resilience. Mr Fairclough plans to use the skills that children are developing to host some inter-school tennis competitions and potentially even a trip to a local tennis club! Have a look at the images below!
LFC Ticket Prize Draw!
Today some of our children made the journey to Anfield stadium to take part in the draw for LFC tickets! Our friends at 'Red Neighbours' have been generous to hand tickets out to local schools for several years now and a highlight for us is always the excitement of finding out what matches we would have the chance to see! Mrs Coulson took Zinedine, Connie and Igor and each children drew out one match that we would get to see!
Firstly, we found out that we would be seeing Liverpool vs Everton in November! The derby! Next, we drew out Newcastle in December and lastly Wolves which happens to be the last home premier league game of the season! How lucky! Maybe we'll even see some silverware there? Before leaving, the children were fortunate to meet the LFC mascot 'The Mighty Red' and take some photos! Have a look below!
Cheerleading Launch!
This is a first for OLI! Our wonderful PE coach Britney works on a Monday afternoon to teach dance to our children and has worked with our PE team to launch a brand new after-school club with a focus that we've never used before! Cheerleading is growing in popularity as a sport and it has been chosen as a focus given its reliance on teamwork, healthy lifestyles, rhythm and most of all the positive nature of the sessions!
Both girls and boys from years 4 and 5 joined in with the session and loved it! Apparently they're working on some routines that we will be sharing with parents and in school assemblies very soon! Britney has even mentioned that there are competitions that we could possibly enter so watch this space and have a look at the photos below!
Rugbytots 2023/2024 Launch!
Children in years 1 & 2 were delighted today as our new course of Rugbytots began! OLI have worked with Rugbytots for 6 years now to provide wonderful PE provision through games and activities based around rugby! It might look like a bit of a rough sport on television, but our sessions focus on non-contact games that emphasise communication, teamwork and use of motor skills. Have a look at the photos below!
Year 5 & 6 Sports Day
Children in year 5 and 6 competed in a sports day today! After the event had been previously cancelled due to rain, the children couldn't wait to start! Split into 4 teams, it was to be red, green, yellow and blue teams and children dressed to match their team's colour! We couldn't wait to start…
The event began with basketball shots, football penalties, a throwing game and the always-exciting javelin throw! Teams showed wonderful teamwork skills to accumulate points on each station! We then split into races, with teams eagerly cheering all competitors on from the centre of the racetrack.
After the races, we loved seeing parents races and we even saw a rematch between Miss Graves and Mr Fairclough! But I'm not going to include the details of the winner…
After a lot of counting and verifying, the blue team were announced as winners! Captain Matteo lifted the trophy to his team's delight. Everyone cheered on the winners and there was a lovely sense of fair play, teamwork and fun! Below are some pictures highlighting that!
Year 3 & 4 Sports Day!
What a sports day it was for children in year 3 and 4!
Children were split into equally mixed groups before the events. We had red, blue, green and yellow teams and children couldn't wait to get started after rain had resulted in the date for sports day being re-arranged. Parents and family members flooded the yard as the afternoon began and there was a real buzz in the air…
The event began with a carousel of activities in which the 4 teams had to use teamwork to accumulate as many points as possible! There was basketball, football, throwing into targets and the always exciting javelin throw! It was lovely seeing teams cheer their friends on and work together to build a bank of team points!
Once the field events were finished, it was time for the races! Some very close races ensued and everyone's sense of fair play and teamwork brought a really nice feeling to the occasion. After each child had completed their race, scores were counted and everyone waited with bated breath…
While we waited for the final results, we greatly enjoyed watching some dads, brothers and uncles racing as well as some mums, sisters and nans! Finally, there was the teachers' race in which Miss Graves STARTED RUNNING BEFORE THE WHISTLE and beat Mr Fairclough! A re-match has been scheduled…
After the scores had been counted, it was announced that the green team had won! All children cheered and applauded which was very nice to see. We all really enjoyed this year's 3/4 sports day. Year 5 and 6's turn next week!
Below are many photos from the event!
Blue Run 2023!
Children from years 2-6 had a fabulous time today as we took part in the 2023 Blue Run for Joseph Lappin. This memorial race is held annually at Everton Park and was celebrated in great spirit by our children as well as our friends at Faith, Millstead and The Beacon primary schools!
Everyone enjoyed their races and the sense of team spirit and support was lovely to see. A special mention to Joe, Elsie, Pedro and Finley who managed to win their races and be presented with a trophy by none other than the Lord Mayor! Have a look at the photos below!
School Gold Games Mark 2023!
We were delighted to receive this year's 'School Games Mark' gold award for our work in providing opportunities for our children in both PE lesson time and extra-curricular opportunities. Read below to see what the games mark says about our school!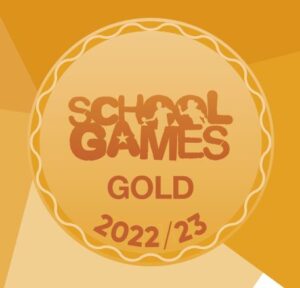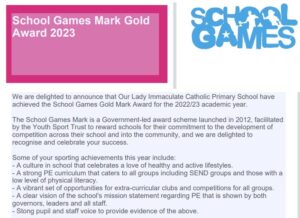 Swimming Gala!
8 children in key stage 2 represented our school brilliantly in the Liverpool schools' swimming gala! They completed races in a variety of strokes and came 3rd in the competition!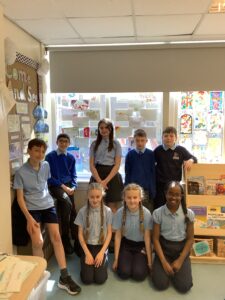 Boys' Football vs St. Paschal Baylon!
After a brief rest for Christmas and some icy conditions, our boys' football team returned to the KMC league to play their next under-11 fixture against St. Paschal Baylon. We knew from reputation alone that it would be a challenging match and it proved to be! The team fought brilliantly but ultimately lost 2-7! In spite of this, knowing that our team is a relatively young team with only 2 year 6 children in the squad, we all left the ground with a great sense of pride in the effort that we'd put into the game. Here's the rundown of the performances with some photos (and even a video) at the end!
Kacper – Another solid display in goal, the highlight of which was producing one of the saves of the season given a one-on-one chance. His little brother Kuba did keep scoring past him in the warm-up though…
Kole – A brilliant display of defending the right side of the pitch against an extremely talented left winger. 'Kole Train' kept sprinting relentlessly for the ball and produced what was by far his most impressive performance in an OLI shirt.
Zinedine – As well as making us laugh by singing Christmas Carols while he was on the bench, 'Zinno' had a solid game with lots of defensive pressing and communication against a voracious attack.
Oliver D – Leading the defence and showing resilience against such a strong SPB side – Oliver stayed on the pitch in his position for the entire 50 minutes and as always was a credit to his side.
Oliver R – The birthday boy, turning 9 today and still managing to tackle 11-year olds like it's nothing! Oliver had another game to be proud of at left back.
Joe – Leading the team with pride as captain as always, Joe kept rallying the troops through some adverse moments in the game and managed to produce on of the most exciting runs of the season as he cut through the entire opposing team from a kick-off!
Jemylord – Growing with confidence every game, Jem played the entirety of the match at centre-mid and went toe-to-toe with some outstanding players. I'm sure he's itching to be back on the field next Thursday!
Jimmy – Adapting to a slightly altered role in midfield, Jimmy again showed why he's such an exciting young prospect for the team, linking up well with other midfielders and relentlessly running to press the opponents as they passed the ball out of the back of the pitch.
Frankie – A sparkling return to the team for Frankie, we've missed both his skills and his voice in the team. He was relentless in attack and linked up really well with Joe, with whom he plays at the weekend. His efforts were finally rewarded with a (slightly dubious) penalty which he dispatched brilliantly, you can watch Frankie's penalty here!
Oscar – Oscar showed a new side to his game today with a relentless press on the opposing defence as they passed the ball. He was so unlucky not to score as a rebound didn't quite bounce nicely for him and just went over the bar, but he'll be back next week and thirsty for goals!
Finley – A sublime match from one of our youngest players, he ran and pressed with such a positive attitude. His performance was one to be proud of regardless, but then he managed to score his first ever OLI goal in the closing moments of the match!
Players of the match – Frankie and Kole!
Year 3/4 Sports Hall Athletics!
It was another fantastic afternoon spent at Notre Dame High School with LSSP for the year 3/4 sport hall athletics tournament! We took part in various races and field events including long jump, triple jump and javelin throw! Captain Colin led our squad of 20 children with amazing enthusiasm and it was so nice to see the children supporting their friends during the events.
Bella and Hana managed to win their 5-lap relay as well as Finley and Colin winning their 2 lap relay! A then already-tired Finley had to race again with Jimmy in the boys' 5 lap relay which they managed to win even after an early drop of the baton! Once all race times and field results had been collated, OLI were announced as finishing in a very respectable 4th place! Have a look at the photos below!
Year 5/6 Sports Hall Athletics With LSSP!
Friday afternoon saw a large group of year 5 and 6 children heading off to Notre Dame for one of our favourite events of the year, LSSP's sports hall athletics!
The afternoon saw the children competing in various races including relays, races involving obstacles and long-distance events. The hall was packed with schools and it was lovely to be a part of such an energetic and excited crowd. The children performed brilliantly and everyone supported their teammates excellently from the side when not racing! A special mention to team captain Frankie for leading the team and helping to organise what order our relay runners would race in!
Afterwards the group began the field events which consisted of an exciting mixture of jumping, throwing and stamina-related activities including chest push, high jump, triple jump, quick step and long jump. Both our boys and girls group performed really well and it was nice to see the children tactically plan out who would partake in which event as a means of playing to our strengths.
The event finished with my personal favourite, the javelin throw! The crowd was going wild as everyone willed their team to victory. Another special mention to our boys group of Gerard, Frankie and Joshua who won their javelin throws!
Everyone finished the competition smiling, happy and in need of a good rest over the weekend! Have a look at our pictures below!
Dodgeball Tournament!
A group of year 4 children joined our friends at LSSP for a dodgeball tournament at North Liverpool Academy earlier today. The team of 8 consisted of captain Jacob with Elise, Steven, Connie, Kaidan, Leighton, Freddie and Zak! They showed their skills with some amazing dodging, catching and throwing and the competition was played in a lovely sporting spirit by all. Officials at the competition were handing out badges in keeping with our sporting values such as fair play, leadership, honesty and resilience and each and every one of our children was awarded at least one badge over the course of the event. Well done! Have a look at the photos below!
Football Season Begins!
Please read below for tonight's match report and pictures!
Tonight our boys' football team began their new season with a match against St. Edward's! Our football teams are a great source of pride for all at OLI and we were all so excited to get the season up and running again with a new team! St. Edward's are an extremely skilled side who managed to beat us 14-1 last season, so there was some trepidation going into tonight's fixture (mainly from the manager). However, even with an injured captain and a team consisting of only 1 year 6 child and 9 children making their league debut… the team did our school incredibly proud. The match finished with St. Edward's running out as 3-0 winners, but in all my years leading the team I've never seen a group so proud of their efforts in spite of a loss. They did brilliantly and here's some insight into why…
Kacper – Playing in goal for the first time in a goal that size. Producing a stunning diving save in the first half and handling the ball really well. We have a safe pair of hands between the sticks for this season!
Oliver R – Making his debut in an under-11 league at the age of 8… and playing as left-back even though he's right-footed! A herculean task but Oliver showed tenacious and skill in his positioning and tackling, combining really well with the other Oliver in the team! A fantastic display!
Oliver D – Doing his duty as vice-captain by filling in for the injured Joe G as captain, Oliver had a stunning match at centre back! His tackling, leadership, effort and resilience were a shining example to all the other children. Oliver is a wonderful attacker and enjoys seeking goals… but after this sublime performance we  might have to keep him as centre-back for a little while longer!
Kole – Playing his first ever match on a proper football pitch! What a great effort by Kole in starting out his journey of representing his school. He built in confidence as the game went on, getting used to the very wide pitch and dealing well with a very dangerous left winger for the other team. Go Kole train!
Zinedine – Well someone called Zinedine would have to have as least some skills on a football pitch, right? Zinedine's debut for the team showed all his strengths as a calculated, agile defender and his performance was one of real quality.
Jemylord – Jemylord made his debut for the team… and his debut as a footballer as this was his first ever real match on a pitch. He showed all the natural ability that I expected of him with amazing stamina in the heart of midfield and for continuing to keep up his level in spite of the long match. Considering that this was his first ever game I'm extremely exciting about what the future holds…
Ryan – Ryan adapted to a late position change due to our captain being injured and he took to the role of more responsibility really well! He was vocal, strong and played through a first-half knee injury with resilience. As well almost taking out a car window in the car park with one of his free kicks, he was the attacking heart of the midfield and helped to create many chances!
Bobby – In spite of being exhausted from his efforts swimming that afternoon, Bobby showed his skill as the most experienced player in the team with good positioning and passing and also being selfless by doubling back to help in defence.
Jimmy – As the youngest player in the team, again playing in an under-11s league at the age of just 8, Jimmy was amazing as he was able to build attacks and feed in our strikers with his natural flair and touch of the ball. Jimmy is a very versatile player who can play in attack or defence and we were all very impressed on the debut of what promises to be a promising future for the team!
Finley – Finley (recent blue run winner) showed abundant energy as he showed his skills in pressing defenders for the ball. His commitment and efforts were amazing and again this is from an 8 year old playing against 11 year olds! A brilliant performance Finley and it will be the first of many.
Oscar – Oscar is our new number 9 and he deserves this prolific number given his skills in finishing and attacking. I'm sure he would have liked some more opportunities to shoot on goal today given that possession was largely in the other half of the field but his commitment to pressing, making runs and leading the attack was very admirable. Well done!
A huge well done to the team, congratulations to St. Edward's who played a great game with commendable sportsmanship! Many thanks again to the referees and officials from the KMC league for their efforts, we'll see you soon I'm sure!
POTM
From Miss Hanlon (even though she went for a hot chocolate and missed a bit of the 2nd half) –  Finley for amazing pace and efforts in attack!
From Mr Fairclough – Jemylord for being a diamond in the rough, playing his first ever match on a proper pitch and showing great skills!
Have a look at the pictures below!
Blue Run for Joseph 2022!
We were overjoyed to take part in this year's blue run for Joseph! The event is a series of cross-country races taking place in honour of the memory of Joseph Lappin. Children from 3 local schools all took part in races for boys and girls from years 2 to 6! Our amazing group of children performed brilliantly winning 7 of the 10 races on the day!
The results were:
Year 2 girls' race won by Daisy! Tilly, Elise and Isabelle also did themselves proud!

Year 2 boys' race won by Pedro with Luca coming in 2nd! George and Aarush also raced well!

Year 3 girls' race won by Ella! Fern, Tilly and Rosie all placed well!

Year 3 boy's race won by Jude! Kuba, Aboubacar and Sonny all finished very close to the top spot!

Year 4 girls' race was run by Charleigh, Elise, Bella and Connie! All of whom did really well even if they were too tired to be in the mood for photos afterwards!

Year 4 boys' race was won by Finley! Jacob Joseph and Gabriel all raced very well, Jacob even wanted a 2nd race to take place straight afterwards! An idea Elise was not fond of…

Year 5 girls' race was run fantastically by Shekinah, Nyla, Samar and Hanna. The girls all supported each other and their team-mates throughout the afternoon!

Year 5 boys' race was run very well by Ethan finishing the highest of our group! Joshua, Jemylord and Nouhan also did their friends and families proud.

Year 6 girls' race was an OLI 1-2 with Pearl coming 1st and Leen coming 2nd! Lola and Mia also finished in good positions!

Year 6 boy's race was amazingly another OLI 1-2! Joe won, Frankie came 2nd Gerard overcame a twisted ankle to still complete the full race to a huge round of applause from his friends!
A huge thank-you to the organisers of the race and all participants! We're already looking forward to the Blue Run 2023!
Have a look at some of our photos below that we hope to add to once we are sent the official photos taken by photographers at the race!
RugbyTots Launches For New School Year!
We were overjoyed to begin our RugbyTots sessions for children in key stage 1 this week.
OLI have been working with Rugbytots for the last few years to provide outstanding PE provision for teaching skills in spatial awareness and physical literacy through rugby.
Children in year 1 and 2 began their sessions and will continue up to Christmas, after which reception and early years will begin their work.
Look at our photos below and see how the sessions built children's skills in teamwork, resilience, listening and using their gross motor skills to achieve!