Geography is an essential part of every child's education. It is much more than just a subject,
'Geography is the study of Earth's landscapes, peoples, places and environments. It is, quite simply, about the world in which we live' Royal Geographic Society.
We were awarded with the Primary Geography Quality Mark at Bronze Level in September 2016, showing that we plan deliver 'lively and effective geographical learning in primary schools'.
Teachers ensure policies impact on pupil learning and are not afraid to take risks, and innovate and challenge to achieve progress in geography. Key threads through the curriculum are inter-cultural understanding, local fieldwork, environmental issues and dilemmas connected with sustainability. These are explored in a variety of places across the world from local to global. The schools uses creative approaches to stimulate learning and place a high value on using real life issues to promote understanding.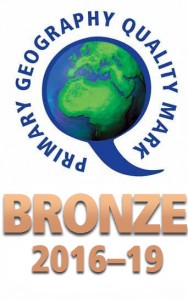 The National Curriculum recognises that:
A high-quality geography education should inspire in pupils a curiosity and fascination about the world and its people that will remain with them for the rest of their lives.
Through our curriculum we aim to build upon the child's 'personal geography' by developing geographical skills, understanding and knowledge through studying places and themes. Geography is a very important subject to help children learn about the diversity of our world. As the children progress they will deepen their understanding of the interaction between physical and human processes. For this reason, outdoor learning and fieldwork is an essential element in the teaching of this subject. It is important for children to experience Geography in a real life context.
At Our Lady Immaculate we implement the Geography curriculum through the 'Learning Challenge Curriculum.' This imaginative topic based curriculum successfully builds on pupils' cross curricular skills and knowledge as they move through the school. As most of the topics are related to national and local events, the needs and interests of all pupils are met.
The teaching of Geography through the Learning Challenge Curriculum focuses on enquiry based learning. At the start of each new topic children have a 'pre learning challenge' to investigate. Each objective within a topic is question based to allow for both independent and team work enquiry, discovery, research and investigation. Speaking and listening, presentation and conversational skills are vital for the teaching and learning of Geography. ICT skills are especially enhanced through the use of iPads for researching, videos to provide stimulating Progression is planned within the curriculum so that children are increasingly challenged as they move up through the school.
An example of some of the topics children might cover throughout the year are:
KS1
Why can't a meerkat live in the North Pole?
Where do the leaves go to in winter?
What would Dora the Explorer/Ben 10 find exciting about our city?
Why do we love to be beside the seaside?
KS2
What makes the earth angry?
Has Greece always been in the news?
Why is the Mersey so important to Liverpool?
Why should the rainforest be important to us all?
Year 3 and 4 were learning about 'What makes the earth angry?' during the first half term. The children were enthusiastic about the topic and were so inspired that they enjoyed researching at home and reading some of the fantastic earthquakes and volcano books during 'reading for pleasure' time. Some of the fantastic work that they produced on this topic can found in the gallery.
Useful Geography websites: