Key Stage One – The Great British Bake Off
We looked at how to design, prepare, make and evaluate Gingerbread Showstoppers as part of our Topic. The children worked in project teams and learnt about health and safety when baking.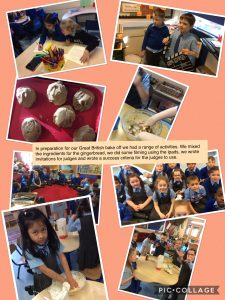 What does Design Technology look like at Our Lady Immaculate Primary School?
At Our Lady Immaculate design technology (DT) is a time for children to design, explore and create. Working closely alongside the art and design curriculum, DT provides our children to create something with a purpose. As a school we currently follow the learning challenge curriculum, in which the children learn through answering questions and through this children are given the opportunity to create something linked to their topic. For example:
In Key Stage 1:
Designing and making a moving toy
Designing and making a vehicle
Design and make a toy that could have been made 100 years ago
In Key Stage 2:
Design and make a bridge that opens
Make Mediterranean style food
Design and make pyramids