Cross Country at Wavertree Sports Park
The first event of the Cross Country calendar is always a tough one, with pupils getting to grips with what is expected of them during the races.
We were lucky enough to have 2 or 3 pupils who had taken part in one race last year, who helped the younger ones to make it through. Well done to all the team, but a special mention to girls captain Katie Trainer, who made it into the top 30 out of over 100 runners!
If your child is interested in joining our after school running club, please speak to Mr Garth. Also, Liverpool Harriers Athletics Club are looking for Year 5 and 6 pupils to join their cross country teams – to take part in events across Merseyside. They train at Wavertree Sports Park on Tuesdays and Thursdays, 6:30 – 7:30pm.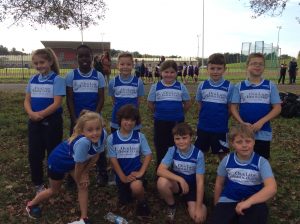 Girls:
Katie Traynor – 29th
Poppy Spellman – 34th
Amber Mitchell – 102nd
Boys:
James Wamulo – 80th
Dylan O'Brien – 84th
Joe McFarlane Wells – 87th
Ruben McNeil – 93rd
Ethan Atherton – 97th
Liam Pike – 105th
Christy Goodall – 106th