St George's Pantry opens tomorrow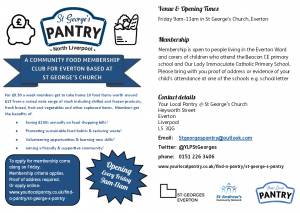 Thank you to the parents who came to the information meeting last week . We are pleased to announce that Pantry Sessions will be on Fridays 9-11 am in St George's Church, starting this Friday.
Members (including yourselves if you wish) can sign up as a member online using the link below or in person at their first visit. For both online and in person applications members will need to bring with them to their first visit- £3.50 and proof of address or connection to either the Beacon or Our Lady Immaculate schools e.g. a school letter.
More details can also be found in the attached flier. Please feel free to pass this on to people that you know who meet the membership criteria and might benefit from becoming a Pantry member. If you have any questions, please don't hesitate to contact us.
Kind regards,
St George's Pantry!