Match Report 21st March 2019. Our Lady Immaculate 5-0 Carleton House
Our boys' football team played another KMC League match today at Heron Eccles. After a long drive, the boys were eager to get started at attempt to win their 5th league game in a row! There was a delay with the start of the game as the referee was delayed, so Mr. Fairclough took the whistle and left Miss Harland in the manager's role…
The boys made a quick start that was rewarded within seconds as Dan Smith was brought down inside the box and a penalty was awarded! Lennon "The Sniper" Williams (named for being deadly at long range) proved that he could also finish from the spot as he slid his penalty into the bottom right corner for 1-0!
OLI continued to press on, with attackers Lucas, Jack, Adam, Dan, Luke and Gradi all combining really well as they were brought on and off the pitch as substitutes. Shortly after, a goal of the season contender was ripped in from 20 yards out. Gradi was under pressure from defenders and produced a curling effort whilst falling over that found the top corner for a truly stunning goal! It was 2-0, but not for long. Jack Traynor's one-on-one chance produced a third goal and the boys went into the second half 3-0 up.
The boys had won their last 4 games, but were yet to keep a clean sheet this season. With that in mind, defenders Jonny, Tom, Oscar and JP dug in brilliantly to assist keeper Ayman, who himself was having a great game, saving a one-on-one chance with his fingertips.
Adam Gallagher got a slight touch on a cross and found the bottom corner to score his 3rd goal of the season and OLI's 4th of the game. With minutes remaining in the game, Jack Traynor scored his second goal of the game with a wonderful curling effort from the edge of the box. The match ended 5-0: an excellent result!
Many thanks to KMC Sports again, as well as Carleton House for fielding a young, energetic team with lots of promise and excellent sportsmanship.
Boys' Friendly Match: OLI 1-4 Rice Lane – February 28th 2019
Tonight our boys' team played Rice Lane in a friendly match in which children in year 6 who don't play for our league team, as well as some younger children, got their chance to shine! The boys were very excited at the prospect of playing as the game kicked off…
Early passing and tackling was good, with midfielders Kieran and Luca linking up well with our more attacking players. Disaster struck early on for OLI as a trip in the area saw the referee (a very disloyal Mr. Fairclough) award a penalty kick to Rice Lane. The spot kick was converted and Rice Lane took an early 1-0 lead.
The boys showed excellent resilience and bounced straight back, creating chances of their own. A corner kick from Lucas was met with the arm of a Rice Lane defender and the boys had a penalty of their own! Year 4 Oliver was brave enough to step forward… and he slotted the ball to the keeper's right corner and in! A debut goal for a young and promising player! The half ended 1-1.
The second half began with substitutes Austin and Rayyane linking up brilliantly and altering the way the game was played. Captain Kane Garvey kept things solid at the back, with Jamie and Jaden supporting him as wing backs. Rice Lane took a lead with a long range looping effort that was unstoppable. The boys could have really let their heads drop but they maintained focus, with debut goalkeeper Luke making some excellent saves, including bravely diving in to a one-on-one chance and stopping what would have been a certain goal.
With minutes left, OLI had to push players up in an attempt to equalise, which unfortunately meant they were vulnerable at the back. This resulted in two late, counter-attacking goals for Rice Lane that saw them run out deserved winners at 4-1. The boys' sense of sportsmanship was excellent, which handshakes and congratulations given out in good taste. We'll be returning during the Summer term and will attempt to get a win! Many thanks to the big crowd for their support and to Mr. Cooney and Rice Lane for their commitment to getting games played throughout the year.
Oli Boys' League Football Match: OLI 4-3 Faith . 14th February 2019
Our boys' football team played their 3rd KMC Sports league game of the season today against local friends/rivals Faith Primary School. The boys had won both their first 2 games and knew that a win would put them in a strong league position, but they also knew that teams from Faith are always loaded with talent.
The match began with a bang; the boys were passing the ball in midfield very well with captain Dan Smith linking brilliantly with Jack Traynor and Gradi Nkongolo. The breakthrough goal came after 10 minutes when Gradi broke free in the box and attempted a Wijnaldum-esque chip! The ball soared over the keeper, looked headed for the top corner… when striker Luke Buckley slammed it in to the top corner from extreme close range to make sure of the goal! VAR was consulted (in the form of Mr. Cotton) and the goal was given as Luke's!
Faith equalised soon after with a one-on-one finish but OLI didn't get down-hearted. What followed was a goal of the season contender. Jack, Gradi and league debutante Lucas Parkinson linked up with stunning passing before Jack slotted in a goal with his weaker foot to send the fans into raptures! OLI used this momentum to score a 3rd when Lucas rifled a shot into the roof of the net from the edge of the area. Lucas became the first year 4 child to score a goal in a league match this year! The half ended 3-1. In spite of keeper Ayman falling over the ball as he attempted to clear it, spirits were high!
Faith began the second half with renewed energy and scored very early into it. At 3-2, the match was on a knife-edge when Gradi produced a moment of magic. He turned a defender and curled his effort into the top corner from 25 years out! A crucial goal against his old school!
At 4-2, the game became even more tense at Faith scored again! At 4-3, Dan, Lennon, Jonny and JP showed why their defensive skills make them keystones of the team. Tackling was excellent, with Oscar Kwasny sliding in repeatedly to save keeper Ayman from difficult situations. With one last attacking run from regular striker Tom Farrell, the final whistle blew and OLI ran out very tight winners. Big thanks to KMC sports for the organisation as well as to Faith for producing a great game.
MOTM: Oscar Kwasny – Excellent tackling and passing, showing a huge improvement over the last 12 months.
Boys' Football Cup Match Report: 8th November 2018
OLI 4-2 Blessed Sacrament
Our boys' football team played against Blessed Sacrament after school on Friday. It was the first group game in the annual 'Group Cup' competition which puts teams against each other in a mini-league format. The boys were very excited to be playing group football but knew it would be a tough ask.
The match started as a tight and defensive game, with both teams fielding a very physical back line of defenders. The breakthrough came after 10 minutes when an OLI corner was whipped in and met brilliantly by Jonny Gee with a header than flew into the goal! It was 1-0, Jonny's first goal for the team after over a year of solid defensive work at the back! Things would continue to go well for OLI as striker Gradi Nkongolo scored a close-range effort shortly after for his first ever OLI goal. At 2-0, the boys continued to press on and our prolific number 10 Lennon 'The Sniper' Williams scored a beautiful goal to make it 3-0. Lennon lobbed the keeper from the edge of the area to produce an unstoppable finish just before half time. The half ended 3-0.
Blessed Sacrament came out fighting in the second half with a wonderful display of resilience and perseverance. They used counter-attacking football to put themselves right back in the game by scoring 2 goals in quick succession to bring the score back to 3-2! The OLI players (and manager) were nervous at the prospect of losing their lead, but keeper Ayman produced a wonderful save from a shot that was going into the top corner to prevent a Blessed Sacrament equaliser.
The boys dug in brilliantly. Defenders Tom, Oscar Jonny and JP had to hold steady at the back, winger Daniel Smith tracked back to support the defence and maintain the lead, with attackers Gradi and Jack having their best games to date by providing an attacking threat. With minutes left in the game, Gradi drove a low effort into the bottom left corner from the edge of the area to score his 2nd goal and OLI's 4th, putting the game to an end! The final whistle blew shortly after and the boys made it 2 wins out of 2 for the season.
MOTM: Gradi Nkongolo – One of the team's younger players; Gradi was a constant attacking threat and used strength to score a brace. His attitude and sense of sportsmanship were also flawless.
Match Report : OLI Boys Vs All Saints Boys   8.10.18
Final Score OLI 4: 2 All Saints
Today was the first league game of our under-11 boys' team's season. Our squad of 12 played 9-a-side vs All Saints; a very physical and capable team that we'd had a very close game against last season.
The match began with quick build-up play as new players in the team looked to get into a rhythm. A defensive partnership was struck up between Jonny, JP, Tom and Oscar as the attackers looked to get in behind All Saints' strong back line. Chances came thick and fast, with Lennon 'The Sniper' Williams testing All Saints' keeper with some ferocious long shots. OLI eventually drew first blood with a stunning right-footed strike from number 8 Adam Gallagher slamming into the top left corner, 1-0!
All Saints responded with some wonderful build-up play of their own. Through balls tested the footwork of our defenders and new shot-stopper Ayman pulled off some excellent saves from stinging long-range shots. On the verge of half-time, an unfortunate deflection left All Saints' number 12 in to dribble through the last defender and slot a ball into the OLI goal, the half finished 1-1!
Some changes were made at half-time with Jack Traynor making his debut in midfield and immediately stringing passes together with his classmate, JP. OLI were unfortunately caught on the counter early into the second half and went 2-1 down! The team rallied together and showed wonderful resilience that was rewarded in an instant reply in the form of an equaliser from newly appointed captain Dan Smith. Dan's re-invented himself as a winger this season and the number 13 slotted a Salah-esque left footed finish in from the box. 2-2!
What followed was a very tense 10 minutes. Both teams hit the frame of the goal (a stunning effort from debutante Gradi) and the capacity crowd were roaring the team along all the way (and laughing at the manager). Ryan Lennon beat the keeper from short range but the ball bounced back off the post… into the arm of an All Saints defender! A penalty was awarded and number 10 Lennon sent the keeper the wrong way to put OLI back in front!
OLI continued to mount pressure. Centre-back Jonny kept his defence under control and ensured no late equaliser would arrive. Striker Luke Buckley was playing through injury and his bravery was rewarded as he fizzed an effort in at the keeper towards the end of the match which was parried and turned in by Ryan Lennon for his first OLI goal! The match finished 4-2.
The boys' teamwork and resilience was stunning in this match and I'm so proud of them. Special thanks to all the parents for their support/heckling as well as Mrs Bowcock who was on social media duty!
MOTM: John-Paul Salter. Tireless defending all game as well as supporting the attack brilliantly. Such an impressive first game for OLI Boys !
Match Report: OLI Girls vs Norman Pannell Girls   24.9.18
Final Score OLI 10-0 Norman Pannell
A huge well done to the girls who took part in today's match vs Norman Pannell school, the first match of the new league season! The matches this year will take place on brand new 4G pitches at Broadgreen school and the girls were very excited to get things going in the 7-a-side league. Ruby, Shelby and Aaliyah returned to the team from last year along with newcomers Paige, Maria, Sophie, Mayar, Ava and Eva.
The match was fast-paced from the beginning with both teams pressing the opposition's defence in search of the ball. A long throw-in was hurled into the box early on and Aaliyah knocked it in from close range to give OLI their first goal of the 2018-2019 season! Shortly after, newly-appointed captain Ruby Richardson went on a long run from defence, using her strength to pass a few players before threading a through ball to Shelby that Shelby tucked in for 2-0!
It wasn't long before Shelby found herself in front of goal again and she slotted in her second goal of the match. Excellent wing play from Ava and Mayar meant that the ball was getting into the Norman Pannell box often, resulting in a foul shortly before half time that gave away a penalty! As Shelby stepped up to take the spot kick, both Mr Fairclough and Miss Harland guessed that Shelby would go to the keeper's left… they wouldn't have saved the pen as Shelby drilled the ball into the top right corner for a first-half hat-trick! In the last seconds of the half, Eva scored a low effort from close range for a debut goal meaning that the score was 5-0 at half-time.
The girls maintained their focus but also ensured professionalism and sportsmanship throughout the second half. Maria and Sophie were very solid from the back to ensure a clean sheet, while Ruby's excellent tackling helped OLI to maintain possession. This resulted in many more chances being created including a quick 6th, 7th and 8th goal, all scored by Shelby! Going after Mo Salah's goal-scoring record?
On the verge of full-time, OLI scored 2 more quick goals, both as a result of intelligent finishing from Aaliyah. A hat-trick for her too! It was lovely to see the team communicate so well and support each other throughout, the result was excellent but the attitude of the girls did our school proud.
Player Of The Match: For excellent enthusiasm, communication and finishing, Shelby Steele.
Boys' Football Match vs. Rice Lane
Many thanks to the boys who took part in a friendly match today against city champions Rice Lane. Rice Lane have put together an excellent side that saw them win both the league and the cup this year. Our boys fought very well but ultimately lost 5-1. Here's a quick run-through of what the boys have to be proud of.
Kamil Skop – Excellent saves throughout the game keeping the first half very close for a long time.
Ruben McNeil – Playing through injury to keep the defence in check.
Francis Westhead – Fearless tackling and leading the back line for the whole game.
Daniel Smith – Limiting the right wing's effectiveness with excellent tackling and movement.
Jake Jones – Playing an excellent second half to reduce the Rice Lane lead.
Joe McFarlane-Wells – Playing out of position and still being an extremely effective leader in midfield.
Scott Tynan – A wonderful debut; Scott looked right at home playing at this high standard.
Luke Buckley – Playing like he belongs on the pitch despite being a year younger than the other boys.
Billy Smith – A dead ball specialist, Billy's corner set up our goal.
Dylan O'Brien – Leading the team with wonderful communication.
Zac Abbou (MOTM) – Working tirelessly in attack and scoring a great goal.
Thanks to the boys again for playing, their sportsmanship was great. Special credit goes to Joe for making Mr. Fairclough and Miss. Topping look for his lost bag for 20 minutes before realising he'd left it in school.
Cross Country at Wavertree – 22/2/18
We had some fantastic results at cross country tonight! Cold conditions faced both our girls' and boys' teams in the race taking in most of Wavertree park but that didn't stop us posting our best results this season. With our final race at Sefton Park next week, all the pupils have set themselves targets to beat this week's positions!
Boys:
Bobby – 18th
Ruben – 41st
Harrison – 43rd
Scott – 45th
Dylan – 65th
Thomas – 70th
Girls:
Macey – 53rd
Poppy – 60th
Shelby – 80th
Year 6 Boys' Football Tournament – Anfield Sports Centre – 7th February 2018
A huge thanks to the year 6 boys who participated in a 6-a-side tournament today at the LFC foundation.
The boys were exciting to play in the mini-league format, and with scouts watching on they wanted to put their best efforts in to represent OLI and possibly enter a regional final!
The league consisted of playing 4 small matches with a team of 6 and 2 subs. The first game began with a bang, as captain Joe McFarlane-Wells scored a stunning hat-trick, added to with a goal by number 10 Bobby Mitchell. The match ended 4-1 and the boys began their league campaign off wonderfully.
MOTM: Ruben McNeil
The boys hoped that their good form would continue to the second match, which proved to be true when a long range effort (maybe a pass?) from Bobby Mitchell landed in the top corner! Unfortunately OLI conceded a late goal from a fast, low effort. Billy Smith hit the frame late on which unfortunately meant the game ended 1-1. 4 points out of 6 meant that it was still all to play for!
MOTM: Francis Westhead
The most entertaining game was undoubtedly the 3rd one. It was an abysmal start for OLI, the late equaliser from the previous game resulting in a slow start that saw the boys go 2-0 down. However, a peach of a volley from Zac Abbou made it 2-1, before a stunning solo goal from Joe saw OLI equalise. Joe took on 3 defenders down the left wing before rounding the keeper and slotting the ball in. Dribbling past 2 thirds of the opposing team to score meant that Joe won the "goal of the day" award from the event organisers. The game ended 2-2.
MOTM: Joe McFarlane-Wells
The final match was against the league leaders and a tense first half ended goalless. Zac Abbou came on at half-time and scored with his 2nd touch! A truly masterful decision from the coach… An equaliser quickly went in that saw another tight draw end the league campaign. Excellent defense from Jake, Kamil and Ruben limited the league leaders to just 1 goal.
MOTM: Zac Abbou
The boys finished the day undefeated. This saw them finish 3rd in their league. If I were an LFC scout, I'd sign them all. Their sportsmanship and attitude were flawless and it was a pleasure to be there representing OLI with them.
KS2 Boccia North Heat – NLA 1st December 2017
After taking two teams last year, with both reaching the city finals (and one winning!) we added a third team into the mix, consisting of some new blood to the sport. Once again, our pupils were extremely successful, seeing all three teams qualify for the city finals and last years heat winners (Liv, Harrison and Georgie) taking first place in this heat.
Boys' Football vs. All Saints (W 3-0) 30th November 2017
Our boys' final league match of 2017 took place this afternoon against All Saints. The boys were looking for a 5th straight league win and confidence was high…
However, the boys quickly realised that this match was going to be an extremely tough challenge. All saints had a very physical team that were capable of competing with us on the ball. Chances were very sparse in the first half, with neither team attempting many shots on target. The comfortable win the boys may have been looking for was going to be hard to get!
Keeper Kamil Skop made an excellent save shortly before half time, as well as defenders Daniel Smith, Francis Westhead and Ruben McNeil continuing their excellent season thanks to excellent tackling and positioning. OLI's issue was that goal-machine striker Dylan O'Brien wasn't seeing much of the goal! The half ended 0-0.
After some "hair dryer treatment" from their manager, the 2nd half began. Winger Billy Smith came on to play on his preferred right side, and the boys began to play more positively. The breakthrough was difficult to find though, especially as captain Joe McFarlane-Wells picked up an injury that he was fighting to play through.
Eventually, with about 5 minutes left to play, Zac Abbou threaded a perfect pass to Joe that left him one on one… Joe aimed for the far right corner and the deadlock was broken! Joe's now scored 1 match in every game, making it 5 for the season! With the score in their favour, OLI were galvanised and looked to increase the margin…
This happened about a minute later as Billy floated a corner in that was met with a stunning volley from number 10 Bobby Mitchell. The volley was on course to fly in for Bobby's 2nd of the season… just as Jake Jones got the slightest of touches on it to steal the goal! Sorry Bobby.
Just before full-time, another corner was cleared off the line by a defender to deny Jonny Gee a goal… though the clearance smashed into Jake Jone's side and rebounded up and over the keeper into the net for 3-0! Jake had somehow managed to score with a tackle; it was his 4th of the season.
The match ended there. All Saints were extremely unlucky and came within minutes of salvaging a point, they'll be tough opponents for any team this season.
MOTM: Joe McFarlane Wells. Recovering from a tough first half, leading his team with heart, and scoring the goal that led to the win. Joe is invaluable to the team and he's having a great season, well done!
Boys' Football vs. St Francis de Sales (W 6-1) 29th November 2017
Today our boys' league team played their 4th game of the season vs St. Francis De Sales. Top spot in the league was riding on this match so the boys were desperate to get stuck in! A capacity crowd watched on as the game began…
It took all of 2 minutes for the deadlock to be broken! A low cross from Zac Abbou was met with a close range finish from Dylan O'Brien for 1-0! A frequent goalscorer; Dylan was undoubtedly an excellent summer signing! He proved this again by making it 2-0 minutes later with another effort inside the penalty area.
Though 2-0 down, St. Francis De Sales showed how dangerous they were as defender Jake Jones "fell into" a striker in the box to concede a penalty! When 2-1 looked imminent, Kamil Skop made an excellent diving save onto the bar to stop the penalty taker! Mr. Garth was attempting to referee and reviewed the goal-line technology before ruling no goal! OLI used the momentum of Kamil's save to attack and set up a chance for Joe McFarlane-Wells that he took beautifully with a driven finish. His 3rd goal of the season meant 3-0! Soon after, Dylan netted a first-half hat-trick to end the half at 4-0!
As Jonny Gee came on for the second half into a new central midfield role, the boys continued to press with Bobby Mitchell coming very close to a goal several times. The relentlessness was rewarded through Zac Abbou scoring another OLI goal to add to his 2 goals from the previous game! Dylan scored a remarkable 4th goal soon after for an OLI 6th, putting him in leading contention for the golden boot.
Before full time, St. Francis De Sales scored a very deserved goal from close range after a corner. This made it 6-1, which left Kamil a bit unhappy to lose his clean sheet, though he'd like me to make it known that the goal was "definitely not his fault". The game finished 6-1 with another excellent result for the team. Many parents commented at how nice it was to see the boys not only enjoying themselves, but for playing with such positivity. Let's hope for the same in tomorrow's final league match!
MOTM: Daniel Smith. Faultless defending and professionalism, Daniel is only in year 5 but plays with the game of a much more experienced player, he was excellent today.
Gold Games Mark Award 2016/17
We gratefully received our Gold Games Mark Award for the academic year 2016-17, once again showing our dedication to providing outstanding PE and sporting opportunities for all of our pupils. Mr McGinn from the Liverpool School Sports Partnership spoke to the pupils in KS2 about how the award reflects all of their hard work and that they must keep making the most of every opportunity which comes their way.
This is one of many awards which the school has received, which OFSTED were extremely positive about when inspecting the school last week. Thank you to all of the pupils for their dedication to PE and sport, as well as their parents and families for supporting them in every way, from having the correct PE kits, to supporting at competitions.
Girls' Football vs. Emmaus 1-3: 23rd November 2017
Many thanks to the girls in years 5 and 6 who played in today's league match vs Emmaus. It was the girls' first match the season and we were all very excited to get playing! Captain Livvy Roberts led the team out which consisted of a variety of girls from year 6 returning to the team, as well as Ruby Richardson and Shelby "The Steel Mobile" Steele making their debuts from year 5.
The match began with some tough luck for OLI. A corner from Emmaus was headed in at close range for 1-0. Our girls responded extremely positively, supporting each other without an ounce of blame. This resilience was rewarded shortly after when a through ball to striker Macey Jacobs went through the keeper's legs for an equalising goal. 1-1!
Mia McCarthy and Lavelle Lamb were helping to run the midfield with precise passes and fearless tackles in an attempt to find Macey upfront. Unfortunately momentum shifted when a stunning Garth-esque effort from 30 yards out flew into the top corner for a 2nd Emmaus goal. The unstoppable shot was unlucky as the girls were playing excellently as a team. The half ended 1-2.
Some teams may have sulked, but the girls had a half-time group hug (something that we're yet to see from the boys' teams) and returned to battle in the second half. Defending was excellent as a barrage of shots came from Emmaus. Ruby Richardson was letting nothing through, as well as stunning work-rates from Penny Donnelly, Holly Lewis and Gabriella Bennett. Keeper Livvy was making excellent saves from several long-range efforts, using both the hands and feet to great effect. Unfortunately, a late goal for Emmaus came when a save from Livvy rebounded to a lurking attacker who finished from close range. The match ended 1-3 soon after.
Congratulations to both teams for a close match with excellent sportsmanship highlighting how to lose and win with grace.
POTM: Gabriella Bennett. Excellent tackling and passing, as well as smiling throughout the whole game. A real team player!
Boys' B Team Football Match vs. Rice Lane 3-3: 22nd November 2017
Many thanks to the boys from year 6 who played for the boys' football team in today's friendly match vs Rice Lane. After a league match vs Rice Lane a few weeks ago, the schools agreed to a friendly rematch with totally new teams to give some players a chance to show what they could do; the match didn't disappoint!
In spite of the game being a friendly, the boys came out determined to get a result and their early efforts were rewarded with a breakthrough chance for striker Harrison Hunter. His effort slid past the keeper and in off the post for 1-0! The boys were delighted but knew that there was a long way to go against this very capable team, with keeper Daniel Adeboye making an excellent save from a free kick shortly after.
After possession quickly changing hands a few times, the ball fell to winger Dominik Balcerzak who struck the post… before Harrison claimed the rebound for his second goal! Celebrations were short-lived though as Rice Line pounced on a mix-up in the box to make it 2-1 on the stroke of half-time.
Conditions were tough as the second half began. Rain was thundering down and the pitch was extremely slippy. Referee Mr. Garth was, as usual, struggling to see the ball clearly enough to make correct decisions (the game was also momentarily interrupted when a pitch invader decided that the quickest way to retrieve his rain-sodden portable telephone from the opposite touchline was to run in an ungainly manner directly across the pitch). However, the boys fought through the fatigue and difficulty of the game to get their heads up to play their best football in the second half. Defenders Ben, Aeen and Antony changed their gameplan after half-time and communicated excellently. This led to a defensive clearance leaving Harrison clean through to slide in a 3rd goal for OLI and a hat-trick for Harrison! Again Rice Lane bounced back immediately with a brilliant goal from a counter attack, leading to a tense last 5 minutes!
Skipper Scott Tynan was leading his midfielders, with Joel, Merci and Georgie refusing to give in to how tired they were feeling. As the game drew to a close, more space was available and chances were coming thick and fast. Eventually, space was given in the OLI penalty box and a striker tucked in an equaliser for Rice Lane on the cusp of full-time. The match ended 3-3, with both teams playing an excellent game with excellent sportsmanship. A big thank-you to Rice Lane for helping arrange a game that gave more players a chance to play!
MOTM: Harrison Hunter, brilliant work rate all match and 3 fantastic goals. Another Everton fan scoring a hat-trick. Surprising!
Boys' Football vs. St Theresa Lisieux, Thursday 9th November 2017, W 7-0
Today the year 5/6 boys' team played a league match against St. Teresa's. The boys were feeling full of confidence after a 4-1 win yesterday, and a capacity crowd was out in full force to watch the boys as they attempted to make it 3 wins out of 3.
The boys got off to a strong start with an early goal! Luke Buckley got into the right position in the box to score a rebound effort; it was Luke's first goal for OLI! We're sure it won't be his last. The boys continued to pressure the defence which led to further chances. A second goal was undoubtedly a candidate for goal of the season. Skipper Joe McFarlane-Wells glided past several defenders before floating a long ball to winger Billy Smith. Billy rifled the ball into the top left corner for 2-0! Shortly after, striker Dylan O'Brien made it 2 goals in 2 games with an effort from the edge of the area. The half ended 3-0.
Some teams may have bolted forward in a selfish effort to get on the scoresheet, but the boys tactically kept their shape, with Jake Jones, Daniel Smith and Ruben McNeil determined to gain a first clean sheet of the season. A 4th goal was shrouded in controversy. Joe was clean-through on goal and slid an effort past the keeper, but the ball got a touch from Zac Abbou! A fierce argument broke out between Joe and his manager about whether the ball had already crossed the line, after which the goal was, out of sympathy, given to Joe for 4-0!
Zac Abbou would eventually get a goal of his own from close range for his 2nd of the season, in addition to Billy Smith adding another goal. It seemed the match would end there but in the dying moments Billy scored another goal that deflected from the edge of the area. A first hat-trick for OLI's number 2! The crowd were delighted to see an Everton fan experience a rare moment of joy.
A special mention has to go to Bobby Mitchell who ran the game from midfield, winning balls and passing incisively, much like skipper Sonny last year. Watching the game you'd have thought there were 5 Bobbys on the pitch! Fortunately we only have the 1 of him, and he had an excellent game. St. Teresa's were a well-mannered and respectful team who are still finding their best line-up, they were a credit to their school and good luck to them for future games.
MOTM: Billy Smith. A hat-trick, great passing, movement and a flawless attitude. Well done, Billy!
Boys' Football vs Rice Lane, Wednesday 8th November 2017 W 4-1
A huge thank you to the boys who participated in today's league match vs Rice Lane. The boys were coming off a 4-1 win vs Gwladys Street and were full of confidence, though knowing that Rice Lane are a big school with strong players, they knew they were in for a tough game.
The first 10 minutes of the game were played almost entirely in OLI's half. On the backfoot, the boys had to defend constantly against Rice Lane's direct passing and strength in the air. It was a baptism of fire for debutant Francis Westhead, who was having to use all of his height to cover Jake Jones and prevent an early goal. Keeper Kamil Skop was in stunning form, with diving saves helping him command the area and somehow keep the scoreline at 0-0.
However, that was to change. OLI began to string passes together and test the opposition keeper. It was a few minutes later when Bobby Mitchell pounded a header from outside of the area which flew into the top corner. The header was stunning, so much so that the Rice Lane parents all joined in applauding. The boys used this momentum to set Dylan O'Brien free for a 1-on-1 that he slid into the bottom corner for 2-0! Well done to Dylan for scoring his 1st OLI goal. Arguably against the run of play, the boys had weathered the storm and, with strong leadership for their captain, ended the half 2 up.
The boys began the second half by playing with creative freedom. A ball in was deflected and fell for Billy Smith to score a 3rd goal with an acrobatic close-range finish! Dad's half-time pep talk had worked! However, Rice Lane continued to be a threat, scoring a goal of their own minutes later from inside the area.
With minutes left, the stunning defense of Jonny Gee, Ruben McNeil and Daniel Smith held strong to survive the second wind picked up by Rice Lane. After a defensive clearance, Joe McFarlane-Wells ducked past his man to slot a close-range finish in to make it 4-1! Shortly after, full time was called by the freezing and very tired referee.
These match reports are always full of praise and admiration for the team, as they always put 100% of their effort in. However, this match stands out more than any other I can remember. Incredible defending, passing and movement was nowhere near as important as the boys' fantastic attitude. Playing as a team, they fought through the tough times of the match to end with a brilliant result. Condolences to Rice Lane who were extremely unlucky to end 4-1 down, their team played with heart and did their school very proud.
MOTM: Ruben McNeil. An unsung hero of the team. Preventing attacks and clearing his lines, Ruben is a hugely important piece of the team and played flawlessly tonight.
Year 3/4 Quicksticks Hockey Competition – NLA 30th October 2017
On Monday, 6 children from year 3 and 4 went to North Liverpool Academy for a regional hockey competition. The team began with a 1-1 draw thanks to a fantastic goal from Mayar! After that, the team rallied to win a close match 1-0 with a fantastic effort from Lucas Parkinson who was named man of the match! From there, the team went from strength to strength beating two teams from 4 oaks 2-0 then 3-0! You could see the children's confidence building as they won their final match 4-0! After some calculations, the OLI team were announced as winners and received medals and certificates. But that's not all…
The team will be returning to the field on Monday to compete in the city final! Best of luck to them!
Boys' Football Match 4 – 1 vs Gwladys Street – Thursday 19th October 2017
A big thank-you and congratulations to the year 5 and 6 boys who played against Gwladys Street in today's game. After a cancelled game yesterday, the boys were desperate to play in spite of the torrential rain through the afternoon… the match was confirmed as on thanks to a last minute phone call and we were good to go!
The 10-a-side game started out with teams playing defensively and little space being offered. Striker Dylan O'Brien had an early attempt go just over the bar before a stinging low effort from Gwladys Street was miraculously saved by keeper Kamil Skop (playing in cycling gloves as he'd forgotten his goalie gloves). Eventually after several attempts our attack broke through for "defensive midfielder" Jake Jones to score a close-range finish to make it 1-0! Jake must have been pleased with his positioning as his celebration consisted of him shouting "yay, goalhanging!" as he ran back towards his own half.
Very shortly after OLI made it 2-0 thanks to a top corner finish from just inside the box from Joe McFarlane-Wells (our newly appointed captain). A brilliant finish with his weaker foot! It wasn't long before Jake Jones took a break from arguing with his dad on the touchline to grab a second and make it 3-0 to OLI just before half-time with another close-range effort from a Billy Smith corner.
The boys knew not to be complacent as shortly into the second half Gwladys Street pieced together an excellent attack to slide a goal in for 3-1. Some teams may have began to place blame but the boys kept their heads up and scored a goal of their own merely seconds later! Another close-range effort from attacker Zac Abbou providing his first ever OLI goal, we know it won't be his last! Some excellent defending and clearances from Ruben McNeil, Jonny Gee and Daniel Smith kept our opponents from scoring again.
Shortly afterwards the game ended 4-1. A fantastic start to the season with the boys playing with the right tactics and right attitude. Special congratulations go to our debut players, with Ryan Lennon, Jonny Gee, Daniel Smith an Dylan O'Brien making their first appearances for the team, they did their school proud!
Man Of The Match: Jake Jones, for tireless work in defence and attack, scoring two goals and playing with excellent attitude and sportsmanship.
Cross Country – Clarke Gardens 12th October 2017
Once again we had a couple of new faces to the cross country team at Clarke Gardens. Stand out performers were Jack and Macey, both were first home for OLI on a difficult undulating course.
Results:
Boys: Jack 53rd, Harrison 107th, Scott 115th, Thomas Hegarty 124th, Gradi Ngolo 125th.
Girls: Macey 60th, Shelby 66th, Poppy 91st, Shannon 119th, Tilly 122nd.
Cross Country – Stanley Park 3rd October 2017
Well done to our Year 5 and 6 pupils, some of whom new to the event, taking part in the cross country competition this evening.
We had plenty of new faces in the team this time around and all pupils performed very well.
Results:
Boys: Bobby 29th, Billy 31st, Aeen 128th.
Girls: Shelby 60th, Poppy 66th, Macey 90th, Holly 117th, Tilly Mae 118th, Shannon 131st, Annie 132nd.
Y5 Dodgeball – 27th September 2017 – NLA
A big thank-you and well done to the year 5 children who represented OLI in a regional dodgeball heat!
Our team of 8 competed against 7 other schools in a round-robin dodgeball format. It was wonderful to see the children's sportsmanship and level of competitive energy as the afternoon went on.
There were many highlights over the course of the afternoon including Tom Farrell managing to eliminate 2 opponents with 1 throw! Shelby Steele and Poppy Spellman were able to work as a team to stay in the game even when defeat looked certain!
Eventually the afternoon finished with OLI earning 3 wins and 3 defeats, resulting in a solid 6th place finish, well done to the team!
Merseyside School Games – Boccia – July 2017
Well done to our Boccia teams, who represented Liverpool today. The Merseyside School Games bring together the champions of each borough (Liverpool, Sefton, Knowsley, St Helens and Halton) to battle it out for the title.
Our teams managed a sixth place finish and they can hold their heads high after a very successful season.
Everton Park Primary Spring Run 2017
Well done to all of our pupils who represented their key stages in the annual Everton Park Spring Run, last week. We had some great performances, particularly from Jack Traynor, who won his race against last years' winner from the Beacon, Jubilee.
Thank you to the volunteers at Friends of Everton Park for marshalling all across the park on such a hot day and for providing refreshments, trophies and medals for all involved.
Everton Park Primary Spring Run 17 results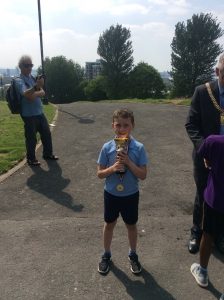 City Football Champions! – April 2017
Thursday evening will last long in the memory of many involved with Our Lady Immaculate Primary School, as 10 boys produced a comeback (to rival one in Istanbul) which crowned them as Under 11 City Champions 2016/17.
After winning the Liverpool North League with 5 victories, they faced an equally impressive side in St Nicolas', who won the Liverpool South League. Both teams would end the city final with a league trophy, but only one could take home two.
The match started with OLI kicking up hill, a tactic discussed and agreed between manager and captain, and St Nicolas' capitalised on their advantage almost immediately. Pressure on defender Aiden, caused confusion for him and 'keeper Kamil, with Aiden slotting coolly past Kamil (by the end, Aiden was more than happy with his name on the scoresheet!).
St Nicolas' continued with their pressure and momentum, limiting us to few chances at the other end, and scored 3 more. One consolation goal before half-time was all we had to shout about after the boys struggled to get to grips with the pace of the game.
At half-time, we talked about putting more pressure on their players when they had possession, utilising Joe and Billy's ability to run at the defence and being stronger when tackling. Even though heads were down, Sonny kept level headed: "If they can score 4 in one half, so can we."
It seemed Sonny underestimated ourselves as we quickly built up momentum through lots of possession and chances at goal. A flurry of goals came from OLI, with supporters having to check with each other what the score was on a regular basis.
The introduction of debutant Jake seemed to steady the ship in midfield, as through balls and counter attacks became the way to play. Scrappy goals, a free kick and long range efforts all contributed to an 8-4 win – the greatest victory in OLI football history for 10 years.
Sponsored Run for Ankoma – April 2017
Miss Gilchrist's class took part in a sponsored jog this morning at Everton Park to help raise money for our Ankoma lentern campaign. Thank you for all your generous donations!
Boys Football vs Wellesbourne 16th March 2017
A big thank you to the year 5 and 6 boys who featured in our football match this week against Wellesbourne Primary. Coming off the back of an excellent 9-0 victory, the boys' confidence was high and they were raring to go!
It was clear from the beginning of the match that Wellesbourne had put an excellent team together; our attackers were outnumbered by a tall and strong defence. A pattern quickly emerged of the ball being hacked away from the penalty area just before a goal looked certain.
The first half continued goalless and at an incredibly fast pace, referee Mr. Fairclough had given up trying to run after the ball after 10 minutes! This relentless pace was finally rewarded for OLI with a Billy Smith tap-in goal from a Zac Abbou pass, 1-0! The first half ended 1-0 with the boys looking to push forward in numbers to increase the lead.
The second half began with a huge surge from OLI thanks to some tactically amazing substitutions from OLI's manager. James Wamulo and Ethan Duke came on and saw OLI's attack go from strength to strength. Lovely passing combined with excellent positioning to result in several chances stopped only by Wellesbourne's excellent keeper, including a flicked effort from Joe McFarlane-Wells being inches away from being goal of the season! The constant pressure was finally rewarded though by Kian Skinley leathering a shot into the corner from the edge of the area. OLI were 2 up…
With a 2 goal cushion, the boys played with some creative freedom and managed to create a series of chances towards the end. More excellent saves were made, yet nothing could be done about Bobby Mitchell's stunning effort from 25 yards out smashing into 'top bins'. The match ended 3-0 with the boys achieving their 3rd clean sheet of the season; a wonderful effort from defenders Ruben Macneil, Reece Mangan, Aaron Jacobs and Aiden Burns. Well done to Wellesbourne for being such fierce and respectful competition.
MOTM: Bobby Mitchell for excellent passing, positioning and for scoring an absolute 'belter'.
Musical Mash-Up Dance Competition at North Liverpool Academy – 10th March 2017
Two fantastic dance routines were performed by our pupils at North Liverpool Academy on Friday. Key Stage One pupils took a 'Cats' number to the stage, with Key Stage Two performing a 'Shrek' dance.
KS2 Cross Country at Sefton Park – 9th March 2017
After the weather finally allowed a cross country fixture we had some fantastic results at Sefton Park tonight. Katie Traynor continued her excellent running form, finishing in her best position yet, and Poppy Spellman showed that she can compete against children much older than her!
In the boys race, there were lots of first timers after showing great promise in the fun run at Stanley Park last month. Kevin, Billy and Bobby matched the order from the fun run as our first 3 runners home. Kevin, inspired by Zola Budd, ran most of the race with his trainers in his hands after they fell off in boggy conditions during the first part of the course!
Well done to the rest of the boys, who persevered well in tough conditions in our final race of the season. It will be great to get these same children back in the team next year, to test themselves further as the eldest children in the races.
Girls:
11th Katie Traynor
59th Poppy Spellman
Boys:
18th Kevin Bigley
40th Billy Smith
43rd Bobby Mitchell
56th Joe McFarlane Wells
62nd James Wamulo
63rd Sonny Geraghty
69th Dylan O'Brien
78th Ethan Atherton
88th Ruben McNeil
Gold Games Mark Presentation
We were delighted to be officially presented with our Gold games mark award this week! Thank you to Suzanne from LSSP who came to speak to our pupils during an assembly and thank them for all their hard work and engagement in extra curricular activities and competitions! You can read a short article about it on the Educate Magazine website.
Boys Football vs Our Lady and St Philomena's – 2nd March 2017
Congratulations and thank you to the year 5 and 6 boys who represented our school on Thursday 2nd March against Our Lady and Saint Philomena's School. The boys were coming off a hard-fought defeat and were looking to bounce back with a win.
OLI got off to an incredible start, with a Billy Smith long pass bouncing through everyone and into the back of the net within 20 seconds! Billy was delighted to score his 1st goal for the team, it won't be his last!
It would have been easy for the boys to push back and defend, but they pressed on with their attack; Kian Skinley scored from close range shortly after to put us 2-0 up.
Joe McFarlane-Wells has been looking for his 1st goal for OLI for a while now. Whilst 2-0 up, his header hit the bar, then the post, then was cleared off the line! 4th official Mr. Garth had a look at the goal-line technology and ruled no goal! This didn't matter though, as Joe scored a similar header a few minutes later, before Kian scored another close range effort. On the edge of half time, skipper Sonny Geraghty scored a long range screamer and the half ended 5-0!
Some teams would have eased off there, others would have shown disrespect to the opposition, but the boys did themselves proud by being polite and calm whilst playing, but making sure they didn't stop giving 100% effort. The 2nd half saw goals from defender Ruben McNeil and 2 more goals from Joe giving him his hat-trick! An own goal just before full time saw OLI finish as winners, 9-0.
A huge well done to the team, not just for the big win, but for being gracious winners this week just as much as they were humble losers in our last game. Condolences to Our Lady and St. Philomena's who are a new team still working on making their team as strong as possible. One final mention to Billy Smith who deserves huge praise for assisting so many goals that he'd forgotten how many by the end of the game!
MOTM: Joe McFarlane Wells, for a stunning hat-trick, good teamwork and always being professional and respectful to the opposition.
KS2 Boccia City Champions!
A huge congratulations to both of our KS2 Boccia teams, who competed in the city finals of the Boccia competition yesterday. Our 'A' team, who finished 3rd in the north Liverpool competition, were the overall winners this time round, beating Gwladys Street 3-1 in the semi-finals and Holy Trinity 2-0 in the final.
Our 'B' team, who finished as north Liverpool champions last week, made it to the semi-final stage in the city finals, losing to Holy Trinity 3-0.
Boys Football Match vs St Mary's West Derby – Thursday 9th February 2017
Congratulations to all the year 5 and 6 boys who represented our school in this week's football match. Coming off the back of 2 hard-fought victories, the boys were confident in their teamwork and were looking forward to the game against St. Mary's West Derby.
Conditions were extremely tough due to very cold temperatures, though the boys managed to keep their energy up, almost scoring inside 30 seconds! The game was end-to-end, with both teams coming very close to scoring. Unfortunately St. Mary's managed to break through and finish well to go 1-0 up.
OLI responded with fierce attacks, with Billy Smith linking up well with Zac Abbou. Ethan Duke was on fire down the left wing, almost scoring a sensation goal from a volley. Unfortunately none of these chances turned into goals and a 2nd goal was conceded just before half time.
The 2nd half was a much tighter game, with speed slowing down due to the cold as well as fatigue. OLI showed a great attitude and didn't let being 2-0 down worry them; a goal was within inches from a close-range effort from Joe McFarlane Wells. Just before full time, a 3rd goal was scored by St. Mary's due to an unfortunate deflection. A harsh scoreline given the excellent effort of our defenders Ruben McNeil, Aiden Burns, Reece Mangan and Aaron Jacobs. Congratulations to an excellent St. Mary's side who did a very good job of handling our more dangerous players.
MOTM: Ethan Duke, for working tirelessly to break through the defence. He showed a hunger for the ball and wasn't affected by the tough conditions.
Boys Football Match vs St Anne (Stanley) – Thursday 2nd February 2017
Congratulations to all the year 5 and 6 boys who represented our school in this week's football match. Our team was fairly young, with many year 5s in the team and some making their school debut.
The match was very tight from the beginning, with neither defence giving anything away. Our strike force was dangerous, with Billy Smith and Joe McFarlane-Wells ducking in and out of defenders to set up chances for striker Zac Abbou. Eventually, this was rewarded with a 1st half goal from skipper Sonny Geraghty, with a clinical finish inside the area.
The 1st half ended 1-0 to OLI and, after 2 substitutions, the match became even tighter, with both teams coming extremely close to scoring several times. St. Anne Stanley hit the post and were denied by a goal-line clearance twice! There were some amazing saves from Kamil Skop and defender Aiden Burns was a brick wall at the back. Eventually, after excellent defending from both teams, the final whistle blew and OLI took the 3 points, 1-0. Congratulations to the boys who are looking ahead to our next game on Thursday 9th February!
MOTM: Aiden Burns, for playing a solid defensive game that ensured a clean sheet.
Well done to all of our Year 5 and 6 pupils who took part in the fun run at Stanley Park this week. The 2km run was run using the Stanley Park junior parkrun route, which you can find more details about below. Each child is in Year 5 and 6 is now registered for parkrun and received a barcode, which they will need to take each time they attend a parkrun event. You can access your child's result below. If you have any questions regarding junior parkrun, the barcodes and how your child can be involved, please see Mr Garth.
OLI Year 5/6 Park Run Results 2017
What is Stanley Park junior parkrun?
It is a 2k run for juniors (4-14 year olds).
When is it?
It is held every Sunday at 9:00am.
Where is it?
The event takes place in Stanley Park, Anfield Road, Liverpool, L4 0TD. We meet on the Formal Terraces just past the Isla Gladstone glasshouse.
What does it cost to join in?
Nothing – it's free! but please register before your first run. Only ever register with parkrun once. Don't forget to bring a printed copy of your barcode (request a reminder). Register at: www.parkrun.org.uk/register/form/
How fast do I have to be?
The aim is to have fun. Please come along and join in whatever your pace!
Girls' Football Matches – 16th and 17th November 2016
Well done to all of the girls, who represented the school, playing in two football fixtures this week. For many, it was their first ever competitive game of football against opposition from another school and it was clear to see their confidence growing across the two days.
The first fixture was against Rice Lane, who had already played two matches this season. After going 1-0 down, the OLI girls rallied straight back with a goal from Macey Jacbos, after a great pass inside from Lavelle Lamb.
An amazing finger-tip saves from Yusra in goal, as well as great defensive displays from Mia, Erin and Leah, kept us in the game for long periods of time. A handball meant Yusra faced the daunting task of a penalty kick, but she made herself big and put lots of pressure on the Rice Lane player. Succumbing to this pressure, the kick hit the post and rolled out to safety. The final few minutes saw a flurry of goals from Rice Lane, leaving the final score at 5-1.
On to the next fixture vs. Florence Melly and the game was a much tighter and spread out game. Using the knowledge gained from the first game, the OLI girls worked hard as a team, fulfilling their formational roles exceptionally well. Our forward line, bolstered by the movement of Leah Dean and Macey Jacobs left the Florence Melly defence dazed and confused. Unfortunately the finish was all that was lacking. Spirited runs from Gabriella Bennett and Liv Roberts gave us more chances in the second half and Mia, Lavelle and Yusra, kept the Florence Melly attack at bay many times.
When the ball did get past them, Erin Dean stood strong in goal with vital clearances. On top o the game for the majority, we gave away 1 goal after a split second lack of concentration and the game ended 1-0. This result wasn't fair on our girls, as they deserved at least a point, but they have learnt vital and harsh lessons in the world of football that will help them move forward in the new year.
Well done!
MOM: Macey (vs. Rice Lane)
MOM: Mia (vs. Florence Melly)
Year 5/6 Indoor Athletics – Notre Dame 11/11/16
Well done to everyone who competed in the athletics competition, yesterday! The children had lots of fun in an extremely competitive event, one of the biggest on the calendar! After track and field events, we placed 5th, with strong performances from lots of pupils. We hope to see many of these children sign up for running club again in the new year, to help us with our cross country events!
Cross Country – Clarke Gardens
Well done to our Cross Country team, who performed very well on a difficult course. The route was reversed from previous years, meaning the start and finish sections were both up hill.
Once again, James came through first for our boys (81st overall) and Katie followed up her impressive top 30 finish at Wavertree with a 25th placed finish yesterday.
Boys: James (81), Dylan (87), Ethan (89), Ruben (109), Joe (111) and Antony (112).
Girls: Katie (25) and Poppy (58).
Year 3/4 Quicksticks Hockey Competition
Well done to our Year 3/4 team, who were picked based on their sportsmanship, teamwork and determination in PE lessons from this half term.
They played in a number of matches against other schools from the north of the city!
Beat the Street Prize Presentation
Jackie, from Beat the Street, came to award us with our two 2nd place prizes for the Summer competition! The pupils, families and staff worked extremely hard to finish in 2nd place, covering the distance from Liverpool to Moscow – an outstanding achievement!!
Mrs Sergeant tasked the children with thinking of playground equipment they would like to buy with the vouchers they have won.
Cross Country at Wavertree Sports Park – 20th September 2016
The first event of the Cross Country calendar is always a tough one, with pupils getting to grips with what is expected of them during the races.
We were lucky enough to have 2 or 3 pupils who had taken part in one race last year, who helped the younger ones to make it through. Well done to all the team, but a special mention to girls captain Katie Trainer, who made it into the top 30 out of over 100 runners!
If your child is interested in joining our after school running club, please speak to Mr Garth. Also, Liverpool Harriers Athletics Club are looking for Year 5 and 6 pupils to join their cross country teams – to take part in events across Merseyside. They train at Wavertree Sports Park on Tuesdays and Thursdays, 6:30 – 7:30pm.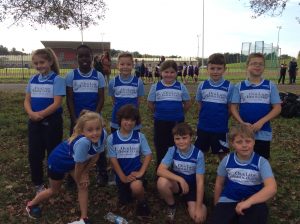 Year 6 Cricket Competition – Alder Cricket Club – 16th June 2016
After coming through the after school cricket club to be chosen for the team, OLI were pitted against Wellesbourne, The Trinity and Middlefield in the group stages of the North/Central heat.
The first match against Middlefield saw Michee grab a hat trick of wickets to bring victory to OLI. Amman, team captain, won the toss and elected to field first. Restricting Middlefield to 213, the target was 214 to win. The game plan of no losing early wickets, worked with a total of 238 for OLI, for 2 wickets.
Game two was against Wellesbourne. Losing the toss, we were put into bat first and posted a respectable 244. Some poor fielding saw Wellesbourne narrowly win by 12 runs, putting them top of the group.
It seemed like Wellesbourne would take the top spot in the group, but there was a surprise in store. In our final match against The Trinity, Ayman won the toss and put them in to bat. Slow bowling allowed The Trinity to make some ground, scoring successive sixes to bring a total of 256. Wickets from Isabel and Michee dented their attack and brought some hope to the OLI batters.
Without losing a wicket, we scored a very high score of 285! Michee, Holly Spellman and Sean all chipping in with sixes extended our run score. Wellesbourne, Middlefield and ourselves won 2 matches out of 3, so it was down to who scored the most runs for 1st and 2nd place. After the demolition of The Trinity, we sat on top of the league, with Wellesbourne in second place.
A semi-final against Rudston was abandoned after a heavy downpour, and with no way to call a winner, both teams were put through to next week's city finals at Sefton Park Cricket Club.
Well done to all the team, who all played an integral role – fielding and batting!
KS2 Highland Games – 29th April 2016
Eight of our pupils represented Key Stage Two at the Highland Games competition, held at Archbishop Beck Tennis Centre, on Friday morning. A series of events, focusing on running, jumping and throwing mirrors the adult version of the highland games.
The children involved had previously taken part in a Level 1 competition in school, during an after school club and performed very well against other schools from the city.
Anfield Mini League Fixtures – 26th April 2016
This afternoon, we had two football fixtures against St. Margarets Anfield and Pinehurst in a catch up of fixtures from the Anfield Mini League, at Anfield Sports and Community Centre.
First up was St Margarets Anfield, and a quick break from the opposition caused problems in our penalty area. The OLI defence stood off and allowed a shot at goal, which crept past Eryk's far post and into the goal (0-1). From this point onwards, we were the stronger team, creating chance after chance, but failing to beat an impressive SMA 'keeper. Despite dominating the match from start to finish, our front line couldn't find the back of the net and the game finished 0-1 to SMA.
Top of the table Pinehurst awaited at the final whistle, but once again OLI dominated from start to finish. Lots of chances for Kian and Joel in the first 5 minutes, produced a solitary goal after a neat one-two between the two players. Pinehurst threw the majority of their players forward during each attack, outnumbering our defence, but found it difficult to beat an impressive Eryk between the sticks.
Three goals from Pinehurst showed why they are top of the league, despite not playing to their fun potential. One goal in reply from OLI was enough to put the pressure on for the final ten minutes, but Pinehurst settled the match with a fourth, to end the match 4-2.
Cross Country Final Standings 2015/16
We have had a very enthusiastic uptake for cross country running this year from children across the whole school. Children in KS2 have represented the school at various cross country events this year and have proved themselves to be very successful!
Out of 17 schools, our boys team came in 6th place and our girls team came in 8th place.
Boys:
| | | |
| --- | --- | --- |
| Final Total | Races | League Pts |
| Liverpool College | 6 | 96 |
| Our Lady's Bishop Eton | 5 | 94 |
| St Paschal Baylon | 6 | 80 |
| St Margaret's (Anfield) | 6 | 54 |
| St Christopher's | 4 | 52 |
| Our Lady Immaculate | 6 | 48.5 |
| Florence Melly | 3 | 48 |
| Christ The King | 5 | 46 |
| Monksdown | 6 | 43 |
| Lister | 3 | 36 |
| Northcote | 4 | 23.5 |
| St Teresa of Lisieux | 4 | 23 |
| Wellesbourne | 4 | 17 |
| Hunts Cross | 3 | 13 |
| Leamington | 1 | 10 |
| Lawrence | 0 | 0 |
| Stockton Wood | 0 | 0 |
Girls:
| | | |
| --- | --- | --- |
| Final Total | Races | League Pts |
| Liverpool College | 6 | 100 |
| Our Lady's Bishop Eton | 5 | 90 |
| Christ The King | 5 | 72 |
| St Paschal Baylon | 6 | 65 |
| St Margaret's (Anfield) | 6 | 64.5 |
| Lister | 6 | 56 |
| Monksdown | 6 | 48 |
| Our Lady Immaculate | 6 | 39.5 |
| St Christopher's | 4 | 37 |
| St Teresa of Lisieux | 4 | 33 |
| Florence Melly | 3 | 32 |
| Northcote | 4 | 20 |
| Wellesbourne | 4 | 19 |
| Hunts Cross | 3 | 11.5 |
| Leamington | 1 | 7 |
| Lawrence | 0 | 0 |
| Stockton Wood | 0 | 0 |
Well done to all the pupils who represented the school this year and we hope to have even more successful teams in the future!
KS2 Cross Country – Wavertree 30th March 2016
The final cross country league fixture took place at Wavertree last night and with a lot of schools off for Easter, it gave our pupils the chance to move up the field and improve their league placings.
Newcomers Poppy and Dylan fared well for their first time in a cross country event, with Poppy outperforming all but Alexis of the girl's team. Eryk finished off a strong year with a top ten finish, one which he deserves after being a consistent top twenty performer. Lucas continued his improved placings, with his first top ten finish and Sean recorded his highest position after six events. Alexis continued her dominance in the girls team, by finishing as OLI's first girl once again, followed closely by Poppy and Akasha. Slightly further down the field were determined runners Holly and Eve, both still recovering from their swimming heroics on Monday!
The final standings for the season will be updated here when available, but our results from the race are below. This is the first year that we have taken part in cross country competitions and it has unearthed some exciting talent and a love of running in our pupils. Thank you to all the parents who have supported over the year and to the members of staff giving up their time for some long evenings! The cross country after school club will begin after Easter and it is hoped that the uptake will be very high! Along with the continuation of the daily mile, we aim to gain more of our pupils' interest in running and sporting activities in general.
Results:
Boys:
Eryk – 6th
Lucas – 9th
Sean – 16th
Dylan – 21st
Girls:
Alexis – 22nd
Poppy – 23rd
Akasha – 24th
Holly – 28th
Eve – 30th
Key Stage Two Swimming Gala City Finals – 29th March 2016
Well done to our KS2 Swimming team, who swam extremely well to become the 8th best swimming team in the city. The increased standard from last week's heats was easy to see and our pupils gave their all in every single race.
All pupils deserve special credit for their achievements, especially the girls team (3 members down from the heats) who all had to swim more races than normal!
Our highest race positions were 3rdHeats by Sean and 5th by Mikey. With a number of Year 5 pupils in the team, this year's gala is great experience for them to take into next year's competition. Well done!
Key Stage Two Swimming Gala Heats – 21st March 2016
This morning's competition was held at Wavertree Aquatics Centre, with a number of schools from the North and Central areas of the City. Competing in the large schools event, we faced a number of very local schools including The Trinity and St. Johns.
Every member of the team swam brilliantly, trying their very best to finish in the best positions possible.
Results:
Backstroke: Sean 2nd, Jacob 7th, Tilly 2nd and Ebonie 4th.
Breaststroke: Kian 3rd, Sean 2nd, Ebonie 4th and Eve 1st.
Relay Medley: Boys 2nd and Girls 2nd.
Butterfly: Sean 3rd, Mikey 2nd, Tilly 4th and Eve 4th.
Front Crawl: Mikey 2nd, Patrick 1st, Holly 1st and Tilly 1st.
Front Crawl Relay: Boys 4th and Girls 4th.
After the results were worked out, it was announced that we finished 2nd in both the boys and girls event overall. This means that they have both qualified for the City Finals next week, with the chance to represent Liverpool at the Merseyside Summer Games in July.
Overall Results:
Boys
1st – Emmaus
2nd – OLI
3rd – The Trinity
Girls
1st – St. Francis de Sales
2nd – OLI
3rd – Emmaus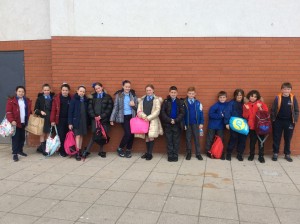 Football Results
This week, we had three matches in total, one for the boys in the Anfield Mini League and two for the girls, in the North Liverpool Girls League.
Unfortunately, all the fixtures resulted in defeat, firstly with the boys falling down 13-6 to Anfield Juniors. The matches in the Anfield Mini League are always fast and end-to-end, with the shorelines almost always going into double figures!
On Thursday, our girls team played Florence Melly at Walton Hall Sports Centre, with the score ending 6-0. On Friday, an excellent game, finished 2-1, to Emmaus, Isabel scoring our only goal. The girls have improved so much over the next few weeks and as the season comes to a close after Easter, I am sure that win is only just around the corner!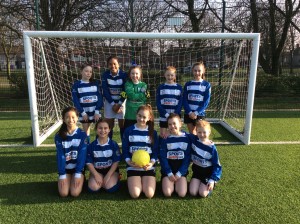 KS1 and KS2 Dance Competitions – 9th March 2016
Both our dance groups put on amazing performances for the crowds at North Liverpool Academy, on Wednesday. Miss Whittaker and Miss Boyd, both worked extremely hard with the groups over the past few months to deliver performances for the theme 'sounds of the city'.
This year, in a change to the competition format, only first place was to be awarded, rather than the traditional 4 categories in previous years. Unfortunately, we didn't place first in either competition, but it was clear that we have some extremely talented dancers in our school! Fortunately, the rest of the school will be watching the performances this afternoon!
Dodgeball City Finals – Monday 29th February 2016
Our dodgeball team, after making it through their North Liverpool heat, managed to assert themselves as being 3rd best in the city, after Monday's finals in Toxteth.
A last-minute change of personnel, meant Paige stepped in for Joel, but the passion and determination of the team never faltered and the team can hold their heads high at this amazing achievement.
Cross Country – Sefton Park – Thursday 25th February 2016
One of the toughest courses awaited our pupils in the penultimate cross country event of the year.
Watching the first few races, it was clear to see that mud was on the cards! We had two new runners, Patrick for the boys and Madison for the girls.
Despite the tough conditions, we managed to achieve one of our lowest points total this year (lowest points win!). Eryk's consistency in the top 20 positions, shows how much he has achieved this year. Madison put in a stellar performance to finish first out of our girls and 36th overall. Onto the final race at Wavertree on Tuesday!
Boys:
Eryk 17th
Joel 23rd
Lucas 24th
Sean 37th
Callum 53rd
Patrick 56th
Girls:
Madison 36th
Holly Sp. 43rd
Alexis 47th
Akasha 48th
Eve 55th
Year 5/6 Dodgeball Competition – 23rd February 2016
Our Dodgeball team have qualified for the city finals on Monday, with a second placed finish in today's heats at NLA. A strong team was chosen after lots of training sessions on Friday afternoons, during golden time sessions.
The first match was against Smithdown Primary, winning 2-1. Next up was Sacred Heart, with a better result of 3-0. Finally, a draw with St. John's meant we topped our group. This lead to a league semi-final vs. Smithdown, where we were once again victorious, 2-1, to set up a league final with Sacred Heart.
There was no change to the result, as we ran out 2-1 winners, to play Lister Juniors, the winner of the heat's other league.
After a tough match, Lister came out on top to take home the medals, but we will meet them again, along with other heat qualifiers in Monday's city final! Well done!
New Age Kurling Competition – 10th February 2016
New Age Kurling is a very inclusive game, adapted from the Winter Sport of Kurling, where 'stones' are slid along the floor towards a target approximately 15metres away.
Our KS2 team, comprised of pupils from Year 3, 4 and 5 and the team had some practice sessions with Devon before the competition.
At the competition, the 8 children split into two teams of 4, with total points from each team's fixtures added together to give an overall score for the school. After winning 4 matches and narrowly losing 4, our team scored a total of 25 points, meaning we finished in 4th place. The team performed brilliantly all afternoon, showing great sportsmanship, courage and teamwork skills to score highly in most games.
Results:
1st – St. Vincent de Paul – 33pts
2nd – Lister Juniors – 29pts
3rd – Longmoor – 26pts
4th – OLI – 25pts
5th – Kirkdale St. Lawrence – 20pts
Boys and Girls Football vs. St John's – 05/02/16
This week's football opponents were local rivals St John's and the OLI crowd were out in force as lots of parents came to see both girls and boys teams in action.
The girls encounter was a league fixture, with 3 huge points at stake. After falling behind to a single goal, the OLI girls rallied back with two of their own to lead 2-1, Alexis Crieta showing off some silky skills to score a 'Messi-esque' goal, continuing her goalscoring heroics from last week against Wellesbourne Primary.
It could be argued that OLI's main threat throughout the game was Akasha, and that her unfortunate early departure from the game resulted in St John's scoring two more goals in reply to win a tight match 3-2, as Akasha's passion and aggression was causing problems for St John's all game. A massive well done to all the girls, especially Yusra and Isabel, who took on the toughest task of all, playing in goal!
On the next pitch, the boys had a friendly match, as ourselves and St John's find ourselves in different leagues for the first time in a few years. Both teams played brilliant pass and move football, but it was St John's who took the early advantage. OLI found it hard to get going and were caught on the break on many occasions, having Callum, Aiden and Sean to thank for last minute saves and blocks. Despite, the well organised defence, St John's scored an early goal, direct from a free kick to make it 1-0. A sleepy midfield allowed some excellent 1-2's to be played, as St John's slotted home a second from a tight angle, giving 'keeper Callum no chance.
Into the second half, OLI found their rhythm and were much more comfortable on the ball. Eryk replaced Callum in goal and found very little to do, other than a few routine catches. Neat footwork ensued, and soon an OLI goal would come, from the swinging boot of Connor Powell, tucking home after a lovely interchange between OLI's forward players.
Sean and Michee found themselves on the end of hopeful St John's clearances, to bring the possession back to OLI on many occasions. The final minutes were end-to-end, but as a ball fell kindly to Michee on the edge of the box, he struck a sweet shot in to the top left hand corner of the goal, making the last minute equaliser feel like a winner!
The boys and girls can be very proud of themselves this weekend, as they kept spirits high throughout the game and ensured that their attitude towards each other, the opposition and the officials was outstanding.
Year 3 and 4 Key Steps Gymnastics – 03/02/16
A great all round performance from our gymnasts this afternoon at Holy Trinity Primary School, Garston. We split into two teams, with two girls and two boys in each team.
Our first routine, was body management, ensuring that we showed control of our bodies through a variety of moves and holds. Secondly, we completed our floor routines, starting at one end of a series of mats, finishing at the other. Finally, we took on the vault, with two attempts per child. An approach, entry, travel and dismount was graded before the final scores were announced.
Our two teams placed 8th and 9th out of 11 schools, with some outstanding individual performances from our pupils in all areas. Well done!
Boys and Girls U11's Football vs. Wellesbourne – 28th January 2016
Last night, our boys and girls football teams were both victorious against Wellesbourne Primary School. The girls won 3-1, with two goals from Akasha and one goal from Alexis and the boys ran out 12-1 winners, with goals from Kian, Sonny and Joel.
Both teams played extremely well and can be really proud of their efforts. Thank you to the parents who braved the cold to come and support too!
Year 3/4 Sportshall Athletics @ North Liverpool – 10th December 2015
This week, Miss Logan and Miss Stinson took a team of 16 Year 3 and 4 boys and girls to take part in the Year 3 and 4 Indoor Athletics competition, held at North Liverpool Academy. Five teams took part in the heat and OLI managed to finish in a commendable 3rd place, matching the result of the Year 5 and 6 team a month earlier.
A variety of events make up the competition, such as; standing long jump, standing triple jump, lap races, relay races, vertical jump and chest push and our team performed well enough to win some of the events.
Well done to all of our team, who will hopefully make the step up to the Year 5 and 6 team in the next two years.
Year 5/6 Sportshall Athletics @ North Liverpool Academy – Monday 9th November 2015
An exciting afternoon of athletics took place at North Liverpool Academy today, with our team pitted against St. Cuthbert's, St. Theresa's and Whitfield in the second of six heats in the North Liverpool competition.
Never once coming last, our team raced, jumped and threw brilliantly all afternoon, posting some impressive scores and scintillating team displays! Unfortunately that wasn't even to see us through to the next round of the competition, but all pupils, who supported and cheered each other on, can be proud of their efforts.
Results:
1st St. Cuthbert's
2nd St. Theresa's
3rd OLI
4th Whitefield
4 x 1 lap over and under relay:
Harriet, Alexis, Madison and Eve (2nd)
Lucas, Kian, Eryk and Joel (1st)
Standing Long Jump:
Mkenzie (1.52m), Isabel (1.68m), James (1.7m) and Sonny (1.64m)
Standing Triple Jump:
Madison, Eve (4.02m), James (5.7m) and Sonny (4.2m)
Vertical Jump:
Katie, Madison, Mikey (102cm) and Derry (89cm)
1 lap race:
Mkenzie (3rd), Isabel (3rd), Derry (3rd) and Eryk (2nd)
2 lap race:
Eve (3rd), Alexis (1st), Lucas (1st), Sean (3rd)
6 lap paarlauf relay race:
Alexis and Akasha (3rd), Joel and Eryk (2nd)
4 x 1 lap relay race:
Madison, Mkenzie, Isabel and Akasha (2nd)
Eryk, Joel, Lucas and Derry (3rd)
Chest push:
Isabel (8.5m), Akasha (11m), Sean (10m) and Mikey.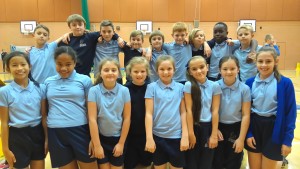 Year 2 Matball Competition – Wednesday 4th November 2015 – Fazakerley High School
Well done to our Year 2 Matball team who managed to secure a 4th place finish, on Wednesday, at Fazakerley High School.
Despite losing the first game, OLI went on to win their remaining games, even producing a 9-0 win along the way!
Finishing 2nd in their group sent them into the semi-finals, with only a narrow defeat ending their hopes of a win.
Well done to all of the team – Mrs Finnegan and Mrs O'Leary were so proud to see you play so well!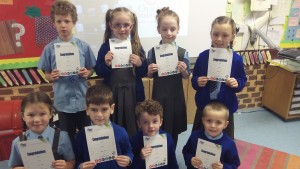 Girl's U11's Football – Wednesday 21st October 2015
In a pulsating league match against Barlows County Primary School our girls were very unfortunate to narrowly lose 4-3. Fielding a young and inexperienced team, Mr. Cotton, deputising for Mr. Garth, was hugely impressed by the efforts of the girls.
For some of the players it was the first time they had represented the school in a competitive match and early nerves were evident.
At half-time the girls faced an uphill battle to reduce a three goal deficit. However, despite Barlows scoring a fourth, the fightback was on.
Firstly, Akasha thumped one in from the edge of the box after shrugging off the attentions of three defenders. She quickly added a second, a close range effort after a sustained period of OLI pressure.
Isabel then joined her on the scoresheet, improvising well and using her knee to force the ball over the line, setting the game up for an exciting final few minutes.
After some intense pressure from the OLI girls, Akasha went agonisingly close with the last kick of the game, when her fierce right footed strike hit the outside of the post.
So although it was a defeat, there were many positives to take from the game, and all of the girls deserve huge credit for their fighting spirit and their efforts to run Barlows so close.
Mr. Cotton
Cross Country at Stanley Park – 19th October 2015
After the weekend's success, at the Blue Run in Everton Park, our cross country team headed to Stanley Park for the re-arranged event from last month.
A difficult course, with some deceptively steep inclines made it tough for all competitors, but our team came through strongly with some personal best finishes in both the boys and girls teams.
The success of the the cross country team, shows how much hard work and dedication they have to the sport, as well as showing how important it is to stay fit and healthy throughout the year. Our daily mile event at school is proving ever more popular and is proof that results are easy to come by, when you put some hard work in yourself.
Well done to all the team who raced as we look forward to a well earned winter rest, with the final two events being held in February and March.
Results:
Eryk: 16th
Joel: 25th
Sean: 42nd
Lucas: 63rd
Callum 68th
Alexis: 44th
Eve: 45th
Holly Sp.: 52nd
Akasha: 56th
Paige: 57th
Year 3/4 Girls Tag-Rugby
A group of very enthusiastic Year 3 and 4 girls have just completed a half term programme of tag-rugby coaching, with Ale, linked with Waterloo Rugby Club. The pupils have developed their skills and have also shown an excellent understanding of the game. It is hoped that some girls will move across to Waterloo Rugby Club's junior section at the weekends, to further develop their existing rugby talent.
This tag-rugby project is aimed at girls becoming more involved in competitive sport with next half term's programme for Year 5 and 6 girls. Our Lady Immaculate is supporting 'This Girl Can', a national campaign developed by Sport England and a wide range of partnership organisations. It's a celebration of active women up and down the country who are doing their thing no matter how well they do it, how they look or even how red their face gets.
Well done to all of our girls who have taken part so far!
Year 3/4 Quicksticks – 14th October 2015
Our quicksticks team have been training hard during their PE lessons, with Devon, and that truly paid off today, with a second placed finish in the tournament at Archbishop Beck Tennis Centre.
Special mention must go to Dylan who, although everyone performed brilliantly throughout the tournament, kept the whole team going and provided the team with many goals.
Results:
OLI vs. Sacred Heart: 1-1
OLI vs. Whitefield: 1-1
OLI vs. St. Vincent de Paul: 0-0
OLI vs. St. Pauls 'A': 11-1
OLI vs. Lister Juniors 'A': 1-1
Cross Country – Clarke's Gardens 8th October 2015
Another fantastic evening for cross country came with splendid performances from all of the team. Each week at training, improvements from every pupil can be seen and it is definitely showing in the cross country league performances. Well done to everyone who took part this week, as half of the cross country calendar is now complete.
Boys:
Eryk – 12th
Joel – 31st
Lucas – 39th
Sean – 65th
Callum – 86th
Michee – 94th
Girls:
Eve – 51st
Alexis – 57th
Holly – 61st
Akasha – 70th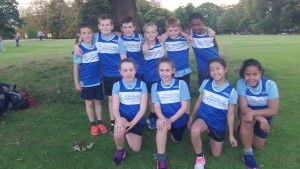 Cross Country – 22nd September 2015
The second cross country event in the calendar was held at Newsham Park this evening, with OLI fielding a boys and girls team once again. Eryk showed that last weeks 27th place finish was no fluke, with a 6 place improvement, finishing in 21st. First through for the girls was Eve, improving by 15 places, in 63rd place.
Well done to first timers James and Harriet, who raced very well considering they are 1 year younger than most of the competition. The third event will be held at Stanley Park next week.
Boys:
Eryk Kowara: 21st
Lucas O'Brien: 60th
Sean Harris: 69th
James Wamulo: 70th
Girls:
Eve Power: 63rd
Alexis Crieta: 78th
Paige Critchley: 79th
Akasha Low Koan: 87th
Harriet Guy: 88th
Cross Country – 17th September 2015
The Cross Country season kicked off at Wavertree this week, with OLI taking part after a a term's worth of training sessions in the summer. Both boys and girls were represented by Year 6 pupils, in the intermediate schools' races. Over half of the schools in Liverpool were in attendance, meaning over 80 pupils took to the field in each race, with some exceptionally talented runners from around the city.
All the pupils thoroughly enjoyed their first competitive cross country race and all are determined to beat their placings from this race next week at Newsham Park.
Our first runners home were Eryk (27th) and Holly (51st).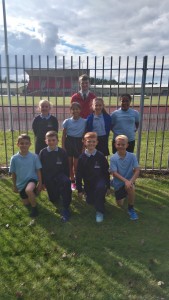 Year 5 Mixed Cricket – 2nd July 2015
Another fantastic day of cricket, this time for our Year 5 team. Some pupils from our Y5/6 team represented us once again with new additions from our Monday after school club.
The team, managed by Mr. Southworth, performed brilliantly, topping their group after beating Leamington (281), Windsor (275) and Holy Family. Into the knock out rounds and the team posted their highest score to date, beating All Saints (310) to face Lister in the quarter-finals.
Lister were beaten (279) to set up a semi-final clash vs. Childwall C of E. A relatively low score of 239 was enough to win, pitting us against St Vincent de Paul in the day's final.
Unfortunately, the team ran out of steam, narrowly missing out on a place in the County Finals, held in Preston, next week.
A fantastic effort from the whole team made Mr. Southworth, and the rest of the school, extremely proud. With the success of the Year 6 and Year 5 teams this year, hopefully this will inspire many more of our pupils to take up cricket with a local club.
KS1 Virtual Sports Competition – June 2015
All pupils in KS1 have been taking part in a sports competition this month. First, they are competing against each other (Level 1 competition) to see who is the best at balancing, bouncing, catching, launching, pitching, striking and skipping. Each child receives a total scores for all of the above skills combined.
These scores are then sent off to the Liverpool School Sports Partnership, who takes in results from all participating schools across Liverpool (Level 2 competition). Then, individual and school winners will be announced.
We have four individual winners from each of our KS1 classes:
Mrs Bowcock's class: Aaliyah = 117
Mrs McCarty's class: Luke = 82
Miss Hughes' class: Evie = 102
Miss Kennedy's class: Tope = 104
Click the link below to see the full results.
LSSP KS1 Virtual Competition Results OLI
KS2 Tri-Golf – 18th June 2015
Congratulations to our KS2 Tri-Golf team, who won their competition at Cropteth Hall on Thursday! The school was represented by pupils from across KS2, with everyone of them performing excellently!
A special mention goes to Joe, who scored crucial points in the final round to ultimately win the competition for OLI. Well done golfers!!
Y5/6 Cricket City Finals – Tuesday 16th June 2015
Well done to our Y5/6 Cricket team who came 6th in the city finals today at Sefton Park Cricket Club. The team faced a huge task, playing against excellent teams who came through their area competitions last week.
Unfortunately, the team didn't register a win, but through getting some points on the board, made it to 6th out of 8th on the day, but more importantly, 6th in the city of Liverpool which is an amazing achievement.
Results:
Pool A:
Belle Vale 318 – 192 OLI
OLI 215 – 305 Sacred Heart
OLI 245 – 320 Our Lady Bishop Eton
Quarter Final:
Christ the King 312 – 221 OLI
Y5/6 Boys Cricket – Thursday 11th June 2015
A lovely day for cricket at Alder Cricket Club today and one which ended in success! Drawn in Group B, alongside Belle Vale and Lister Juniors, the day got off to an unfortunate losing start.
OLI set a respectable score of 253 and believed that was a tough score to beat. Belle Vale put us to the sword, scoring 288 runs to top the table. Next up was Lister Juniors, who were put in to bat first, after Joel won the coin toss. Lister didn't live up to expectations, only scoring 209. Knowing a victory here would send us into the next round, the team posted a score of 262 runs to show their dominance.
After a friendly match vs. Christ the King showed us that the cricket standard in the city is very high, we went through to the next round to play St Anthony of Padua, who won their group. Event organisers called us the rank outsiders, but that didn't mean anything. We fielded first, losing some of the positive bowling and fielding prowess from earlier games, and St Anthony of Padua made a good score of 251. We knew what we had to do… and took it a step further, with a number of 4's and 6's from James and Joel taking our final total to 280!
This win meant a place in the city finals on Tuesday was ours, alongside 3 other excellent schools from today's tournament, and others from around the city. Every member of the team contributed with bat and ball and going into next weeks finals as underdogs is exactly what we want!!
OLI 253 – 288 Belle Vale
OLI 262 – 209 Lister
OLI 280 – 251 St Anthony of Padua
LSSP Y5/6 High 5 Netball – Wednesday 3rd June 2015
OLI 0 – 0 St Anthony of Padua
OLI 1 – 1 Belvedere Prep
OLI 4 – 0 Childwall C of E
OLI 1 – 2 St Sebastians
Overall 5th place.
LSSP Y5/6 Quadkids Competition – Wednesday 20th May 2015
King David                            1,417

Sudley Juniors                      1,338

St Oswalds                           1,386

Lister Juniors                        1,310

Booker Juniors                      1,304
St Cuthberts                          1,295
St Sebastians                       1,270
Holy Trinity                            1,259
St Vincent de Paul                 1,220
Longmoor                              1,195
St Nicholas                            1,109
Sacred Heart                          1,104
Blueberry Park                        1,098
Holy Name                             1,079
Florence Melly                        1,068
Leamington                            1,053
Arnot St Marys                       1,041
Gwladys St                            1,035
St Johns                                996
New Park                               991
Gwladys St                            924
Our Lady Immaculate            889
St Anne Stanley                     759
Liverpool International Handball Tournament – Friday 22nd May 2015
After lunch time training sessions leading to an inter-school competition in the Spring term, we were invited to take part in the Liverpool International Handball Tournament on Friday. Over the course of the weekend, male, female and wheelchair senior teams from all over Europe came to the Greenbank Sports Academy for the tournament, which began with a primary and secondary school tournament on Friday.
Taking two mixed teams of boys and girls, we managed a 2nd and 3rd placed finish with all the children involved having a brilliant time! We hope to have host another tournament at our school in July and hopefully we will be invited back to the LIHT next year, stronger than ever!
OLI A 2 – 1 OLI B
OLI B 1 – 0 The Trinity
OLI A 0 – 0 The Trinity
OLI A 0 – 3 St John's
OLI B 0 – 6 St John's
KS2 Highland Games @ North Liverpool Academy – 27th April 2015
Well done to our KS2 team, finishing third in the Scottish and Celtic culturally inspired Highland Games.
The Highland Games consist 8 games which test pupils' all round physical ability: tossing the caber, standing long jump, highland steps, weight for distance, throwing for distance, 6 x 10m kilt dash, shot put and javelin.
OLI finished the competition with 260 points and will be looking to further improve on this next year!
Year 5/6 Pop Lacrosse Tournament @ Toxteth FireFit Hub – 23rd April 2015
A team of Year 5 pupils took to Toxteth FireFit hub yesterday to take part in their first Lacrosse competition. The team had a practise session with coaches, then played 4 matches in total, winning 1, drawing 1 and losing 2.
Jessica and Ian got themselves amongst the goals in what is a very difficult and different sport to what the children are used to.
OLI 0 – 1 Barlows
OLI 2 – 2 Kirkdale
OLI 0 – 3 Sacred Heart
OLI 1 – 0 Kirkdale.
Player of the tournament – Ian Gee.
Year 3/4 Water Polo @ Wavertree Aquatics Centre – 31st March 2015
A team weakened by 2 illnesses proved to be a strong unit in the water, as OLI recorded 2 wins, 1 draw and 2 losses. The Year 3/4 competition is always a great taster for pupils in Lower Key Stage Two, into the spirit of inter-school games competition. It can act as a great stepping stone into the more frequent tournaments in Year 5 and 6.
Well done to all of our team today!
OLI 6 – 1 Much Woolton
OLI 1 – 5 Dovedale
Rudston B 2 – 2 OLI
OLI 4 – 0 Rudston B
Rudston A 2 – 2 OLI
Handball Competition – 27th March 2015
Last month, we were extremely lucky to be offered some Handball coaching at lunchtimes, by two specialist coaches. Jack and Andy delivered Handball-based activities to our Year 5 and 6 pupils, allowing them to choose a squad to take part in tournament with local schools.
The competition was a huge success, both on and off the pitch, as children were inspired to take up a new sport as well engaging some children who may not have otherwise taken part. Unfortunately, one school could not attend, so it was left to ourselves and Holy Cross to compete for 1st place. Three games were played overall, with Holy Cross winning one and OLI winning 2!
The whole team played brilliantly, utilising their individual strengths to form a rock-solid team who stuck to their game plan to defeat Holy Cross. It was very hard to choose a 'player of the tournament' as everyone played so well, but without some vital contributions from one player, the scoreline could have been very different…
Derry, after volunteering to play the second game in goal, made a brave and courageous save in the first few minutes to deny Holy Cross what seemed like a certain goal. This spurred the rest of the team on to win the match convincingly. In the third match, when it seemed like Holy Cross would make a comeback, he then denied another goal with a snapshot save from a close range shot.
We hope to host another competition in the summer term and with a newly formed link with Liverpool Handball Club and England Handball, we will see the sport of handball go from strength to strength in our school and the local community.
UKS2 Swimming Gala – 23rd March 2015
With the Swimming Gala becoming ever-more popular with schools across the city, the Gala is now split into separate boys and girls competitions. We have had some success in previous swimming galas and this year our team performed extremely well.
Our girls team managed a 3rd place finish, with the boys finishing in 5th. Unfortunately, the '50m Front Crawl' races were cancelled, events which we felt to be a strong point within our team. Sean, Caitlin and Eve came in 2nd place in the '25m Back Stroke' and '25m Breast Stroke' events, respectively.
The whole team (including staff!) really enjoyed the event, some even coming back with sore throats from cheering #TeamOLI on!!
Next up to represent the school in the pool, KS1 on Thursday and LKS2 next week.
Friday 20th March 2015 – Girls U11's Football vs. St Johns.
A fast paced match between to youthful teams, ended with a 4-1 win for St Johns. The first half was extremely even, and only 1 goal for St Johns separated the game at half time. Katie's shot-stopping in the OLI goal kept the scoreline within our reach, with a number of fine saves. Unfortunately, a lack of closing down attackers meant that Katie could do very little to stop further goals going in. Some great last ditch defending from all the team kept the game close for long periods and brilliant debut displays from Kirandeep, Paige and Mkenzie hold bright hope for the future.
MOM: Katie
Friday 13th March 2015 – Girls U11's Football vs. Barlows.
Another excellent game against Barlows unfortunately ended in defeat for us. The game was played in brilliant spirit by both teams, with Barlows running out 4-1 winners. The first half was quite even, a few chances both ways saw only 1 goal separating the teams at half time.
In the second half, Grace managed to get an equaliser after a fantastic through-ball by Keira. Barlows had the majority of the second half possession and this lead to three further goals to put the game out of reach for us.
We had a number of debutants in the fixture, with Alexis, Eve, Keira, Wiam and Akasha all stepping into the team and all performing very well. Akasha's display in the heart of the defence showed that she is a natural on the football field and earned her a well deserving player of the match.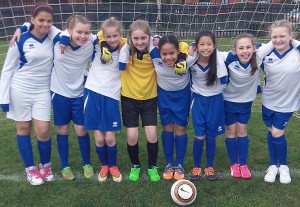 Tuesday 24th February 2015 – Anfield Mini-League
Four Oaks 15 v 4 OLI (match report courtesy of LFC)
A fantastic game this week in the mini league as Four Oaks beat OLI to climb up the table. This was a game of real quality and both sides can be proud of their efforts. The match began in a quick manner and it was Four Oaks who were on the front foot and eager to make their efforts pay. They were rewarded when Bradley gave them a lead with a good finish into the bottom corner. OLI hit back immediately thanks to a strike by Joel, and this was followed by a period of dominance from them, and only for a couple of fine saves from the opposition keeper, they would have took the lead. Four Oaks responded to their goalkeepers fine play by going up the other end and scoring two goals right before half time courtesy of James and Jack. Into the second half and Four Oaks were once again on the score sheet thanks to Andrew and another from Jack. OLI, to their credit, didn't give up and continued to play their football. They grabbed a few goals back with Ian and Joel scoring but this proved too little too late as Four Oaks extended their lead further with more goals as the full time whistle approached.
OLI MOTM: Joel Smith
Dance success!
Miss Boyd's team of Year 5 and 6 dancers took to the stage at North Liverpool Academy today to show off their interpretation of Mark Ronson and Bruno Mars' Uptown Funk. A fusion of funk and street dance saw the team take first place in the competition, beating a host of schools from the city.
The team, under Miss Boyd's direction, have worked extremely hard this half term and, having shown their dance to the whole school in preparation for the competition, they proved how much talent is on offer at OLI.
Hopefully the team will go on to win the school (present and future) and their own dance clubs more trophies in the non too distant future.
Well done to all the team and Miss Boyd for putting in the hours of practise to make the whole school proud!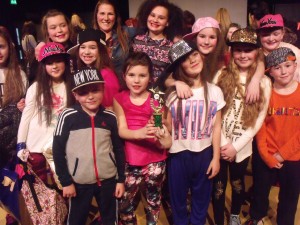 Year 5/6 Dodgeball Competition @ De la Salle Academy
Tuesday 20th January 2015
The Year 5/6 Dodgeball team had lots to shout about after a very successful afternoon!
Out of the three fixtures played, our team won 2 matches and lost 1, sending them through to a semi-final vs. Whitefield. Success in this fixture (W 3-2) meant a final meeting between Our Lady & St Swithins, a team which beat us in the first fixture of the day. Unfortunately, the previous result could not be overturned as OLSS won the overall tournament with a 4-1 victory.
Miss Coakley and Miss Gallagher were extremely positive about all of the children's performances and the whole school are very proud of their achievement.
Year 2 Matball Competition
Monday 12th January 2014 @ Archbishop Blanch
Today's Matball tournament was a first for the school and for our Year 2 pupils taking part. Matball is a game similar to benchball, using mats. The team tried really well but came up against some of the top schools in the city:
St Pauls 4 – 0 OLI
OLI 1 – 6 Our Lady St Swithins
OLI 0 – 4 St Cuthberts
Well done to the whole team and we hope to see them representing our school again in the future. Team: Luke, Tom, Kane, Daniel, Thomas, Ava, Summer, Evie, Callie and Amelia.
Tuesday 6th January 2015
OLI 1 v 11 St Margarets (Match report courtesy of LFC)
The mini league was back under way after the Christmas break and we had OLI v St Margaret's at the Anfield Sports & Community Centre. This was a committed game from both sides but it was St Margarets who took the deserved victory. They started the game strongly and were soon ahead courtesy of a great goal by Mikey. He dribbled through the OLI backline and finished into the bottom corner. This lead was soon doubled by Sam who finished off a lovely team move before Mikey got his second of the game. Before half time OLI grabbed a goal thanks to a good finish by Cameron, he followed up after the St Margaret's keeper had parried a shot. Into the second half and St Margaret's again started quickly and Sam got his second of the game with a break away goal. OLI to their credit never gave up and continued to battle on and encourage each other and their goalkeeper, Nadim, made some fantastic saves. Further goals from St Margaret's courtesy of Darren, Dominic and a fine solo effort from Mikey stretched their lead and gave them a valuable three points.
OLI MOM: Nadim.
Year 5 and 6 Water Polo @ Wavertree Aquatics Centre – 15th December 2014
Our past Water Polo exploits have seen us win the tournament in recent years and this years team did very well to try and repeat that. 2 wins, 1 draw and 1 defeat left us 2pts away from a semi-final place with excellent performances throughout. Holly took to the game like a duck to water, scoring 4 goals to show she has some hidden skills for Water Polo! Goals also came from across the team, with Paul, Sean and Alex also getting on the score sheet.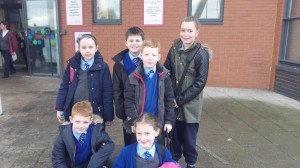 Jamie Carragher Soccer School
Last night saw the end of Jamie Carragher after school football sessions for this term. Carl, the coach, commented on how far the boys in the current group have come with regards to teamwork, hardwork and determination. In the 8 weeks he has been coaching, they have become much more attentive and are beginning to work together through improved concentration and communication. Well done to all the boys involved this term.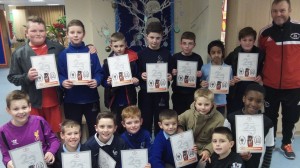 Girls U11's Cup Football vs. Barlows
A thoroughly entertaining game in the second round of the cup ended in defeat for OLI. The game was much closer than the 4-2 scoreline suggests, with OLI dominating for large periods of the game. Katie in the OLI goal was fantastic, keeping the team in the game on numerous occasions. The match saw debut appearances for Sarah and Elle and they performed as if they have been in the team as long as the other girls. Half-time saw OLI 2-0 down, with two unstoppable goals from the Barlow's girls.
The formation was kept the same in the second half and as it progressed, OLI created more and more chances and looked the more likely team to score. This persistence paid off, as an untimely handball from a Barlow's defender, saw the referee award a penalty kick to OLI. Grace stepped up and smashed the ball through the keepers' hands to reduce the scoreline to 2-1. Once again, all the possession was with OLI but the dominance was short lived, as Barlows hit back to make it 3-1.
A more fluid passing game was beginning to surface and this allowed Grace a run through on goal. A rasping shot caught the 'keeper unawares, bringing OLI back into the game. Late on, a corner was awarded to Barlows and although it seemed to pose no immediate danger, OLI could not get rid of the ball and it bounced off numerous legs, into the goal.
The final score of 4-2 is harsh on OLI, but the girls can take lots of positives into a rematch in the league fixture, later in the school year.
Anfield Mini League 11th November 2014
All Saints 2 v 2 OLI (match report courtesy of LFC)
A very close game this week in the mini league as All Saints and OLI fought out a draw at the Anfield Sports & Community Centre. As the score line suggests, this game was nervy throughout with both sides solid in defence in keeping the goals down to a minimum, which is notoriously hard to do in small sided football. The game began surprisingly fast as both sides attacked at will and peppered the goals with shots, and special mention must go to both goalkeepers who pulled off some great saves. The games first goal belonged to James of All Saints who finished well into the bottom corner after a quick break. This was cancelled out by Patrick of OLI just before the half time whistle. After the break, both sides tried their best to keep possession of the football and make their opponents run, this worked well for All Saints who regained the lead courtesy of a strike from Harry. As the full time whistle approached, OLI bounced back once again thanks to another goal by Patrick who grabbed his side a point. A fantastic match!
Year 2 Gymnastics Festival @ Lister Infants – 17th October 2014
Children progressed from their level 1 competition with our gymnastics coach, Jane, to represent the school in the level 2 competition at Lister school. After a succession of rolls and balances, the judges deemed our teams performance good enough for 3rd place. All of the team were delighted with the result and all of the school are extremely proud of their efforts!
Year 5 Indoor Athletics competition @ NLA – 13th October 2014
4th place in the Athletics heats was the follow up to the teams 3rd place performance from last year. Some new additions to the team came through the level 1 competition run over the course of two after school sessions, brought the team some new life. Some team members went above and beyond their expectations by stepping into fill in for other members of the team at short notice. The children were understandably disappointed to not make it through to the city finals, but fully enjoyed their experience nonetheless.
U11 Boy's Football vs. Our Lady and St Swithins (Cup) – 15th October 2014
The first round of the northern cup section made for an enthralling game, with 7 goals shared. Chances at either end littered the game, but with OLI failing to convert their chances, OL&SS raced into a 5-0 lead. Once again, the final 5 minutes brought out the best of OLI, with the boys narrowing the scoreline with 2 goals of their own. On a very big pitch, OLI played fantastically, with through balls the best way to penetrate the oppositions defence. The whole team stepped up their game from last week and everyone contributed to a great team performance. (L 5-2)
MOM: Lucas
Goalscorers: Harry and Ian.
U11 Boy's Football vs. Holy Name – 8th October 2014
Our first game of the league season was a huge test for our young team. The boys have been playing together for only a few weeks and will take the experience of this game into future performances. Despite creating a flurry of chances in the last 5 minutes, OLI spent most of the time defending, but failed to gain a consolation goal which they deserved. (L 4-0)
MOM: Sean
Anfield Mini League 16th September 2014
Anfield Juniors 10 v 2 OLI (match report courtesy of LFC) 
The new mini league season kicked of in style at the Anfield Sports & Community Centre as last years champions, OLI were defeated by Anfield Juniors. The game started in a blistering pace as both sides were eager to stamp their mark on the game, and tackles where crunching in left, right and centre. It was Anfield Juniors who went ahead courtesy of Michael, with a lovely finish on the break. OLI cancelled this out with a goal by Cameron; he finished off a great move with a shot into the bottom corner. In the lead up to half time, Anfield Juniors went ahead and then increased their lead with goals from Ethan, Dylan and further strikes by Michael. Into the second half and the tempo was still high with both sides showing no signs of letting up. It was OLI who scored the first goal of the second half courtesy of Joel, a great finish into the top corner. They continued to batter Anfield's goal trying to get back into the game but thanks to goalkeeper Jack, who made some fine saves, they were able to stay in front. As the full time whistle approached, Anfield Juniors further extended their lead to put the game out of sight and give them an opening game three points.
MOTM: Michael (Anfield Jnrs)