Year 3 Boys' Football Tournament!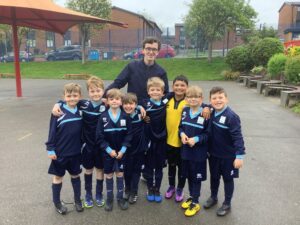 8 boys in year 3 were joined by 4 other schools to take part in a football tournament with the LFC foundation today! We were all so excited to get to play against other schools and couldn't wait to get stuck in!
The tournament was a league where each team would play each other, so we had 4 matches to play! Our first match was against Barlows, who OLI have played many great games with over the years. The boys struggled with Barlows' excellent attacking play and sadly lost the game 2-0. Many other teams would have let their heads go down after this loss, but the boys showed outstanding resilience to dust themselves off after the loss and bring a positive attitude into the next match!
The 2nd match was against St. Michael's and the boys again got off to a challenging start! Defenders Oliver and Franklyn had to dig in really deep to make some goal-saving tackles and goalkeeper Paulie showed some wonderful bravery by reaching out to stop corners. The game was locked at 0-0 before a free kick was given to OLI quite far away from the goal. Midfielder Jimmy took it and struck a powerful shot that went off the bar and in! 1-0!
The boys used this wondergoal to gain some momentum which was rewarded shortly after with a low effort inside the box from striker Finley sneaking into the corner of the goal for 2-0! Things went from good to even better for OLI as Jimmy made it a brace with a 2nd goal to see the match end 3-0!
With a win and a loss, the team knew they had to press on in the next match against St. John's. The match was a very close game, with defenders Raphael, Oliver and Franklyn showing excellent communication with keeper Paulie to again ensure that the OLI goal remained untouched. Everything changed in this match when a through ball from Jimmy was heading for the St. John's keeper just before a burst of pace from Colin saw him slide into the ball and score! Surely his first goal of many for OLI! The match ended 1-0. The boys did really well to keep going through the difficulty of tough match conditions with rain and wind, plus the disappointment of a missed penalty! Still, with 1 game left to play, they knew they were heading for a good result in the league!
The last match against Broadgreen began with the opponents showing excellent defence, with defenders blocking shots from the likes of attackers Freddie, Finley and Jimmy. Halfway through the game there was a moment of absolute magic as goalkeeper Paulie (known for his long goal kicks) took a shot from inside his own half that soared into the top corner! The players and the substitutes (and the teachers on the side) went wild in celebration as the OLI goalkeeper scored! Does it remind you of a certain Liverpool goal from last season?
Attacker Colin was having an excellent game and he helped to set up a 2nd goal to make it 2-0 which was scored by Freddie! Just before the final whistle of the final game, Finley scored his 2nd goal of the day to see the match end 3-0!
The boys took 9 points from 4 games which saw them finish 2nd! They were so proud of their efforts which were rewarded with LFC goodies (Freddie didn't care for those so much) and some certificates which we'll give out on Friday!
Reception and Year 1 Graduate Rugbytots!
Children in Reception and year 1 graduated from a 12-week Rugbytots course this week!
Children worked with coaches on skills in physical literacy and co-ordination through Rugby skills! These involved teamwork, dodging and being aware of space!
Look at the pictures below to see how they did!
Girls' Football Day With LFC Foundation!
Children in years 4, 5 and 6 from our girls' football team were overjoyed to participate in a girls' football celebration and tournament hosted by the LFC Foundation.
It was our newly founded girls' football team's first proper event against other teams and the girls represented themselves and the school with pride. It was the first time for captain Liv to lead the team and the first time for manager Miss Graves to take the helm of the team!
The girls played in a min-tournament against other teams and showed excellent teamwork and togetherness that saw them with 2 of their matches with some excellent goals from Sanya and Liv! The tournament finished with the children getting to meet the Mighty Red Liverpool mascot!
The final presentation was given and awards were given out and Aisha from year 6 won a player of the day award!
Have a look at the pictures below!
OLI 7-1 St John's
This evening we enjoyed a fabulous game of football at Jeffery Humble Football Hub vs St. John's school. The boys have played 5 matches this season so far; we've won 2, lost 2 and drawn 1 so we knew that the match could have gone in any direction!
The match began with disaster as our talented number 10 Caleb managed to knock over Mr. Fairclough's coffee on the sideline with the ball! Deserving of a 1 match ban? Back to the football, OLI began the match brilliantly as winger Frankie used his pace to cut inside to the penalty area are put OLI 1-0 up!
Our other winger Harrison was shortly afterwards the victim of a foul inside the area and penalty was awarded! Captain Alfie S stepped up hoping to end his goal drought… he ran up the ball and hit a stunning penalty… if we were playing rugby! The ball sailed over the bar and the match remained 1-0… but not for long! Alfie bounced back to help set up an opportunity converted by Harrison which, when combined with an own goal after a lucky deflection, put OLI 3-0 up!
St. John's recovered with a goal of their own, but the defence and midfield held their positions brilliantly. Joe, Francis, Ben, Oliver and Lucas all held firm with decisive tackles and used their communication skills in a way that has really flourished and developed since the beginning of the season. On the stroke of half time Frankie added a 2nd goal to finish the half 4-1 up!
The boys knew that the match was far from over and they protected their lead with an adapted formation in the 2nd half. While midfielders Alfie S and Caleb held possession in the centre of the field, Joe took a new role at centre back and combined with Oliver and Francis to produce some amazing last-ditch tackles. Keeper Sonny had his match of the season so far with an outstanding save with his feet from point-blank range. He also used his skills in handling the ball really well. Frankie and Harrison scored another goal each in the penalty area (hat-trick hero Frankie!) to put OLI 6-1 up with minutes left.
Alfie C very almost scored with a powerful driven effort from distance just as the match was ending and a corner was given… with an assist from Ben who loves to go up for corners, Alfie S lofted the ball over the keeper's head and scored! He managed to end his goal drought and redeem himself for that penalty! This sent the players into rapturous celebrations and the match ended shortly afterwards.
The match was played in a really good spirit from both teams and in spite of the scoreline, possession and opportunities in the match were very similar for both teams! Best of luck St. John's with the rest of the season!
Player Of The Match
From Mr Fairclough – Harrison. A selfless, tireless and heroic performance that had it all. Amazing tackles, passing, determination and 2 goals to top it off!
From Miss Gallagher – Oliver. Fantastic defensive awareness, tackling, resilience and doing it all as the youngest player in the team!
OLI 1-1 All Saints
Tonight saw a heart-poundingly close, tense and well-fought match take place between our under-11 boys' football team and that of our friends at All Saints' school.
The boys were eager to put recent defeats behind them and spectators could tell immediately that the match would be a close contest decided by a few moments of magic.
The match began with OLI playing a new formation that consisted of 2 holding midfielders, Alfie S and Caleb. The 2 boys held possession and dictated the tempo of the game brilliantly, denying All Saints' attacks and setting up chances for attackers Harrison, Frankie and Bobby.
This tenacity was rewarded towards the end of the 1st half. Francis (usually a defender) had been on the bench and had spent the previous 10 minutes complaining that he didn't want to come on and play as striker as it's not his best position. Novice manager Mr Fairclough ignored him and put him on as striker anyway… upon which he immediately scored a stunning volley from a deflected ball inside the penalty area and put OLI 1-0 up! The half ended 1-0.
The 2nd half saw All Saints change their tactics and go on to dominate possession. Defenders Joe, Lucas, Alfie and Virgil Van Ben made some amazing tackles, clearances and passes that saw chance after chance being denied. Goalkeeper Sonny had a great game where he really showed his resilience and this was highlighted by a stunning 2nd half diving save!
In spite of this, All Saints equalised with minutes left to see the game end 1-1, the team agreed that a draw was a fair result and that it was a really good match played with the correct mindset by both teams.
Player Of The Match
From Mr Fairclough – Virgil Van Ben for a stunning debut in the KMC league with brilliant interceptions and no handballs this time!
From Miss Hanlon – Francis for a beautiful goal that capped off an all-round great performance.
OLI Girls' Football Club Launches!
Our girls' football team launched this week! As part of an ongoing pledge to raise the profile of girls' football within school, Miss Graves launched a weekly football training session that will continue to the end of the school year!
The sessions will focus on teamwork, key skills and techniques and the sessions will result in the team being able to partake in matches and competitions against other schools as we progress onto the warmer months of the year.
Have a look at the pictures below!
OLI Dance Club Begins!
OLI has a dance club again!
Miss Burke has established a KS2 dance club this week! We're hoping to build routines that we can perform to the other children, to parents and to dance competitions in keeping with our school's pledge to offer wide opportunities for sporting competition for all over the span of the school year! Have a look at the photos below and watch this space for more!
OLI 1-5 Blackmoor Park
Today saw the final league football match of 2021 take place in the Northern KMC League! The boys couldn't wait to play and hoped they could continue their good recent run! As you can probably tell if you read the scoreline above… this wasn't to be! Nevertheless, the boys showed excellent teamwork, effort and sportsmanship throughout the match!
Defenders Francis, Joe and year 4 Oliver performed so well given that the OLI goal was peppered with attacks from an excellent Blackmoor Park team. Captain Alfie recovered from a painful 1st half injury to resume leading the team and Frankie (usually an attacking player) did a great job in dropping back into midfield to support Caleb given that possession was running against OLI. Goalkeeper Sonny saved several one-on-one chances including a miraculous fingertip save over the bar! Attackers Lucas, Alfie and Bobby were forced into a relatively quiet game but maintained positivity and teamwork throughout. Our highlight of the game came through a majestic goal from our goal machine Harrison. Beating the keeper with a lobbed effort from the halfway line that brought back happy memories of Xabi Alonso (apologies to any Everton fans reading…).
The match ended 5-1 to Blackmoor Park, but our team should be really proud of their efforts. It can be difficult maintaining composure and resilience when things don't go our way but keeping a level head means that the boys can look back on the game with pride. We can still take positives from the game; we played as a team, we have 7 points from a possible 9 in the league, and to top it all off at least Christmas is round the corner!
Player Of The Match
From Miss Davies – Francis for resilience, positive mentality, great tackling and several moments of excellent sportsmanship to the opposition.
From Mr Fairclough – Oliver for great temperament and tackling, plus giving a mature and measured performance in spite of being the youngest on the team.
OLI 'B' 3-0 Rice Lane 'B'
Today one of our favourite traditions at OLI took place at Archbishop Beck football ground; our boys' B team friendly against Rice Lane. The match is for keen footballers who don't necessarily play for a team at the weekend, as well as talented youngsters who don't play for our main under-11 boys' team. Our staff have linked with Mr Cooney from Rice Lane for a number of years and we try and arrange these friendly matches as often as possible to ensure that everyone gets a chance to enjoy competing in a sport they love!
The match was 11-a-side and played under very cold and windy conditions but that wasn't going to deter anyone! Both teams began with fantastic communication skills and some excellent passing and movement was taking place from both teams! Our midfielders Matteo, Oscar T and Junior were linking really well and this was rewarded in the first half when Junior was tripped inside the opposing penalty area and referee Mr Cooney awarded OLI a penalty! It was to be Bobby who stepped up to take it – he went for power and blasted the ball into the roof of the goal for 1-0! The half ended shortly afterwards!
The 2nd half began with both teams having to adjust to a change in the direction of the wind from swapping sides and also a change in referee to a slightly less skilled one! Defenders Camron, Joe, Matthew, Jonathan and captain Virgil Van Ben communicated with confidence and quality, even bouncing back from Ben's spectacular contribution for 'handball of the season'! Rice Lane were awarded a free kick and their captain hit a powerful effort on target which keeper Gerard saved brilliantly to keep the score at 1-0! Very soon after, a shot from striker Oscar F was parried by the keeper and fell into the feet of year 4 Ryan who scored a powerful effort on his debut! Ryan is the first year 4 to score a goal this season and this was a just reward for the brilliant game he was having; his interplay with Bobby and Oscar T was a real highlight!
At 2-0 up, the boys used this momentum to create more chances. From outside the box, striker Oscar F hit a volley that soared through the air and beyond the reach of the keeper to score an unstoppable goal and put the team 3-0 up! With his goal, Oscar F both scored his first ever OLI goal and equalled the OLI goalscoring record of his brother, Tom! Mr. Fairclough had promised his class ice cream if Oscar scored so we'll have to see on Monday is he's a man of his word!
The match ended soon after at 3-0 and it was lovely to see both teams shake hands in the true spirit of a friendly between two schools who enjoy linking together through sport. A big well done to Rice Lane for their efforts, resilience and sportsmanship and a big thank you to Mr Cooney for booking the pitch and helping to organise the game!
Player Of The Match
From Miss Graves – Ryan for an all-round great game, covering so much of the pitch, tackling, passing and being rewarded with a goal!
From Mr Fairclough – Oscar F for a goal of the season contender after a great all-round display.
Year 5/6 Sporthall Athletics With LSSP
24 of our year 5 children greatly enjoyed a trip to Notre Dame High School to take part in a sporthall athletics competition! 9 schools were competing in a variety of racing and field events including an under/over hurdle race (pictured below), relays, long jump, triple jump, chest pushes and a final javelin shootout!
The children loved showing their talents and competing in athletics events against other schools for the first time in a long time! Many thanks to LSSP for hosting the event and for the helpers (and in some cases former students!) who helped make us feel welcome on the day. Some pictures of the day can be found below!
OLI 3 – 0 Barlows
Another fabulous evening's football took place this evening in the KMC Sports league at Jeffery Humble Hub!
Fresh off a thrilling 5-4 win, the boys knew that they would be facing an uphill battle against a competent team and playing without superstar midfielder Caleb (absent due to injury) the boys knew that they would need to be at the top of their game!
The match began with high intensity and OLI were rewarded early on when a corner deflected into the path of Harrison to make it 1-0 to OLI! Harrison is a prolific scorer and is staking his claim for the golden boot this year! Great defending from goalkeeper Sonny plus defenders Joe, Francis, Oliver and debutant Jonathan saw the OLI penalty are remain well-guarded in the early stages of the match. This attacking impetus was justly rewarded with a 2nd Harrison goal just before half time, the half ended 2-0!
The 2nd half saw a war of attrition in midfield as Frankie (usually a winger) filled in as centre mid, winning tackles and creating chances with long passes, as well as showing excellent stamina to cover the pitch. Attackers Alfie S and Bobby were tireless in their attempts to break down the defence, with Bobby hitting the bar early in the 2nd half after hitting the post last week! I have promised Bobby that we'll send an email requesting for the goal to be a bit bigger for the next game.
Attackers Aflie C and Lucas were barraging the goal with opportunities, but the Barlows goalkeeper had a fantastic game, keeping his team in the running in spite of OLI having the lion's share of chances. Shortly before full time, a 1-on-1 chance created by Frankie was slotted into the goal by Harrison for a 3-0 lead and a sublime hat-trick from our attacking talisman Harrison.
The match ended 3-0, Barlows showed excellent resilience and sportsmanship and their keeper had a great game.
Player Of The Match
From Miss Crosbie – Frankie for adapting to a new position and showing fantastic ability and stamina.
From Mr Fairclough – Alfie S for leading the game marvellously as captain and showing brilliant touch while on the ball.
OLI 5 – 4 Blessed Sacrament
Today saw our boys' football team taking part in their first match in the KMC Liverpool League! After almost 2 years without being able to travel to competitions the boys were incredibly excited to represent the school and to show how talented they are! A large crowd was gathered at Jeffery Humble Football Hub as the match kicked off!
The match started off in an unfortunate way for the boys! Number 7 Bobby 'The Scorer'  hit the post moments in and the opposing goalkeeper made some great saves. An unlucky deflection off a defender saw Blessed Sacrament be gifted with an open goal which brought the score to 1-0 their way.
Our players were working tirelessly, and it was lovely to see new striking partnerships be formed given that this was so many of our players' first ever game! Newcomers Frankie  and Alfie  were linking up down the right side of the pitch and Francis was doing brilliantly on the left side of defence. After an OLI corner, a counter-attack saw the deficit increase to 2-0 before quickly after a firm strike from the edge of the area saw Blessed Sacrament lead 3-0!
So many other teams may have had their heads down now, given the scoreline after what had been a fairly even match in terms of possession and chances created. However, the boys showed tremendous resilience and took their game to another level! Frankie  produced a lovely cross into the area which was met with a fantastic header by number 9 striker Harrison. 3-1!
This galvanised the team into a new wave of energy, with midfielder Caleb  and captain Alfie  producing fabulous pieces of passing and movement which saw OLI hold the lion's share of possession. It was to be a 2nd assist for Frankie as his effort was parried by the keeper for Caleb to secure his first ever OLI goal after making his debut 2 years ago before lockdown! The half ended with OLI 3-2 down, but we all felt momentum in our favour!
Blessed Sacrament piled on the pressure as the 2nd half began, but our defence played with stunning determination. Centre-back Joe held the defensive line with an iron fist, debutant goalkeeper Sonny  produced save after save after save and Oliver managed to produced amazing football as a right-back in spite of him being the youngest player on the pitch and the only year 4!
This display was rewarded when Frankie  placed a fantastic finish from the edge of the area to level the score at 3-3 with his first ever goal for OLI! The boys could sense that a comeback win was on the cards, and Harrison soon after scored his 2nd with a 1-on-1 finish to put OLI ahead! With the comeback complete and 10 minutes remaining, Lucas found himself facing the keeper in a 1-on-1 after a counter attack and he drove the ball past the keeper and through a hole in the net! With some confusion in the crowd, the referee and VAR (Frankie's dad) confirmed the goal by Lucas to put OLI 5-3 up!
Blessed Sacrament regained momentum and put immense pressure on the team, with a goal in the dying moments to make the score 5-4 as well as a fantastic run and effort by their very talented left-back. After some stressful moments and some astonishing defending, the match ended 5-4 and OLI took all 3 points in their first match of the league season!
A big thanks to KMC Sports as well as to Blessed Sacrament, their players played the game with great attitude and there was a mutual respect between the players that was lovely to see, especially after so many months not being able to represent our school in competitions.
Player Of The Match
From Miss Gallagher – Sonny for making so many excellent saves and showing such bravery and communication skills.
From Mr Fairclough – Joe for adapting to a late position change and growing in confidence as the match went on.