Please see attached flyer and below info: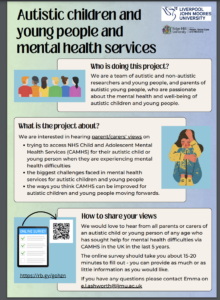 Please see attached flyer and below info:
"We are a team of autistic and non-autistic researchers and young people, and parents of autistic young people who are passionate about mental health and wellbeing.
We are interested in finding out parents' views and experiences of trying to access NHS Child and Adolescent Mental Health Services (CAMHS) for their autistic child when they are experiencing mental health difficulties. We would also like to learn about the biggest challenges in current mental health services for autistic children, and the ways you think CAMHS can be improved moving forwards.
We welcome the views of all parents/carers of an autistic child of any age who has sought help for mental health difficulties via CAMHS in the last 5 years in the UK.
The online survey should take you about 15 minutes to complete, but you can provide as much or as little information as you would like.
The link to the survey is here: https://ljmu.questionpro.eu/AutismInCAMHS
Any questions please email: e.l.ashworth@ljmu.ac.uk