3/5/17 – Year 3 Art for Hope University
Year 3 have created some artwork which is being sent off to Liverpool Hope University for an exhibition!
3/2/17 – HOPE does Art at Our Lady Immaculate.
During History week we had an extremely successful session with student teachers from Hope University. The children took part in workshops creating replica historical artefacts, oil paintings of monarchs, silhouettes and portraits.
During equality and diversity week we learnt about how to print using a stencil and discussed positive and negative printing. We looked at what colours and shapes were best to represent our friends.
The children in Key Stage One worked on collage this half term – we looked at the best materials to use in our science lessons and focused on colour and technique in Topic. The finished products were fantastic!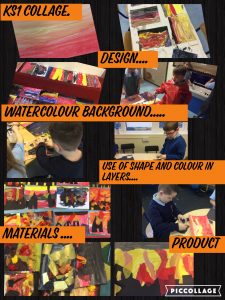 Year six showed off some fantastic work during their class assembly. They took inspiration from Romero Britto and created their own pop art masterpieces.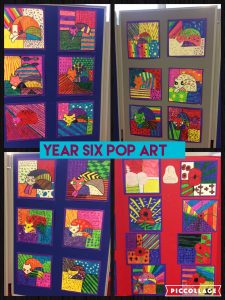 At Our Lady Immaculate we believe that the arts can play an exciting and leading role in the children's learning. We deliver a high-quality art and design education that engages, inspires and challenges pupils, equipping them with the knowledge and skills to experiment, invent and create their own works of art, craft and design.
Here is an example of work which our pupils produce: