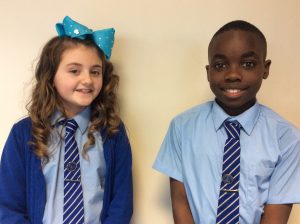 We are the School Ambassadors, we work with the School council, the teachers and the Governors to make our school a great place!
I am a proud pupil of Mr Cotton. My hobbies include playing football, running and many more. I am responsible, trustworthy and reliable. I can be trusted to escort little ones down to their area and can be trusted to handle expensive things. By the end of the 2016 -17 school year I hope our school will be an even better place.
Hello, as an ambassador, I am part of the school council and I am in year 6. My teacher is Mr Cotton and Mrs McNally. I was elected by my class mates because I am hard working, a friend to all and I will help anyone if they need it. I really enjoy dance, acting and singing, which I take part in after school. I am very excited to about my future roles as part of the school council.