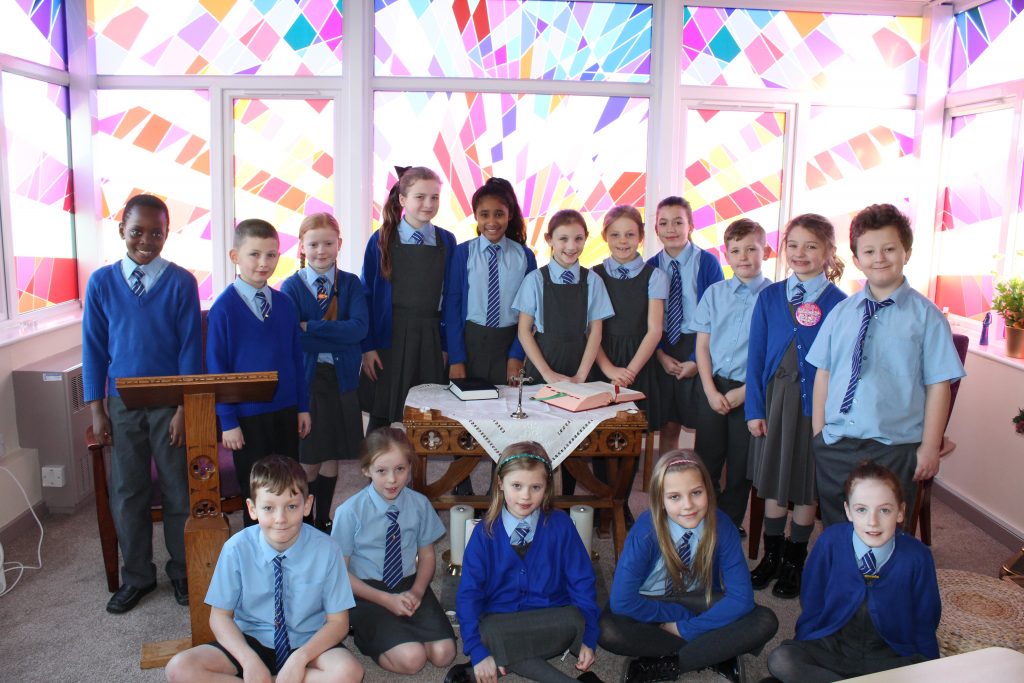 We have an active Chaplaincy Group in school that enhance our prayer life, Liturgical Celebration, Collective Worship and whole school celebrations. The group comprises of children from across Key Stage 2. They have been instrumental in the innovation, creation and development of our Prayer Garden.
The Prayer Garden is regularly used by all classes from across the school. It has enhanced our Religious Education provision and has become a well- loved resource for our school community to reflect and have quiet times.
Our Lady Immaculate Chaplaincy Group
Our Chaplaincy Group greatly contribute to the Catholic life and ethos of our whole school community and include children from Year 3 to Year 6.
The children help to create a happy, prayerful and spiritual environment, in which we as a family continue to love, grow and learn together in faith.
"Together, we celebrate our successes and are there for our friends and our families when they need us." Year 6 pupil
The Chaplaincy Group help to promote the teachings of Christ in a relevant and meaningful way by helping to prepare liturgy and by participating and leading the prayer-life of our school; through whole school assemblies, Collective Worship and the celebration of Mass.
The children are also involved in our Parish Community by supporting children who are preparing for their Celebration of the Sacraments, through "With You Always."
Our Lady Immaculate Chaplaincy Group 2016-2017
We have a new and very enthusiastic Chaplaincy Group this year. They successfully supported all of our Advent and Christmas Celebrations and led our Epiphany Assembly on our return to school.
Many parents were welcomed into school to celebrate Advent with their children during Advent Prayers. Thank you for coming!
Let us introduce ourselves!
Lent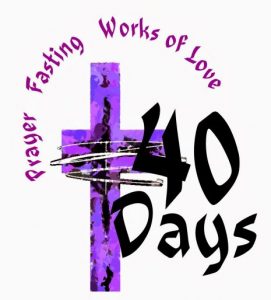 During the season of Lent we are supporting a school in Ghana with whom we have close links. The school is called Ankoma. Our Chaplaincy Group will be supporting their teachers with this project, raising funds to help make a difference to children's lives.
During Lent, each class is raising money so that we can send a child to school for one year. I wonder how many children we will be able to support?
I will cost £9.00 per year to send a child to school and £4.00 a year for health insurance, which will mean they can get medical treatment when they need it.
" Open the door of your heart to others because each person is a gift."
Pope Francis
"With God we can do great things."
Pope Francis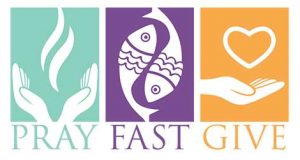 During Lent, our Chaplaincy Group helped to prepare and lead Collective Worship in their classes. They also led and helped to prepare the events of Holy Week with Mr Southworth and Mrs Brown.
If you look on our Church page you will see photographs of the events of Holy Week in school.
Lenten Prayers
The Chaplaincy Group have prepared these prayers as a focus for their Collective Worship during Lent:
Lent is a time for giving something up or doing something for someone else. Help us to come closer to you during this season of Lent.
Lord in your mercy…hear our prayer. Kian
God our Father help us to forgive others, just as you forgive us.
Lord in your mercy…hear our prayer. Annie
Let us pray for ourselves, that we may have the courage and the trust to follow God wherever he leads us in this life.
Lord in your mercy…hear our prayer. Kamil
Today we welcome Father Richard to our school and parish community, offering him our love and friendship as he becomes a very special person in our lives.
Lord in your mercy…hear our prayer. Paige
Let us pray that nations of the world may have the courage to work together for peace, justice and reconciliation.
Lord in your mercy…hear our prayer. Amber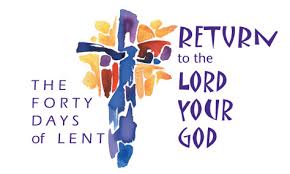 Collective Worship – Spring Term
Below are a selection of photographs from our Collective Worship this term from across the school. The children can worship in their classes, in our Oratory or in our Prayer Garden.
Looking after our Prayer Garden ready for Spring!
We all like to help keep this a special place to sit quietly, pray or meet with our friends during the day.
Year 5
Miss Topping's Class have prepared their focus table to reflect their Lenten themes.
Year 3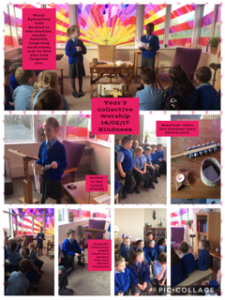 Year 2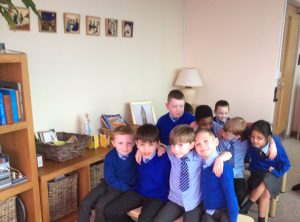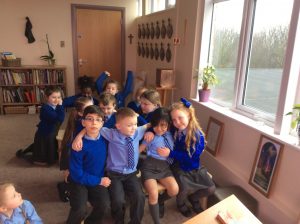 This term the Chaplaincy Group have helped to prepare Collective Worship for their class.
Advent Prayers
Advent Prayers were held daily during the season of Advent. Parents and staff from across school were invited to attend as the children celebrated the season.
The Chaplaincy Group helped to prepare and lead our whole school liturgies. They have a very important role in class helping their teachers to prepare and lead Collective Worship in their own class or within their year group.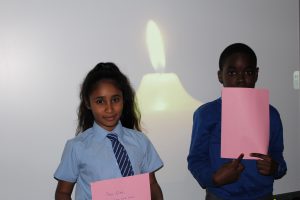 They thanked God Our Father for their families and friends; as they help them and guide them to become the very best that they can be.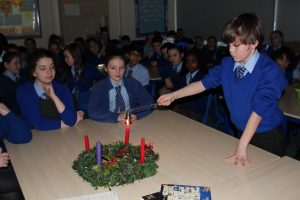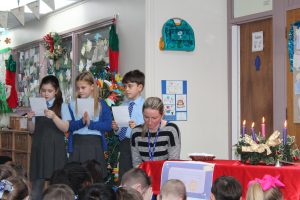 The children prayed for those people who were homeless, sick or in hospital with no families to visit them and care for them during the season of Advent and Christmas.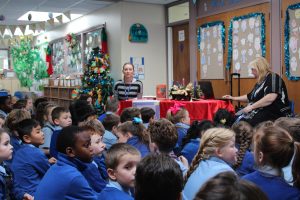 Thank you everyone for working so hard in making our school such a special place to be!
The Chaplaincy group helped to plan and lead our special Advent and Christmas Assemblies. Thank You so much for all of your hard work!
Sharing the joy of giving this Christmas
With the help of Miss Hughes, food was collected for the Whitechapel Project. The generosity of our children and their parents was outstanding! A special assembly was arranged so that we could hand over our collection. Several car journeys were made!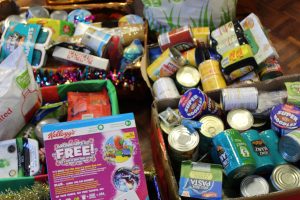 We shared the joy of giving this Advent. At this time of year we remember Mary and Joseph's long journey to Bethlehem and how they relied upon the kindness of strangers.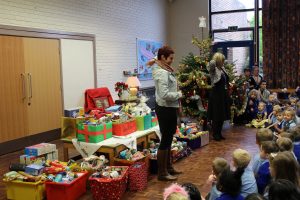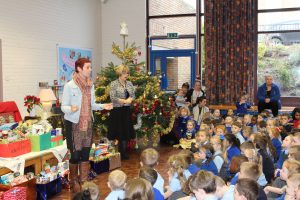 Our Lady Immaculate Chaplaincy Group 2015-2016
We are here to help!
Thank you to all members of the Chaplaincy Group, for all your hard work and dedication during this year! We wish our year six pupils a happy and successful time in their new schools as they begin their secondary phase of their education. Remember to keep in touch!
We are one family living and learning together in faith. Our mission is to develop a Christ centred community, which recognises Christ's love in every person and reflects the gospel values in the life of the school.
Our Prayer Garden designed, created and maintained by the Chaplaincy Group and Eco-Councillors is another place for quiet prayer, meditation and relaxation. It is a beautiful assets to our school which is frequented by children for circle time, collective worship and gatherings.
" I like coming here to be quiet with my friends. It's a special place."

Year 5 child.