Our very talented year 5 created moving scenes as part of their DT topic
Year 5 enjoyed making posters about negative and positive body images as part of PSHE
Year 6 have been learning how to play new chords and minor chords on the glockenspiel in music
Meanwhile in year 5, they have enjoyed performing triads in their music lessons.
This term, year 5 and 6 have had the opportunity to join 'The Little Library Book Club' with Mrs Roberts. There are library cards available and even job applications for the role of a librarian.
Year 5 used the internet to research about child labour to prepare for their persuasive argument.
What fun Year 5 have in Spanish learning about key items found inside their homes and asking their friends questions as they race against the clock.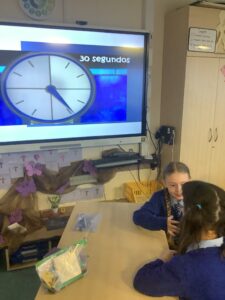 Creating a scrapbook recount of our year 5 trip to Lunt Meadows
Year 6 explored how nutrients are absorbed into the blood from the small intestines using Skittles and water.
This term, year 6 have been practicing and improving their basketball and bench ball skills.
Year 5 thoroughly enjoyed their trip to Lunt Meadows.