Is your child interested in taking part in sport outside of school? This page will give you information for local clubs which Our Lady Immaculate is linked with. If you require any more information, please see Mr Garth.
Athletics and Cross Country:
Liverpool Harriers train at Wavertree Sports Park every Tuesday and Thursday from 6:30 – 7:30pm.
Stanley Park Junior Parkrun: Sundays 9am (pre-registration and printing of barcode on parkrun.org required)
Water Polo: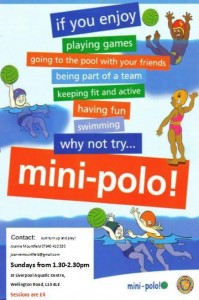 Handball:
Liverpool Handball Club, 8-11 year olds: Saturday 12 – 1pm at Liverpool College, Body and Mind Gym, Queens Drive, Liverpool L18 8BG. (once a month the team plays in the North West League so there is no training session on that day).
Facebook: Liverpool Handball Club
Twitter: @LiverpoolHC
Website: http://www.liverpoolhandballclub.co.uk
Football:
http://www.liverpoolfa.com/leagues/mini-soccer-leagues
Girls Football: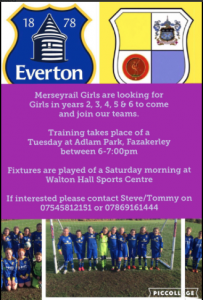 Cricket:
Sefton Park CC: The club is based at: Sefton Park CC, Croxteth Drive, Sefton Park, Liverpool L17 1AP and the club telephone number is 0151 733 5678.
We field junior sides at Under 9, Under 11, Under 13, Under 15, Under 16, Under 18 and Under 21 and welcome boys and girls from age 6 upwards. We also field 5 senior teams on a Saturday, with our 1st XI playing in Division One of the Liverpool Competition, plus one league XI and a friendly XI on a Sunday plus some midweek afternoon games.
Junior practice will start in January with the older age groups (senior school age) being on Thursdays at St Margaret's Academy, Aigburth Rd, from 8pm-10pm; indoor nets for the Under 11s and younger have yet to be confirmed but usually start in late January at a much earlier time. Come the summer months, juniors training is on Monday evenings at the club and Liverpool College. The coaching is taken by qualified coaches and the club has a Clubmark accreditation.
Gymnastics:
Leap Gymnastics: Combining expertise in dance and gymnastics to create the best experience from toddlers to teens. Classes consist of 40 mins of Dance and 40 mins of Gymnastics with a drinks break.
2015 class times
Thursdays: 4:30-6pm
Bronte Youth & Community Centre, Trowbridge Street, Liverpool, Merseyside L3 5NB. Price £3, Age 4 ½ -11 children will be grouped by age/ability.
Saturdays: Thomas Gray Primary School, Bootle, L20 4LX. Price £3. 9:00 – 10:30: beginners and age 4-6. 10:30 -12:00: age 7-11.
Email Leap_ltd@outlook.com. Facebook.com/leapclasses. Contact Sara or Jane on 07903619989 or 07855132992.
(All Coaches are DBS certified and highly experienced and qualified in gymnastics and dance. We will ask for an enrolment form to be completed with emergency contact details on child's first day.)
Total Gymnastics: http://www.totalgymnastics.co.uk/academies-merseyside
Lifestyles Gymnastics: http://liverpool.gov.uk/lifestyles/find-an-activity/gymnastics/
Rugby:
Waterloo Rugby Union:
U9's
"New players are welcome. We train every Sunday ( except for the Christmas and Easter breaks) at Merchant Taylors' Sports Fields , off Spinney Crescent, Hall Road, Blundellsands L23 8TZ. Training is between 10.15am and 12 noon and please arrive at 10am for a prompt 10.15am start.We will also train mid week at Litherland Sports Centre ( L21 7AT), details to be confirmed when the season begins.
We also play all our home games at Merchant Taylors' Sports Fields ( full address above)
Our coaches this year are Simon Peck, Ben Whawell, Simon Callow and Mark Hulse. Lisa Wilson is the team Admin Manager.Our main contact numbers are in the fixture book which you will receive when your child registers as a member of the Club in September.
For any further information or to arrange fixtures please contact:
Lisa Wilson 07854 789774 lisastclairwilson@hotmail.co.uk Simon Peck 07795 055329 iamsip@me.com
U10's
"Welcome to the 2014/15 season at Firwood Waterloo mini and junior rugby. We welcome all new players, boys and girls, aged 9 years on 1st September 2014. They play and train same times and places as u9s.
Your coaches this year are Andy Towle and Mark Evans and their contact details for parents and opposition coaches are as follows;
Andy Towle ( Head Coach) 07905538752 atowle@rsk.co.uk
Mark Evans ( Coach and team admin ) 07718140119 Mark.Evans@silverbeck-rymer.co.uk
Liverpool Lions Rugby League:
http://www.liverpoollionsrlfc.btik.com/
http://www.liverpoollionsrlfc.co.uk/
Badminton:
Anfield Junior Badminton Club play at the Anfield Sports and Community Centre, Breckfield Park, Lower Breck Road, on Wednesdays, 6.00-8.00pm, with age range from 9 years to 17 years. Cost £2.50 per session. If new members attend for 10 weeks they will receive a free racquet.
Everton Park Junior Badminton Club play at the Lifestyles Everton Park Sports Centre
Great Homer Street on Fridays, 7.00pm to 9.00pm, age range 9-17 years. Cost £2.50 per session. The special offer of attending ten weeks to receive free badminton racquet.
Everyone is welcome in clouding beginners and all equipment is provided. Sessions led by Badminton England qualified coaches, all holding CRB certification. SPECIAL OFFER: Attend for 10 weeks and receive a FREE RACQUET!
Contact: jeandean31@btinternet.com Tel: 0151 280 8595 or at Everton Park Sports Centre reception.
Lacrosse:
Year 4/5/6's are invited to train at Liverpool Lacrosse Club, Liverpool Cricket Club, Aigburth Road, L19 3QF.
OLI Primary School is not responsible for the content of external sites.