February 2017
A New R Time will commence after the half term holiday. Children are already asking if they can join in the fun!
Below are some of the comments made by the children during their R Time Graduation.
"We have really enjoyed R Time. I don't want to leave." Y5 pupil
"I will miss the staff and the new friends I have made." Y4 pupil
" I have enjoyed all the activities we have done." Y2 pupil
" I know how important it is to try your very best." Y5 pupil
" I can now answer more questions in class and share my ideas in a group. Y3 pupil
R Time Graduation, February 2017
July 2016
We have had a great time in R Time learning, playing and working together as a team! We have made good friends with children from across school and celebrated together our special achievements and talents.
Below are a selection of photographs showing some of the activities the children have enjoyed; finishing with their Graduation Assembly!
Graduation Assembly
Congratulations everyone!
January 2016
The children have a special graduation assembly at the end of their time in "R Time," where the achievements and talents of all are celebrated. Mrs. Sergeant and Mrs Brown were delighted to be giving the children their graduation certificates and a small gift in recognition of their hard work and achievement.
Their end of term celebrations culminated in a trip to St. George's Hall and the Walker Art Gallery in Liverpool which they thoroughly enjoyed!
Their exemplary behaviour was commented upon by members of the public and the art gallery staff. They were a credit to our school!
"I had a great time today with my friends from "R Time." Year 2 child.
How we felt about been asked to join R Time and what we have learnt:
I felt happy because I always wanted to be in R Time. I now feel more confident and will keep it up in class. Year 2 child
I felt happy and very surprised to be chosen. I have learnt how to make the right choices. Year 2 child
I felt shocked and nervous. I have learnt to never give up and do my very best work. Year 5 child
I was happy to join R Time and I have learnt how to make new friends. Year 1 child
Our buddies are helpful, kind and show respect for me. They look out for me, they are my new friends. Year 1 child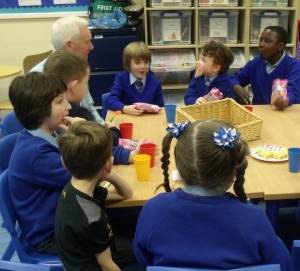 A New R Time Group
A new R Time Group has just begun and are looking forward to getting to know each other and working together.
Watch this page to find out what they are doing!