Forest School at Our Lady Immaculate
Our Forest School programme initially runs from our school site. This allows our learners to become comfortable with the Forest Schools outdoor approach to learning and play whilst still in their familiar surroundings. Relationships can be developed based on trust and self-awareness, these developments will facilitate the reflective learner led approach to the outdoor curriculum that underpins the Forest School ethos.
When the group is ready we can then get to know the route to our very own special Forest School wood, which might be within walking distance or require transport. The children will then have their very first session in the woodland, we will all explore our site, investigate and begin the sense of ownership and belonging, we will also consider discussing boundaries at this point both physical and behavioural.
Once a group are established in the woodland and routines are set up the project develops through a child led approach with opportunities for projects being taken back to the indoor setting to be continued.
Meeting Basic needs
It is fundamental that Children's basic needs are met before any higher learning can take place (Maslow's Pyramid of Hierarchical Needs).
Warmth – correct clothing provided & camp fire
Food – Health Snacks and meals
Drink – Hydrated water /hot drinks
Safe – individuals feel safe both physically and emotionally
The Forest Schools Site
Each Forest School site is unique; we will design it to meet the needs of the group and to fit the environment we are working in, usually in negotiation with the woodland owner. The site will be constructed in a clearing or cleared area of the woodland, this way we will keep your children as safe as possible whilst giving opportunities to explore and discover other areas of more dense ground flora, such as brambles and overhead hazards. Children will grow stronger physically and become more balanced and coordinated.
Our site could range in complexity from no fixed features to a fully constructed shelter and fire area with specially designed areas for hygiene, creative art, tool use, fast games, throwing games, water collection, flora monitoring amongst other ideas.
When we start to plan the site, we will have a circle area for seating made from wooden benches to surround our fire pit. Wind breaks around the benches will provide protection from the wind and create a cosy, enclosed area for a calm time around the fire area. These are fabulous to build with the children, no matter how old they are. We can make a group shelter from a tarp or an army parachute by putting up a winch to pull up a waterproof roof for any downpours and to store kit under.
The Activities
All sessions are designed around the needs of the group, we will ensure that they are learner-led. Sessions are designed around a theme, themes are sometimes subtle such as evolving or exploring the site or more obvious such as Romans, butterflies, spies, fairies or nature investigators.
Teamwork skills are developed through games and activities. Individual skills and self-esteem are heightened throughout activities such as hide and seek, shelter building, tool skills, lighting fires or environmental art, the list is endless. Each activity develops inter-personal skills as well as practical and intellectual skills.
Tools are used in Forest Schools in a traditional woodland manner and are introduced gradually with a structured safety base that your children become familiar with. The use of tools in the wood promotes trust and self-confidence within those taking part; their use will develop both gross and fine motor skills.
As a level 3 practitioner I will constantly evaluate an individuals' progression and re-adjust throughout the day to meet each child's requirements, at the end of the day I will carry out a final review. This is a very important part of the day. The children could be asked to shout out, draw, act or play a game to review the day they have just experience, reflecting about what they have done during the day. I will be responsible for enabling the children to apply this to the rest of their everyday lives.
Mrs Bowcock
July 3rd 2017
During our Forest School session today we made a den and pretended it was a prison where we sent naughty people. We worked together to create the den and made improvements by adding carpet, a blanket and more tarpaulins to make it bigger. We used lots of exciting language to describe our den and extended it to our role play. We also used the tools to make jewellery for our Mums. Frankie was able to use a bow saw and made a stick for his Mum. We also used sticks and wool to make a worm catcher for the birds.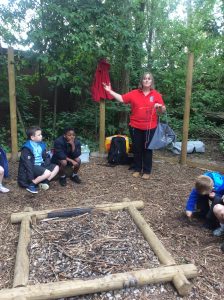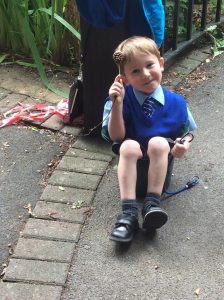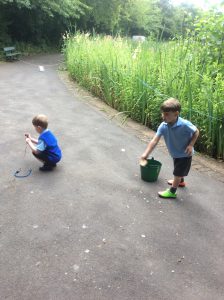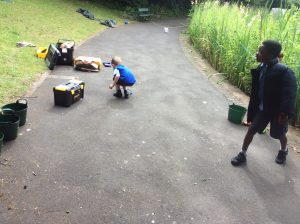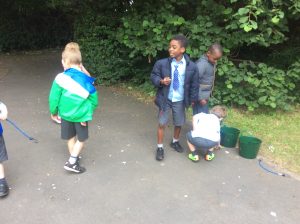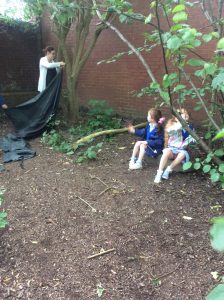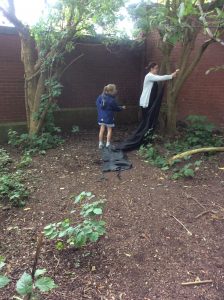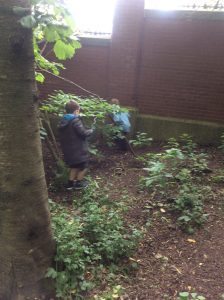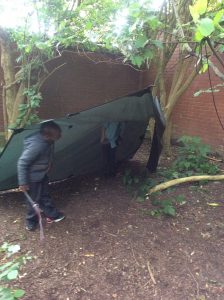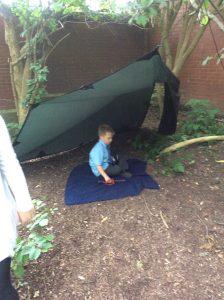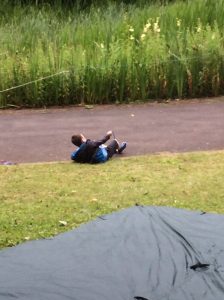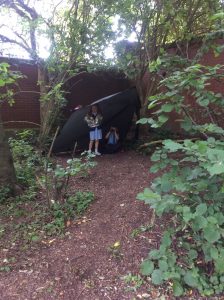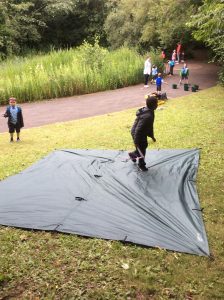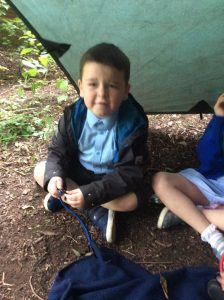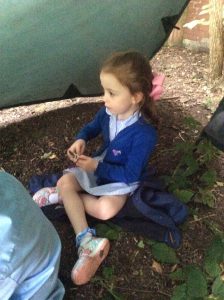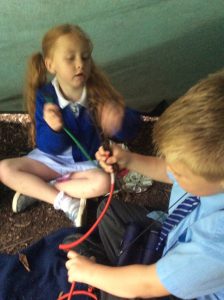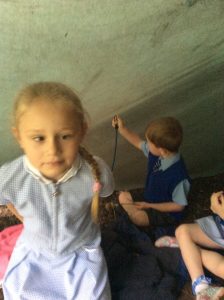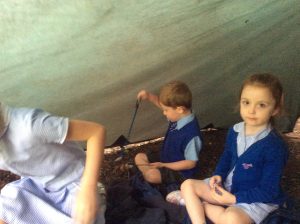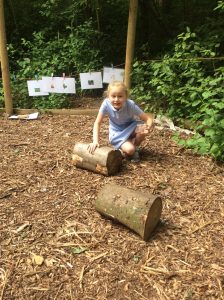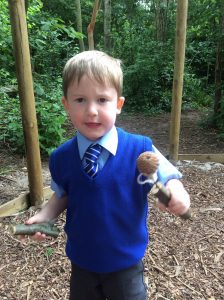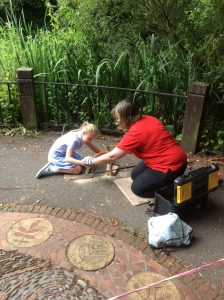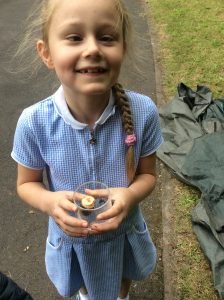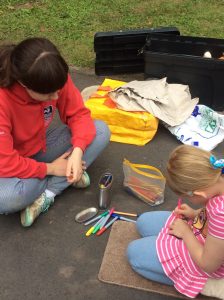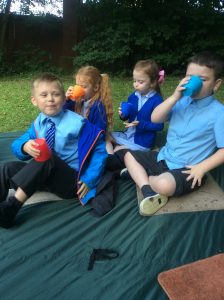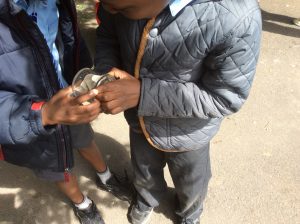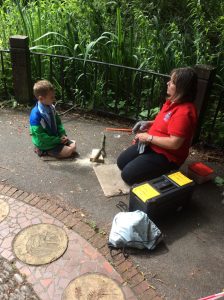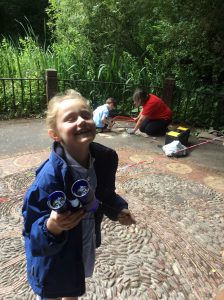 June 12th 2017
Today we joined Louise and Molly who will be joining us in our Forest School sessions. Today we introduced ourselves to the environment of the forest and set out our boundaries and rules. We looked at hazards in the environment and played with the mud kitchen and investigation box. We loved bug hunting under the logs. We made sure we put the bugs straight back in their natural environment. We later built dens and made our own mud flag.