With You Always Parish Programme 2017-2018
If you wish your child to engage in our Parish With You Always Programme for our year 4, 5 and 6 children; please contact Mrs Brown at school to register your interest, by Wednesday 20th September 2017.
With You Always, has now begun. Below is a list of dates when the Sacramental Programme will be delivered. Meetings will take place at 3.40pm at Our Lady Immaculate Church on Wednesday or Thursday.
Mass of Welcome Sunday 8th October 2017
Meeting 1 Treasure Hunt 11th/ 12th October 2017
Meeting 2 Beatitudes/Reconciliation 22nd/ 23rd November 2017
Meeting 3 Sacrament of Reconciliation week beginning 4th December 2017
Meeting 4 Stations of the Cross 28th February/ 1st March 2018
Meeting 5 Eucharist 1 18th/ 19th April 2018
Meeting 6 Eucharist 2 preparation for First Communion Mass 2nd/ 3rd May 2018
First Holy Communion Masses will begin at 2.00pm on: 8th/ 9th/ 10th May 2018
Mrs Shepherd has told our teachers how responsive we have been in preparing for the sacraments. Mr Southworth has been very proud listening to our contributions so far.
Reconciliation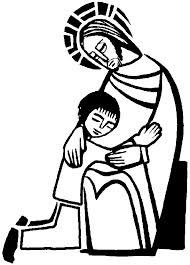 Next Thursday 7th December our With You Always children will receive the Sacrament of Reconciliation in school from 1.30pm. We look forward to our families joining us on this very special occasion. Mrs Shepherd will be in contact with you very soon.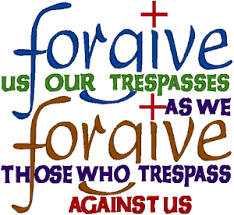 Today, the children on the With You Always Programme received the sacrament of Reconciliation for the first time. Many of their parents joined them in our Oratory and took part in the service. It was great to see so much support today for our children on their faith journey.
Baptism
Today 29th November was a very special day for several of our children and their families. The children were baptised in our Oratory by father Richard. It was lovely to see so many of their friends and family with us to witness and celebrate this very special occasion.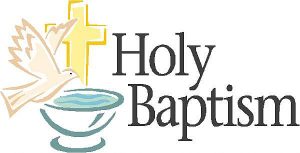 Prayer Partners
If you are in Year 5 or Year 6 and would like to become a Prayer Partner for our Year 4 pupils on the With You Always Programme, please let Mrs Brown know. It would be lovely to support our friends on their sacramental journey this year.
Class Assemblies 2017-2018
We love to have parents, carers, grandparents come along to our class assemblies!
Everyone is welcome!
Autumn Term 2017
Y6 Mr Cotton week beginning 12/10/2017
Y4 Mrs Burns week beginning 06/11/2017
Y2 Miss Whittaker week beginning 20/11/2017
Y6 Mr Garth week beginning 27/11/2017
Spring Term 2018
Y3/4 Miss Hughes week beginning 22/01/2018
Y1/2 Miss Kennedy week beginning 05/02/2018
EYFS Mrs Guy and Miss Cox week beginning 05/03/2018
Y6 Miss Topping week beginning 19/03/2018
Summer Term 2018
Y1 Mrs Bradley week beginning 16/04/2018
Y3 Miss Gallagher week beginning 30/03/2018
EYFS Miss Smyth and Mrs Guy week beginning 18/06/2018
Y5 Mr Fairclough week beginning 26/06/2018
The theme of Mr Cotton's Class Assembly was Colomendy 2017!
Below is a selection of activities the children undertook when they were there. they had a wonderful time and experienced and completed activities that they never thought that they would take part in!
All week they supported and encouraged each other to do their very best.
"I missed home, but I knew I would never get the chance to experience anything like this again! I will never forget it!"
Y6 Pupil
Remembrance Sunday 2017
Mrs Burns class have prepared their class assembly on the theme of Remembrance.
Please try to come along!
Today is the centenary of the Battle of Passchendaele.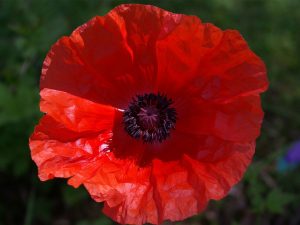 Below are a selection of photographs of Remembrance.
This poppy artwork was created to commemorate the fallen of World war 1. it was displayed at St George's Hall on the eve of Remembrance Sunday 2015. It was known as. "The Weeping Window. It was made of several thousand ceramic flowers.
"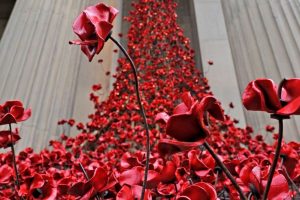 When You Go Home,
Tell Them Of Us And Say,
For Their Tomorrow,
We Gave Our Today.
Mrs Burns' Class Assembly was on the theme of Remembrance.
Many of our parents and grandparents came along to join us and joined in with song and prayer.
One hundred years ago, we were at war. Today we are at peace. And it is up to us to keep it that way.
We pray for the leaders of nations that they may be led by the Holy Spirit into ways of understanding and peace.
Give us Lord, a vision of our world, as your love would make it. Give us the inspiration and courage to build it.
A world where the weak are protected and none goes hungry or poor.
A world where different races, nations and cultures live in tolerance and mutual respect.
A world where peace is built with justice and justice is guided by love.
Amen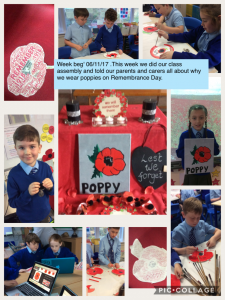 They shall not grow old, as we that are left grow old:
Age shall not weary them, nor the years condemn.
At the going down of the sun and in the morning
We will remember them.
We can work and live together in peace, as long as we learn the lessons of the past.
The theme of Miss Whittakers' Class Assembly was "Change."
The most important changes in our lives happen as we grow and learn. Even though we are only 6 and 7 we have changed so much already.
However, we also have lots more changes to come and look forward to in our lives.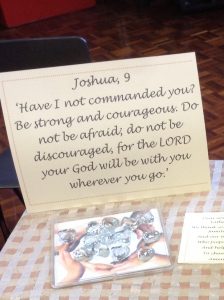 Dear God Our Father,
We thank you for our families and our friends who prepare us and help us to change.
Amen
The focus of Mr Garth's Class Assembly was Ancient Egypt
The children were so excited to show their parents what they had learned.
Thank you to all the parents and family members who came to see the showcase of work from Mr Garth's class today. They thoroughly enjoyed showing you their hard work and loved having the chance to teach you all a few things too!
Advent 2017
The first Sunday of Advent is 3rd December 2017.
Please check this page to see how your child is preparing for the birth of Jesus and the collective acts of worship to which you are very warmly invited.
This year we are supporting the homeless by collecting a variety of items which they may need and a local food bank. More information will follow soon.
Donations will be collected on each Monday of Advent. All new items will be collected within classrooms; they may include:
toiletries
bottled water or cordial drinks
coffee
sugar
non perishable foods
new hats, scarves or gloves or
any new Christmas items such as small gifts; playing cards, notebooks…Thank you so much for your continued support and generosity, it is very much appreciated from those people who need it most.
Advent and Christmas at Our Lady Immaculate
Advent begins four Sundays before Christmas Day and ends on Christmas Eve.
Traditional Advent wreaths have a candle for each Sunday of Advent.
Advent means 'Coming' in Latin. This is the coming of Jesus into the world. Christians use the four Sundays and weeks of Advent to prepare and remember the real meaning of Christmas.
First Sunday of Advent
Today the first candle on the Advent Wreath is lit. It is a symbol of the hope we have in Jesus.
"Advent helps us to understand fully the value and meaning of Christmas."
Pope St. John Paul ll
During Advent let us look into our hearts and see if we can make a change for the better.
We should be thinking about how we can care for others during Advent. How can we help our families at home, our friends in school and those who live in our community.
Thoughts for the week beginning Sunday 3rd December
We should ask ourselves; what can we do this week?
be ready on time! Don't be late!
Find out what the word anticipation means.
Be happy and joyful!
Year 6 Debate Thursday 7th December 2017
Has Christmas been destroyed by commercialism?
What do you think?
Today, our Year 6 pupils welcomed debating teams from Holy Cross and Kirkdale St Lawrence Primary Schools to take part in a debate on whether Christmas has been destroyed by commercialism. Strong arguments were put forward on both sides with each school demonstrating excellent speaking skills.
We hope both schools had a fun afternoon at our school and enjoyed having their lunch in our school canteen.
Feast Day Mass 8th December 2017
Father Richard will be celebrating mass in school on Friday 8th December 2017. Further details to follow but all members of our school community and Parish, as always are very welcome!
Happy Feast Day!
It was lovely to see all our friends of Our lady Immaculate parish come to celebrate our Feast day with us this morning.
It was a wonderful celebration.
The Gospel was from St Luke 1 26-38
"Rejoice so highly favoured! The Lord is with you."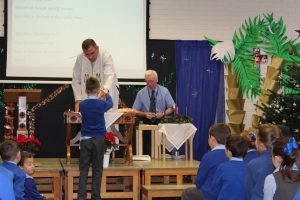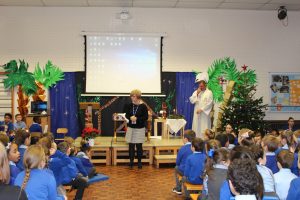 The Chaplaincy Group took chocolates to all the classes in school to celebrate our special day. They were very well received!
Our visitors were also welcomed to the staffroom for a chatter, amince pie and a warm drink!
Please see our Parent's Newsletter to see arrangements for a range of Christmas Celebrations!
Second Sunday of Advent
Advent is the season of preparation and hope. The birth of Jesus brings us the good news that we are loved unconditionally by God.
"Advent increases our hope." Pope Francis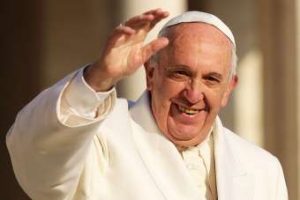 Thoughts for the week:
be joyful and thankful for what you have
think of something you are sorry for and ask for forgiveness
choose a good deed to cheer someone up or make them feel special.
John the Baptist brought a message of hope. What does hope mean to us?
Third Sunday of Advent
One of the candles in the Advent wreath is rose coloured, for Gaudete Sunday or Joy Sunday, this candle represents the beginning of the third week in Advent. Its name comes from the Latin word Gaudete – Rejoice.
When you light the third candle on the advent wreath remember Jesus is our light. Rejoice!
Thoughts for the week:
how do we find our way to God?
can we remember the message of John the Baptist?
how can we prepare in our school and at home for the birth of Jesus?
Lower Key Stage 2 Nativity 14th December 2017
Thank you to all our parents. grandparents, friends and family who helped to celebrate the story of Christmas with the children this morning.
They were fantastic, as they always are!
Below is a selection of photographs for you to enjoy!
Christmas Lunch and a Very Special Visitor!
We had great fun today!
First of all a special visitor came to school to deliver an early Christmas present for us all!
Then we went to the canteen and the whole school celebrated Christmas dinner together across four sittings!
A huge thank you to the kitchen staff for a most delicious meal!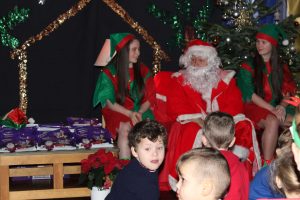 The Canteen Staff helped to decorate the canteen and the tables.
Thank you!
The teachers waited on us and then joined our tables as we shared our meal together.
Happy Christmas!
Fans Supporting Foodbanks
Today Mr Byrne, who is a governor of our school, joined us in assembly to collect the food, toiletries and warm clothing we have collected during Advent. All of the parcels will be distributed to children and their families who are in need.
Mr Byrne was overwhelmed with the generosity shown by the children and their families. Every week there are supporters from Liverpool and Everton who collect for the food bank outside the football grounds.
"Hunger doesn't wear club colours!"
Thank you to Miss Hughes who helped to organise this appeal and all of our children and their families who have made a difference this Christmas to those in need.
Fourth Sunday of Advent
Mary said yes!
Mary is a perfect example for all people – someone full of love and kindness.
"Let the model of Mary be reflected in our lives." Pope Francis
Thoughts for the week:
how can you show kindness and love in this final week of Advent?
what was John the Baptist's message?
sit peacefully and pray for those who are homeless or hungry
let us pray for peace in the world this Christmas.
Welcome to January 2018!
Welcome back to school everyone!
This week we celebrate the feast of the Epiphany. the word Epiphany comes from Greek; meaning "to appear."
The Magi were men of great learning and wealth and guided by a star they had a long journey of faith and great courage.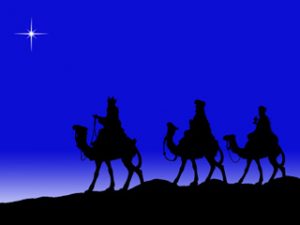 Can you remember the names of the three Kings and the gifts which they brought?
We should always remember to say thank you for our Christmas gifts. The greatest gift which we have received is the birth of Jesus.
8th January- the Baptism of the Lord.
Lord, help me to use the grace you gave me at baptism as I go about my days.
Amen
Miss Kennedy's Assembly February 2018

The theme of their assembly was, "Love." Miss Kennedy and her class prepared their assembly together and invited their parents and grandparents in just before the end of the school day.
As they gathered they sang" love is something special when you give it away…"
Miss Kennedy read, "Guess how much I love you!"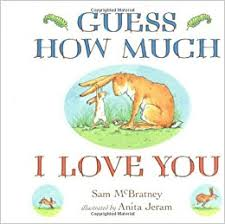 They children spoke about people they love and why they are so special in their lives. Their parents also spoke about who they love and why.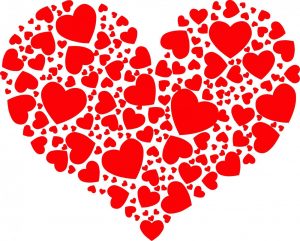 The children were delighted to see so many of their parents there.
Lent 2018
Ash Wednesday is the first day of Lent. This year it falls on Wednesday 14th February.
It derives its name from the practice of blessing ashes made from palm branches blessed on the previous year's Palm Sunday and placing them on the heads of participants.
.

Ash Wednesday opens Lent, a season of fasting and prayer. Ash Wednesday takes place 46 days before Easter Sunday, and is chiefly observed by Catholics, although many other Christians observe it too. Ash Wednesday comes from the ancient Jewish tradition of penance and fasting.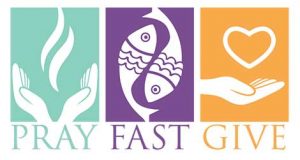 In the Gospel for Ash Wednesday, Jesus challenges us to pray, to fast and to give. So today, and throughout Lent, we should try and make Prayer life richer, to Stop doing some things which in turn will free us to Go out to others with acts of service.
'Pray, Stop and Go' will be our key theme for Lent this year.
Jesus said, "Take care not to do good deeds in order that people may see them."
Matthew 6:1-6, 16-18
This week can you discuss in your classes what you would like to do this Lent and bring your ideas along to the School Council.
There will be Lenten Prayers in the Oratory every Wednesday at 3.30pm just for ten minutes during Lent.
CAFOD Lenten Fast Day is Friday 23rd February this year.
Today is Family Fast Day, a day when we go without and donate the money saved to help our sisters and brothers living in poverty.
This year, Catholics around the world will be joining us in our fast, as Pope Francis has called for a day of prayer and fasting.
Lenten Weekly Focus
Week beginning 18/02/2018
Prayer for your family: Lord, bless me and bless my family. Amen
Listen and learn from your parents, your teachers and your friends.
Think about how you can help others during Lent.
Week beginning 25/02/2018
Share the hand of friendship with someone you don't usually talk to or play with.
Put away your ICT and have a chat instead!
Help your family at home prepare for a meal.
Enthusiasm, Loving God and Each Other
"If you are what you should be you will set the whole world ablaze".
Saint Catherine of Sienna
Week beginning 04/03/2018
In the Gospel we hear that Jesus cleared out the temple. What can we do to become closer to Jesus?
Support someone who is upset or lonely.
Be humble because we all get things wrong!
Self-giving, Loving God and Each Other.
" Jesus leads us to go out from ourselves more and give ourselves to serve others". Pope Francis
Week beginning 11/03/2018
Give your mum, dad, aunt, uncle, grandparents a huge hug!
Say thank you to our friends and family who are always there for us.
Remember to pray for the sick, the lonely and the homeless.
Follow, Loving God and each other.
"To follow Jesus means to share his merciful love for every human being".
Pope Francis
This week, let us pray for our families, our friends and our community.
Dementia Prayer Week is 12th-19th March 2018.
Loving Father,
you are close to the broken hearted.
Look with compassion on those whose lost memories have robbed them of their home and belonging.
Comfort and strengthen those who care for them.
May they make their home in you.
This we ask through Christ Our Lord.
Amen
Week beginning 18/03/2018
Give thanks for the generosity of others and the love of foster parents like Saint Joseph.
Enjoy forgiving and being forgiven.
Pray for anyone whose feelings you have hurt through your behaviour.
Forgiveness, Loving God and Each Other.
In seeking God's mercy in the Sacrament of Reconciliation, we encounter the joy and the gift of forgiveness.
Holy Week
Week Beginning 25/03/2018
Palm Sunday of The Lord's Passion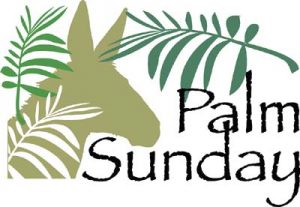 Today the Chaplaincy Group helped to prepare and lead our Palm Sunday Assembly.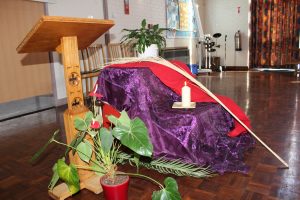 Jesus draw us into your friendship and help us to follow your word.
Amen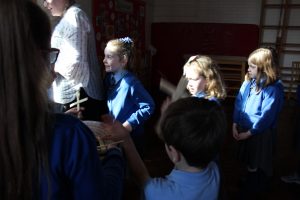 After our assembly the children were all given a palm cross to remember the events of Palm Sunday.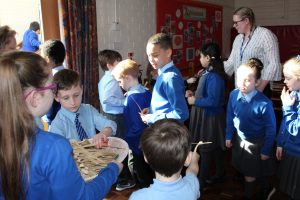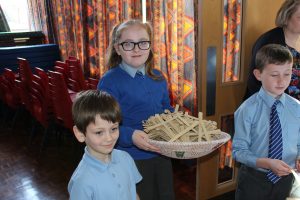 Maundy Thursday
Jesus, strengthen us to be your body in the world, ready to serve others as you served your disciples at the Last Supper.
Amen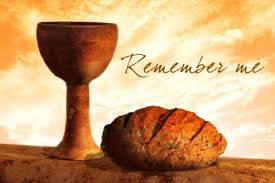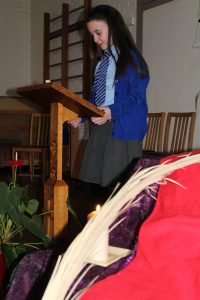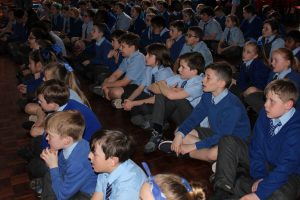 Good Friday
Today staff read the readings which were linked to the Stations of the Cross. They were:
Jesus meets Mary his mother
Jesus meets Simon of Cyrene
Jesus meets Veronica
Death on the cross
As each member of staff read a reading and prayer the children enacted what happened at each Station of the Cross.
The children and staff left in silence…
Easter Saturday
Easter Sunday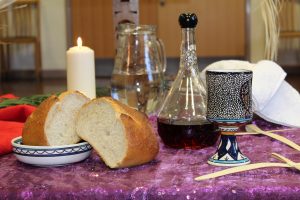 Eastertide
Good Shepherd Sunday is on 22nd April 2018. Jesus is the Good Shepherd who can be trusted to guide our lives in the right direction.
"Please help us to always place our trust in you."
29th April
Growing
Jesus said; "I am the vine; you are the branches." In this Sunday's Gospel we are reminded that goodness grows in each of us; joy, kindness, patience, courage….We are filled with these fruits when we choose to stay close to Jesus.
6th May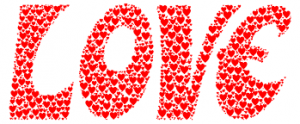 Love
God is love.
In today's Gospel Jesus says to his friends ,"As the Father has loved me so I have loved you."
St Augustine said that Love has the hands to help others.
We love each other when we care and look after others through words and through our actions. In doing this we follow Jesus' new commandment, love one another.
On the 10th May the Church celebrates Jesus' Ascension. This was the day when Jesus returned to his father in Heaven.
Through the power of The Holy Spirit, Jesus is always with us so that we can continue to know God's love and care, forever.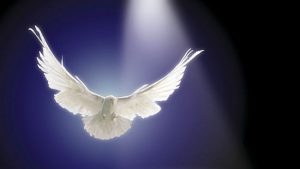 10th May
Ascension Thursday
Today is The Feast of The Ascension and Jesus tells us to, "Go throughout the whole world and preach the Gospel to all mankind."
It is also a special day for our children who are making their First Holy Communion.
Special thanks to Anne, Mr Southworth and their families who have helped the children prepare throughout the year.
We look forward to them sharing their photographs with us very soon.
13th May
Care
Let us care for one another.
Jesus had always cared for his followers and he continues to love and care for us too.
20th May
PEACE
The Feast of Pentecost is the Sunday which the Church celebrates the feast of the gift of The Holy Spirit to the Church.
Jesus never wants us to be worried or upset – he gives us the gift of God's peace.
"Let us pray for peace; peace in the world and in our hearts. We can all be builders of peace."
Pope Francis
Pentecost Sunday is also known as the birthday of the Church because this was the day the mission of the Church really began – almost 2000 years ago.
27th May
Friendship
Jesus wants to be our friend and wants us to share the joy of friendship with others.
Today is also the feast of the Holy Trinity; the Father, the Son and the Holy Spirit.