With You Always Sacramental Programme 2015-2016
If your child is in Year Four and you wish for them to receive the sacraments of Reconciliation and First Eucharist then you must register with Ann Shepherd our parish catechist after Mass. Registration will close on the second Sunday in October. The With You Always programme will begin within the parish community after the parish welcome Mass in October.
If your child is in year 5 or year 6 they too may join the parish programme.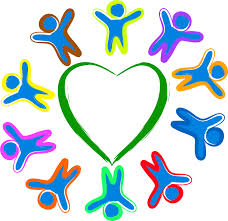 NEWS:
Class Masses will be celebrated in our Oratory every four weeks, the focus will be to celebrate the end of a topic from the Come and See religious education programme.
CLASS ASSEMBLIES:
Each term classes from across school will celebrate their learning in a class assembly. Please try to attend as it's love;y to see so many of our parents on these occasions.
Information will be shared with you through curriculum newsletters.
DISPLAYS:
Please see evidence of Collective Worship and Displays in @The Gallery."
EVENTS:
Remembrance Sunday 2015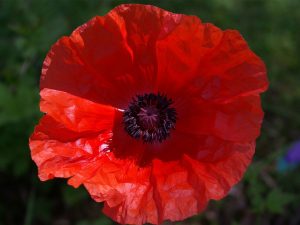 The whole school participated in researching the men from Our Lady Immaculate Parish, who died during World War1.
They displayed their work in church in preparation for the Remembrance Sunday Mass. The Parishioners were delighted with the work that the children had undertaken in school and were overwhelmed by the display which they had created in Church.
The pupils were able to research the lives of the men who died from Our Lady Immaculate Parish, Everton; as all of their names are recorded in the church porch.
The children were very keen to find out as much as the could about the men from Everton and their families.
In November, Mr Cotton's class assembly was also all about Remembrance. Many of the children's parents and grandparents attended. The children captured a snapshot of the lives of those who died as they researched their lives. They remembered and prayed for all who have died in war and their families with great respect and reverence.
Thank You Father Graeme!
It was with great sadness that we said our goodbyes to father Graeme at the end of last term. We celebrated Mass with him, which was concelebrated with Bishop Tom.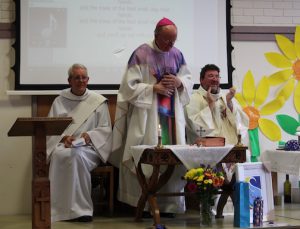 Deacon Geoff and the children helped to make it a vary special occasion. gifts were given to him from the Children, Staff and Governors in recognition of Father Graeme's dedication to our school and parish over the last thirteen years.
Father Graeme has capably supported and guided our school and parish family and has been a great friend to us all. Father Graeme will be greatly missed by all of the staff and children at Our Lady Immaculate School; but he has promised to keep in touch!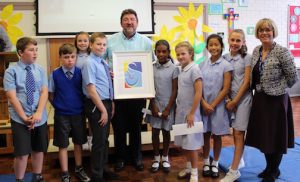 We wish him every success and happiness in his new parish.
We welcome Father Liam to our school and parish community and we look forward to meeting him very soon.