Our Lady Immaculate Chaplaincy Group 2016-2017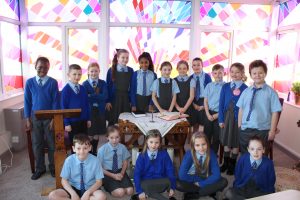 We are ready to help organise, prepare and lead Collective Worship in our own classes and across the school through whole school assemblies.
Collective Worship Year 5
This week the children have been reflecting upon the power of the Holy Spirit. The Holy Spirit is our helper and helps us to live more like Jesus – to do good things and be filled with love and truth, happiness and peace which comes from God.
Today a group of year 5 children prepared their collective worship in our Prayer Garden. They have been reflecting upon happy times they have shared with members of their families.
They all wrote poems about people who are special to them.
Mia wrote-
"There are moments in life when you miss someone so much, that you just want to pick them from your dreams and hug them for real."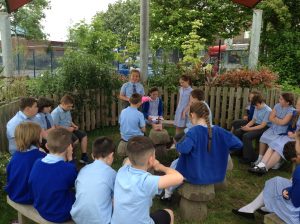 Lord Jesus,
Please send your Holy Spirit into our lives to be our helper and guide us, so that we too can help those around us.
Amen
How can we help those around us? Is there someone who especially needs your help at school or at home?
Good Shepherd Sunday
Jesus is the Good Shepherd and if we listen to him we can rely on him to guide us in our lives.
Jesus is the patient shepherd who will not give up on us. How can we help others?
Dear Lord Jesus,
You are the Good Shepherd who knows us all by name and guides us through life.
Please help us to hear your voice and follow you always.
Amen
Lenten Prayers
The Chaplaincy Group have prepared these prayers as a focus for their Collective Worship during Lent:
Lent is a time for giving something up or doing something for someone else. Help us to come closer to you during this season of Lent.
Lord in your mercy…hear our prayer. Kian
God our Father help us to forgive others, just as you forgive us.
Lord in your mercy…hear our prayer. Annie
Let us pray for ourselves, that we may have the courage and the trust to follow God wherever he leads us in this life.
Lord in your mercy…hear our prayer. Kamil
Today we welcome Father Richard to our school and parish community, offering him our love and friendship as he becomes a very special person in our lives.
Lord in your mercy…hear our prayer. Paige
Let us pray that nations of the world may have the courage to work together for peace, justice and reconciliation.
Lord in your mercy…hear our prayer. Amber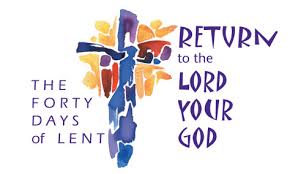 Collective Worship Spring 2017
Our Nursery children have used our Prayer garden for their Collective Worship. It was lovely and peaceful and quiet!
Miss Gilchrist's Class have been busy preparing Collective Worship.
Their focus was:
Don't judge someone just because they are different. We are all individuals and are much loved.
Miss Topping's class used the theme of "International Women's Day," for the focus of their Collective Worship this week.
The Chaplaincy Group with the support of their friends, planned, resourced and led their Collective Worship.
Below is a selection of photographs from Years 2, 3 and 5 Collective Worship during this term.
Year 3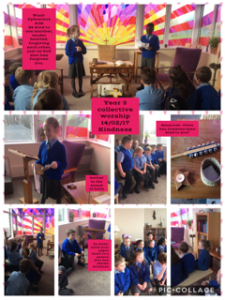 Year 2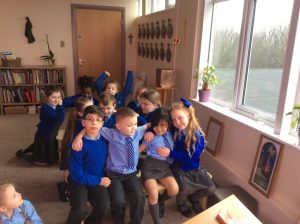 Miss Gilchrist's Year 5 Class
"Those who are filled with love are filled with God himself. Love begins at home and is not about how much we do…but how much love we put into it"
St Teresa of Calcutta (Mother Teresa)
Collective Worship Advent 2016
The Chaplaincy Group prepared and led our Advent Prayers during Collective Worship.
Advent is a time of anticipation and expectation. We wait in expectation for the coming of Jesus, God made human.