Chaplaincy Group 2015-2016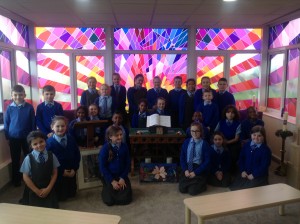 We have supported a group of children in Year 4 who are preparing for to receive the Sacaraments of Reconciliation, Confirmation and Holy Eucharist, through the parish programme, "With You Always". A few of us have also read at the Welcome Mass and written bidding prayers to support our friends as they prepare to receive these sacraments.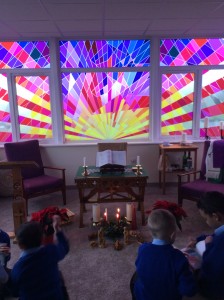 Advent prayers, a special time to gather, pray and reflect.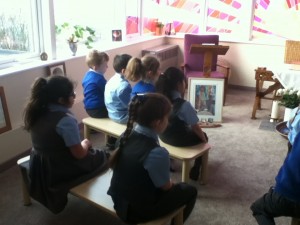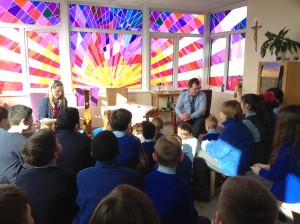 Year 5 Collective Worship in the Oratory.
Oratory timetable 2015-16
Oratory Timetable
For The Year of Mercy
Our Oratory is available every day for prayer, reflection and meditation in the presence of the Blessed Sacrament.
During this year, a special time for prayer has been allocated to your class. You may choose to take small groups of children to the oratory, or to take your whole class.
Please feel free to pop in whenever you wish!
Day

Morning

Afternoon
Monday
Reception

Miss Cox

Reception

Mrs Roberts and

Mrs Bowcock

Tuesday

Year 1/2

Miss Hughes

Year 1

Miss Smyth

Year 2

Miss Whittaker

Wednesday
Year 5

Miss Topping

Year 5

Miss Gichrist

Year 6

Mr Garth

Year 6

Mr Cotton

Thursday

Year 3/4

Mrs Burns

Year 3

Miss Gallagher

Year 4

Mrs Coulson

Friday

Nursery

Mrs Guy

Nursery

Mrs Guy