Welcome to our Special Educational Needs and Disability home learning page!
During this tough time, we will do everything we can to support your children during this time.
Please email us at:send@oliprimaryschool.co.uk if you have any special educational needs queries between the hours of 9.00am-4.00pm and one of our SEND team members will endeavour to reply within 48 hours.
Support Agencies
Please find contact details for a range of services which are accessible to our families.
2021 SEND Support Helpline for Settings & Families Flyer
Website Links
Here are links which will take you to our website page for Special Educational Needs and Disability.
https://oliprimary.co.uk/parents-info/special-educational-needs-disability/
Liverpool Parent and Carers Forum-LivPaC
Liverpool Parent and Carers Forum (LivPaC) is a group of parents and carers of children and young people with special education needs and/or disabilities (SEND) who work with education, health and care services.
"Alone, we can do so little.  BUT together we CAN do so MUCH"
Through their participation and co-production, they work to create a culture across all services which places need of families at the centre of the decision making.
Below is a link to LivPac which holds a wealth of resources which may provide useful in supporting your child and your family.
As Parenting Co-ordinator for Liverpool City Council, I am proud that we can offer parents across the city a platform to share their stories whilst offering resources from across a wide spectrum of organisations to support parents on their journey.
It has been a privilege to pull these SEND blogs and information together and I would like to thank the parents, LivPac and our partners for their support and assistance in piecing this jigsaw of information together. Chris Cavanagh
Produced by LivPac & Chris Cavanagh (LCC Parenting Co-ordinator)
ASD Training Team virtual drop-in sessions 
The Liverpool ASD Training Team are providing a series of virtual drop in advisory sessions via zoom.  They are for parent/carers wishing to talk in a private one to one setting about any questions or concerns they may have about their child. You do not require a diagnosis of ASD to book your place.
https://asdtrainingteam@liverpool.gov.uk 
ADHD Foundation Support
The ADHD Foundation have organised a support group for parents. All are welcome whether your child has a diagnosis or not.
They will be virtual meetings over Zoom on the last Monday of the month@1.00pm.
Please see the attached information for further details.
Support Group flyer- Zoom_Liverpool
They have also produced this information pack to give you some ideas of how to help guide your child through this new way of learning, away from
the familiarity of the classroom. Support your child with ADHD during school shutdown
Use this social story to explain the guidance on social distancing.
The British Psychological Society says it vital to talk openly to children and reassure them about the changes they are seeing around them. The link offers advice to parents on how to do this.
https://www.bps.org.uk/news-and-policy/bps-highlights-importance-talking-children-about-coronavirus
Talking to children about coronavirus
Help improve your child's memory skills by trying some of these memory games.
A guide to supporting vulnerable pupils and students during periods of disruption
supporting-the-most-vulnerable-children-and-young-people-interactive-160420 (1)
Parental Booklet
Additional information to support your child at home from the ADHD Foundation. It has useful information to help keep your child within a routine. It also gives websites for further information which could be of help to you.
Supporting_your_child_during_shutdown
Ideas for breathing and calming…
Cooling-Down-Letting-Off-Steam ADHD Foundation
Breathing-to-Relax ADHD Foundation
Supporting_your_child_during_shutdown
ADHD Foundation training for parents-Webinars
There will be availability for parents to attend webinars from The ADHD Foundation. Topics will include:
ADHD and Treatment – AM
Sleep and Wellbeing – PM
Stress awareness and self-regulation – Evening
There will also be workshops on Emotional wellbeing and mental health with a focus on moving towards transition which will be held on Wednesday Evenings 7-8pm.
This training is primarily for families who have accessed support from the ADHD Foundation through school; or for those families who have a child with a diagnosis of ADHD/ASC or have children on Pathways.
If you wish to attend please email school using the SEND e-mail address and your request will come directly to myself. I will then give you further details to access them.
Keep safe and take care, Mrs Brown

times and dates, ADHD Webinars for Parents
OSSME
OSSME have circulated this worksheet if your child would like to record their daily activities.
Things to do at home while self-isolating (Covid-19 adapted)
Newsletters from OSSME
OSSME June-July 2020 Newsletter (1)
Jan – Feb 2021 OSSME Newsletter
Booklet for parents to complete with their child regarding their anxieties…returning to school
We will be revisiting this resource in school when our pupils return.
OSSME Transition Booklet back to school (Covid-19) May 2020
SENISS Support

– a social story
This has been shared to help you explain to your child what coronavirus is all about.
Further Social Stories from Sheffield NHS
Their website has a wealth of ideas to help children understand what is happening currently with the Coronavirus. You can download these stories and make them with your child to support them at this difficult time.
Feelings Schedule-and-choose-symbols-for-home
Promoting-talk-at-home-advice-sheet
There are further resources on our Wellbeing Page again from Sheffield NHS, which you may find helpful.
Wellbeing Activity Packs
Schools Wellbeing Activity Pack –
Strengthening Wellbeing Together 2020
Autism Eye Newsletters
"We would be delighted  to share The Autism Eye Newsletter on your our school website". (Autism Eye, April 2020)
There are several interesting articles which could be of help to you at this time. Further editions of this publication will be updated on this site for you to look through. However, parents and carers can also access this publication free of charge.
Below is a link to the newsletter that you can use to access it: April 2020
https://mailchi.mp/autismeye/apr20
The online subscriptions are free of charge to parents. Since we have been given permission to share this newsletter with you on our website. Why not take a look!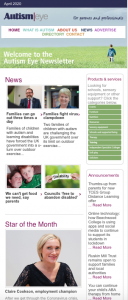 The latest Newsletter from Autism Eye – May 2020.
https://mailchi.mp/autismeye/may20?e=bdd2a614d5
https://mailchi.mp/autismeye/june20?e=bdd2a614d5
https://mailchi.mp/autismeye/dec20-jan21-2?e=bdd2a614d5
https://mailchi.mp/autismeye/issue40?e=bdd2a614d5
https://mailchi.mp/autismeye/nov20?e=bdd2a614d5
https://mailchi.mp/autismeye/oct20?e=bdd2a614d5
https://mailchi.mp/autismeye/sep20?e=bdd2a614d5
https://mailchi.mp/autismeye/issue39?e=bdd2a614d5
https://mailchi.mp/autismeye/julaug20?e=bdd2a614d5
https://mailchi.mp/autismeye/june20?e=bdd2a614d5
https://mailchi.mp/autismeye/summer20?e=bdd2a614d5
https://mailchi.mp/autismeye/feb21?e=bdd2a614d5
Positive Parenting Booklet – NSPCC Publications
You may find this NSPCC booklet useful, especially for our younger children. There may be some tips and hints which you could use during this difficult time. You may like to look at other publications on their website.
Help your child to sleep
This booklet may help you to support your child develop a regular sleep pattern.
Recommended Department for Education Resources
Story time with Nick
Website: https://www.youtube.com/playlist?list=PLDe74j1F52zQ51fqNpKV07E71knNl8HFn
Key stages: early years foundation stage and key stage 1
Description: films of well-loved stories read by Nick Cannon, a trained actor, teacher and trainer available Monday, Wednesday and Friday at 2pm.
Registration: not required
Elevenses with the World of David Walliams
Website: https://www.worldofdavidwalliams.com/elevenses/
Key stages: key stage 2
Description: one free audio book reading is available to listen to every day.
Registration: not required
English Mastery
Website: https://www.englishmastery.org/
Key stages: key stage 1 and key stage 2
Description: downloadable resource books providing 8 weeks of activities.
Registration: not required
Love Reading 4 Kids
Website: https://www.lovereading4kids.co.uk/
Key stages: early years foundation stage to key stage 2
Description: a site with recommended booklists, categorised by age range and topic, covering fiction and non-fiction.
Registration: not required
Nrich
Website: https://nrich.maths.org/
Key stages: early years foundation stage to key stage 2
Description: a range of activities. Some are interactive and some are to be completed offline. Activities are categorised by age range.
Registration: not required
Numberblocks
Website: https://www.bbc.co.uk/cbeebies/grownups/help-your-child-with-maths
Key stages: early years foundation stage and key stage 1
Description: videos for numeracy development designed for children aged 0 to 6. There are fun activities that can be applied to everyday life and play.
Registration: not required
Top Marks
Website: https://www.topmarks.co.uk/maths-games
Key stages: early years foundation stage, key stage 1 and key stage 2
Description: a range of interactive maths games categorised by age group.
Registration: not required
SEND APPS and Games
HelpKidzLearn
Description: a collection of games and resources designed for a range of educational needs and stages.
https://www.helpkidzlearn.com/
Sensory App House Ltd
Website: https://www.sensoryapphouse.com/
Description: a range of apps are available for pupils with Profound and Multiple Learning Difficulties (PMLD) or Severe Learning Difficulties (SLD). All are interactive and many do not require significant coordination abilities.
How to help your child learn at home
Below is some helpful advice from our Educational Psychologist in helping your child develop their thinking-metacognition.
Many parents will currently be taking on the role of 'teacher' in their household as the vast majority of children are learning from home. There is an understandable level of anxiety out there around the notion of doing it 'right' and many parents may feel as though they do not have the skills to teach their children effectively.
However; parents can ask their child questions about what they are thinking. Get them to think about their thinking which will help them become independent learners. We can promote this by encouragement, praise and questioning.
Below is a short list of ways to do this as a primer in metacognition for parents becoming first time teachers. It's about building their learning capacity. That is, asking these questions will take more time, and our children won't necessarily make the most progress day 1, but it will give them the foundations to accelerate their learning over time. So, don't worry about 'getting through' the work, as the skills they build from these approaches will help them much more in the future than completing any worksheet could.
What general things can we do, to promote metacognition?
Planning: encourage the child to plan; 'No one plans to fail, they only fail to plan.'
Regulation – decreasing impulsivity by encouraging children to slow down, stop and think.
Self-monitoring – getting the child to check their answers.
Growth Mindset – ensuring we promote the idea that the child can always improve at something, even if they find it very challenging initially, ensures they do not close themselves off to the idea of analysing and learning from mistakes in order to develop understanding.
Verbalisation – getting the child to talk their way through problems. This shows them where they are going wrong and encourages regulation.
Praise and encouragement – giving feedback to the child about exactly what they are doing right and why

It is good that they are doing it. It is also prudent to praise effort so that children understand that trying hard is success in and of itself.

Scaffolding – helping the child to do a slightly harder task each time without them feeling overwhelmed or discouraged.
Highlighting change – pointing out to the child new skills they have learned or the improvements they have made over time.
Metacognition Questioning Tips & Examples
Promoting metacognition when starting a task
What do you have to do here? Where will you start? What will you do next?
How is this similar to something you already know/have done?
What do you know about this already?
What do you expect to find out?
Is there another way you could do this?
What does finished look like?
Promoting metacognition during a task
Process questions (these help children to pay attention to their own thinking). Yes, tell me what you did?
Bridging (this helps the child to make links between their previous experience and the current task). How is this similar to something you already know/have done?
Challenging or asking for justification. This helps the child to take responsibility for their learning and not rely on the teacher to tell them that they are right. Challenging a correct answer helps children to learn that a challenge doesn't always mean that their answer is wrong (for example 'Are you sure that's right?', 'How did you know?').
Promoting metacognition when finishing a task
Is your answer right? Do you need to change it? Do you need to add more?
What have you learned?
Did you understand everything? Do you need to ask a question?
What did you like and dislike about the task?
What did you find easy/difficult?