Liverpool Counts Quality Mark
OLI has achieved a Silver Award for the Liverpool Counts Maths Quality Mark at a special celebration event, held at the Museum of Liverpool. Harriet, James, Katie and Ethan (Year 6) represented the school in collecting our award.
Well done to all our amazing pupils, parents, staff and governors for achieving this award for our school!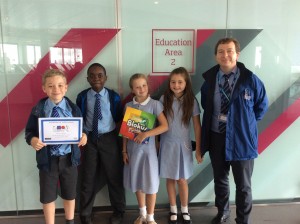 20th May 2016
We look forward to our Liverpool Counts Quality Mark accreditation visit on Wednesday 25th May 2016. This will be a great opportunity to showcase all of the brilliant maths work we do in our school.
17th May 2016
Children from key stage 2 have been enjoying a maths lunchtime club, playing fun games and applying mathematical skills. It runs from 12.30 – 1pm on Tuesdays and Thursdays in Mrs Coulson's classroom.
24th February 2016
Well done to our school winner of the Liverpool Counts Quality Mark logo design: Harriet Guy, Year 5.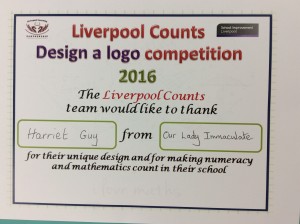 25th November 2015
As part of the quality mark, our pupils will be involved in the development and design of the 'Liverpool Counts Quality Mark' logo. Good luck to all of our pupils, let's hope one of our entries is the winner!