OLI School Councillors are also Digital Leaders.
Our Lady Immaculate has a very successful team of Digital Leaders who are also School Councillors. The Digital Leaders are selected from each class and are there to support both pupils and staff with technical issues, questions or queries. All the children know who The Digital Leaders are and we regular meet to update ourselves with current practices and new technology. We advise our fellow pupils on matters connected to the Internet and Internet Safety.
Year 5 – In preparation for the children using a Microsoft Word document to type up and set up a Newspaper article, they were given the task to create a dream home using shapes.
The practiced their mouse skills and knowledge of how to insert images, shapes and text within a shape box. They learnt how to organise and wrap shapes within text and change font and size.
Year 4 
The children used the Macbooks to research the facts about spiders. With this research they are able to write a non chronological report. The children then described their findings they researched on film.
April 2019
We visited the jungle this morning using our VRG's during our ICT lesson with Mr Moffat. Children spoke excitedly about the experience following the activity.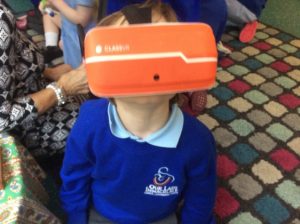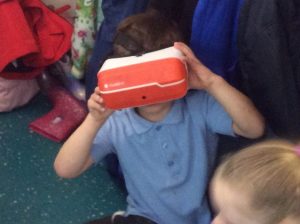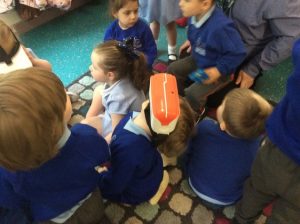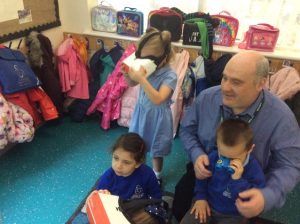 Fe Fi Fo Fum! The nursery children @OliPrimary went on an adventure to meet the giant in Jack and the Beanstalk! @DoInkTweets @OLIMrsB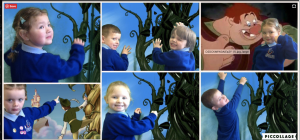 Computing in Year 6 Researching the internet to answer questions on Anne Frank.
We used google and safari to research fact about Ann Frank. We were to answer the questions and learn interesting facts about Anne Frank and her diary and life in Amsterdam.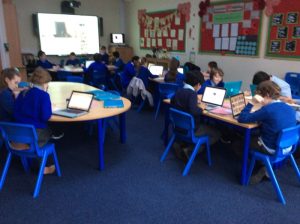 Year 5 used cospaces to create their own virtual reality of a rainforest. They used their understanding of the ecosystem of a rainforest from their science topic of animals including humans as well as their understanding of a rainforests layout from their geography topic.
Coding with Minecraft ; using turns, repeat and loops.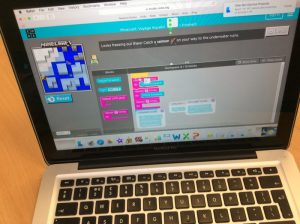 Today Year 3 / 4 used a variety of software programmes to construct an ancient Greek temple. One group used sketch up to architecturally design a temple using the features of Greek architecture. They could recognise doric and ionic columns, a frieze and what temples were made of.
A different group were asked to create a fact sheet about Ancient Greece using Purple mash to create a brochure with exciting facts on. They were able to use Google to research their brochure.
Another group used a paper based template to create a Greek Temple and used the MacBooks and Google to research what these temples looked like. They then used these facts to label their drawings.
Miss Hughe's class create a class blog whilst learning about internet safety.
Children understand what makes a good password for use on the Internet.  The children are beginning to realise the outcomes of not keeping passwords safe. The children  contributed to a concept map of all the different ways they know that the Internet can help us to communicate. We all then contributed to a class blog (2Blog) about Purple Mash and Internet use.
Nursery: Oliver and Jack work together to play phonic games on the iPad. Oliver finds the correct sounds to make the word 'ant'.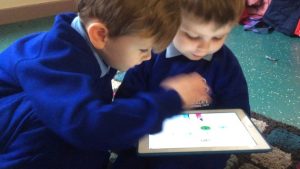 BBC Live Lesson with Year 6
Today Chris Evans launched the 2018 500 word story competition via live link. We all logged on to watch the live lesson and planned our stories. The children can then write their own stories during their own time and they will be entered into the competition.
Year 6 talked about fake news. We researched what is is and why it has a huge focus in todays media. We learnt about how fake news can escalate and how we can recognise fake news. We used mind friendly learning techniques to test each other to see if the piece of news we had was fake or real. We used how jargon is used in media to enhance fake news to make it more believable.
Today Mr Garth's class used Scratch to create games. They were able to give instructions to make the game move in different directions and use new characters. They were able to change the background to the game and save their work.
Year 5 Mr Garth's class. We talked about what algorithms are. We wrote our pre-lesson ideas on post it notes and decided we would check the answers on the post its at the end of the lesson to see if we were correct. The children were challenged to guide me across the room using only a few given instructions. MFL: The children were then asked to work in pairs to guide their partner across the room using only certain instructions. Activity: The children had to write a program for opening a jam jar… using only certain commands.
DID it work? Try it on a partner to see if it is correct, if it isn't how can we correct it? Introduce the word DEBUG.
The children were then asked to come up with their own algorithm to help us achieve something.
Ks2 were invited on a trip to Liverpool College to showcase their Digital Media Suite. They were able to experience augmented reality, Iron Man suits, Pepper the Robot, Digital Art and Graphic package. The students at Liverpool College showed the children their impressive suite of ICT .
Today we were invited to Liverpool College to experience digital learning. We were able to use the desktop publishing suite, augmented reality goggles, "iron man suit" and also talk to pepper the Robot. The children all learned invaluable tips and advice in using digital technology and will bring back their learning into school to share with their peers.
ICT Monitors trip to the Apple shop in Liverpool One.
KS1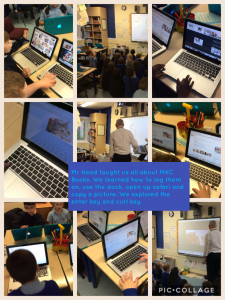 ICT Club build their own computer:
KS1 use Scratch to learn how to code:
Luciana Berger MP visits our school and we hold our own question time about Internet Safety.
We held a question time in the Media Suite and asked a variety of questions :
Luke asked : "What technology does Parliament have?"
Oliver asked: "How does technology help you with your work?"
Carrar asked: "How does the development of technology support our health?"
E-Safety Assemblies
Watch the clips below to see some of the Y3 assembly!
Tom introduces the E-Safety assembly
Ayman shows us where to report inappropriate behaviour through our website
A message from Jurgen Klopp? Is it really him?