June 2019 Trip to the Houses of Parliament.
Today the School Council caught an early train and set off for London and the Houses of Parliament. We met our local MP Dan Carden and were given a guided tour of the Palace of Westminster. We hopped on the tube to Westminster and hopped off to pay tribute to the statue of Emily Pankhurst who devoted her life to the emancipation  of women. We visited Horse Guards Parade and enjoyed our sandwiches in the park. We even met Bishop Tom on the train!  Enjoy our photos! We had a really amazing day.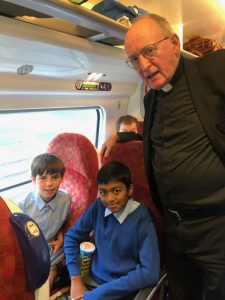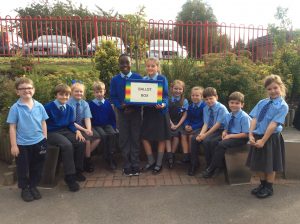 School Council Biographies
To be updated following this years elections
Luciana Berger (MP) Visit to School: January 2017
The children were very excited to meet Labour MP for Wavertree, Luciana Berger, when she visited school for a meeting with the school council and the e-cadets.
Luciana stayed for most of the afternoon and talked candidly about her experiences in parliament, helping others, being an MP AND an expectant Mum – oh and Brexit!
She also spoke in depth to the e-cadets about internet safety and her own personal experiences of internet trolling and anti-semitic abuse she has previously experienced.
It was a very valuable meeting for all children involved and we were grateful to Mrs Berger for giving up her time to talk to us about the fascinating world of politics.
Also, a big thank you to Mrs Bowcock for arranging the visit.
Merseytravel Project: January 2017
Chris O'Brien from the Merseytravel education team visited the school council recently to discuss how they can support our pupils, especially those in year six, in finding more sustainable ways of travelling to and from school.
She explained that we were entitled to bid for a £500.00 Ambassadors grant to help us encourage others in school to look at cleaner ways to travel.
She also offered a series of interactive transition sessions for pupils in year six, to give advice about safe travel, how to find out information about bus routes and tickets and what's available for those that might want to cycle to school. These sessions will take place after SAT's in May.
The council are currently putting their ideas together to launch the £500.00 bid.
Establishing a house/house points system in school: January 2017
The school council have been discussing the possibility of introducing a (High school) house system, to support good behaviour at our school and to reward pupils for examples of good behaviour, good manners and any other positive things that are identified by all adults around school.
The initial feeling around the idea was very positive, although most of the councillors had never heard of such a system.
We shared our own experiences of a house system and the children did some personal research in this area.
Another primary school in Liverpool have used the system for some time and contact was made. This has resulted in our school council receiving an invitation to visit and find out more about their school house system and whether it could work in our school.
Analysis of marking – pupil voice: November 2016 – January 2017
The school council did an excellent job when asked to work alongside the SLT to examine the way teachers currently mark pupil's work in books.
They spent a considerable amount of time developing a pupil questionnaire, and coordinated the distribution, completion and collection.
After some extensive analysis of the questionnaires, the school ambassadors produced a detailed report which outlined whole school pupil voice on teachers marking.
Pupil Marking Survey Results Jan 2017
Representatives from the school council delivered the findings to all teachers & support staff at a recent staff meeting, and staff have now taken the views of the pupils into consideration when marking work in books.
The school council have generously allowed Mrs Sergeant to share their research documents with some local schools.
This piece of valuable work by the children will feed into Mr Cotton's review of the school marking policy.
Upper Key Stage Two Playground furniture: November 2016
The school council recently held a debate to examine the current playground areas, with the upper key stage two yard a particular interest. It was quite unanimous that children feel it is being under-utilised and the suggestion was made that the 'furniture' installed could be removed, allowing for a 'blank canvas.'
School councillors then sought the opinion of their peers, with some excellent ideas for future development.