This term in year 6 we have been learning all about place value of numbers up to 10 million.
Year 5 using place value counters to explore the value of 6 digit numbers.
As part of their Ancient Egyptian topic, year 5 have designed and created 3D sculptures of Egyptian Gods and Goddesses.
Year 5 used their orienteering and map skills to navigate their way around the school grounds in search of Ancient Egyptian artefacts.
Year 6 children have explored different oil pastel techniques whilst creating lizards. Our class novel- Holes by Louis Sachar has been a great success and the lizards created will form the basis for our non- chronological report writing about a fictional creature.
Children have been enjoying learning how to use their bodies for percussion during music sessions. Year 5 have also been learning how to create music using the djembes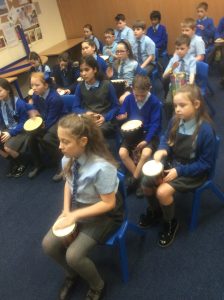 Year 5 have been investigating items which are soluble and insoluble and recorded their findings
Year 5 Bonfire Night artwork using chalk pastels
Year 5 playing dodge ball with our PE coaches and our tournament winners
The theme for Anti-Bullying week 2020 is 'United Against Bullying'. Year 5 and 6 have each created a jigsaw puzzle piece showing what they will do to stand up and unite against bullying.
Year 5 are taking some time out of their busy day to enjoy a mindfulness session to support their mental health and wellbeing.
Year 6 have been working together to edit their writing of a storm description linked to their new class novel Outlaw by Michael Morpurgo. As part of their editing they have been using thesauruses to improve their word choice and broaden their vocabulary.
Year 6 children have enjoyed their science topic about evolution and inheritance. They carried out an investigation linked to Charles Darwin's research on finches in the Galapagos Island.
What fun year 6 had creating Christmas cards for their families using a watercolour wash background and silhouettes linked to Christmas.
Year 6 PE warm up before taking part in a game of bench ball.
Year 5 using different apparatus in gymnastics.
Christmas time in UKS2- making giant paper chains, Christmas quizzes and games, Christmas jumper and dinner day and arts and crafts.