What a great start to the new school year we have had in year 3 and 4.
Year 3 have been getting to know their new class mates, including getting to know our class pet Tim Turtle. We have worked together to learn our school and class code of conduct.
Investigating parts of plants through observation. Children looked at a range of different plants to see if they could identify roots, leaves, petals and the stem. We then explored what jobs these parts of the plant have. The children learned lots of new vocabulary including nutrients, attracts, anchors and variety.
We have been having lots of fun while learning how to play dodgeball. We have used the outdoor space to warm up our bodies ready to play. The children are enjoying learning the rules while improving their throwing, catching and aim.
Reading is a fun in year 3 and 4! Children have already been sharing stories during reading for pleasure time and linked their literacy work to what they have read. Daily story time is also very popular.
Children have continued their science topic by investigating how water is transported in plants. They observed celery over time to see if anything happened to it when placed into blue coloured water.
Celebrating our improved attendance in year 3 and 4 with some bingo fun!
Ahead of Judaism week in school, year 3 and 4 took part in a virtual visit from a Rabbi which linked to our year group topic. Year 3 learned about the Synagogue and year 4 explored the Torah and Bar/Bat Mitzvah.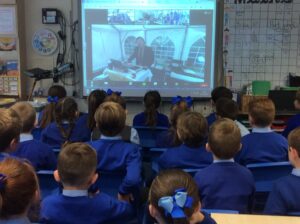 Year 3 have been using their sketch books to look at the Liverpool artist Ian Fennelly. They have used their creative side to discuss their likes, dislikes and feelings in response to his urban sketching of our Liverpool landmarks.
Maths- counting in 4's, 8's and 50's
Working collaboratively to create a timeline for our History topic- Dr Duncan. Children read about key events and plotted their timeline in 10 year intervals.