Autumn 1
What a great start to the new school year we have had in year 3 and 4.
Year 3 have been getting to know their new class mates, including getting to know our class pet Tim Turtle. We have worked together to learn our school and class code of conduct.
Investigating parts of plants through observation. Children looked at a range of different plants to see if they could identify roots, leaves, petals and the stem. We then explored what jobs these parts of the plant have. The children learned lots of new vocabulary including nutrients, attracts, anchors and variety.
We have been having lots of fun while learning how to play dodgeball. We have used the outdoor space to warm up our bodies ready to play. The children are enjoying learning the rules while improving their throwing, catching and aim.
Reading is a fun in year 3 and 4! Children have already been sharing stories during reading for pleasure time and linked their literacy work to what they have read. Daily story time is also very popular.
Children have continued their science topic by investigating how water is transported in plants. They observed celery over time to see if anything happened to it when placed into blue coloured water.
Celebrating our improved attendance in year 3 and 4 with some bingo fun!
Ahead of Judaism week in school, year 3 and 4 took part in a virtual visit from a Rabbi which linked to our year group topic. Year 3 learned about the Synagogue and year 4 explored the Torah and Bar/Bat Mitzvah.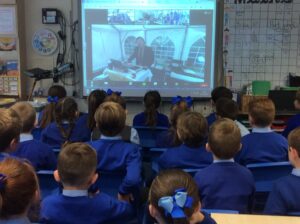 Year 3 have been using their sketch books to look at the Liverpool artist Ian Fennelly. They have used their creative side to discuss their likes, dislikes and feelings in response to his urban sketching of our Liverpool landmarks.
Maths- counting in 4's, 8's and 50's
Working collaboratively to create a timeline for our History topic- Dr Duncan. Children read about key events and plotted their timeline in 10 year intervals.
Autumn 2
Year 3 have started their new class novel- Coming to England by Floella Benjamin. They have used inference to talk about the characters thoughts, feelings and motives.
Year 3 and 4 have created beautiful poppies as part of Remembrance day.
Dance with the LSSP coach. Year 3 are enjoying learning about different ways to move and travel. They are even starting to create their own routine.
Anti-bullying week- This year's theme is 'One Kind Word', We enjoyed making kindness flowers for our friends. We also explored the Disney Pixar short film call 'For the Birds'. The children talked about and worked as a group to say what they would do to stop things such as unkindness in our school.
In geography this term, year 3 are exploring North America. Through the use of digital maps and atlases, they will improve their locational knowledge of North America and be able to name and locate key countries. They will also look at physical and human features and use New York as a comparison to Liverpool.
Mindfulness sessions with Mrs Beattie is always a highlight of our week in year 3. A chance for us to pause and take a breath in Paws B
Finishing our topic on plants by recreating a model of pollination. The children covered one child in 'pollen' and waited as the three 'bumble bees' landed on the flowers and moved the pollen from one flower to the other. Always fun taking our practical science outside.
What a great way to bring the autumn term to an end. Year 3 and 4 have prepared their videos for our families, made decorations to hang on their trees, designed their own Christmas advent wreath and made cards for their families. We hope our families enjoy everything the children have made for you.