We have a had a wonderful first half term in KS1. The children have settled in brilliantly and have adapted to our new rules and routines with ease.
Year 1 have been using their independence skills to explore the continuous provision each day which has supported enhancing their skills within team work, vocabulary and resilience. The children have took to our Maths No Problem sessions like professionals, using brilliant maths vocabulary and sharing their knowledge to discuss and solve problems.
It has been fantastic to see such enthusiasm for reading and writing, especially with the current book 'The Three Little Pigs'.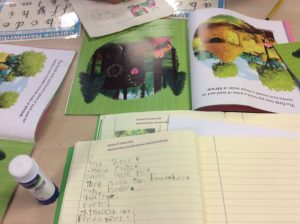 Year 2 have been exploring the story 'The Bog Baby', creating wonderful pieces of writing related to the characters and the setting. Using the brilliant description they came up with we all got a chance to make our own Bog Babies too, which was very exciting! The maturity and attitude to reading and writing has blown all the teachers away!
When our Bog Babies went missing the children had to follow directions and create maps to find them. This supported children using their communication and team work skills which was fabulous to see.