Come and meet our Chaplaincy Group for 2019-2020
They have already been very busy this year. They helped to plan Mr Southworth's Retirement Mass, Advent and Christmas celebrations and Bishop Tom's visit to school.
Bishop Tom came to visit school on Thursday 16th January 2020.
The Chaplaincy Group prepared the whole school Mass and read the readings and Bidding Prayers. Bishop Tom later had lunch with the Chaplaincy Group and the School Ambassadors.
They later helped to plant a tree in the grounds of our newly established Hub. We had a lovely day together.
Congratulations!
Our Year 6 Chaplaincy Group Members received their Faith in Action Award last Summer 2019.
They were delighted to have this acknowledgement before they left us to begin their secondary phase of their education. We wish them well as they continue to follow their Faith Journeys.
Our New Chaplaincy Group is already up and running this term. before half term they helped to plan and prepare our Farewell Mass for Mr Southworth who retired at the end of the summer 2019.
We wish him a well earned rest and every success and happiness in his retirement.
Chaplaincy at OLI
We have an active Chaplaincy Group in school that enhance our prayer life, Collective Worship and whole school Liturgical Celebrations. The group comprises of children from across Key Stage 2. They have been instrumental in the innovation, creation and maintenance of our Prayer Garden.
The Prayer Garden is regularly used by all classes from across the school. It has enhanced our Religious Education provision and has become a well- loved resource for our school community to reflect and have quiet times. It is a quiet and reflective place which is often used during playtime and lunchtimes.
Our Chaplaincy Group greatly contribute to the Catholic life and ethos of our whole school community and include children from Year 3 to Year 6.
The children help to create a happy, prayerful and spiritual environment, in which we as a family continue to love, grow and learn together in faith.
"Together, we celebrate our successes and are there for our friends and our families when they need us." Year 6 pupil
The Chaplaincy Group help to promote the teachings of Christ in a relevant and meaningful way by helping to prepare liturgy and by participating and leading the prayer-life of our school; through whole school assemblies, Collective Worship and the celebration of Mass.
The children are also involved in our Parish Community by supporting children who are preparing for their Celebration of the Sacraments, through "With You Always."
Mr Southworth's Retirement Mass.
Bishop Tom concelebrated this special Mass with Father Richard Ebo.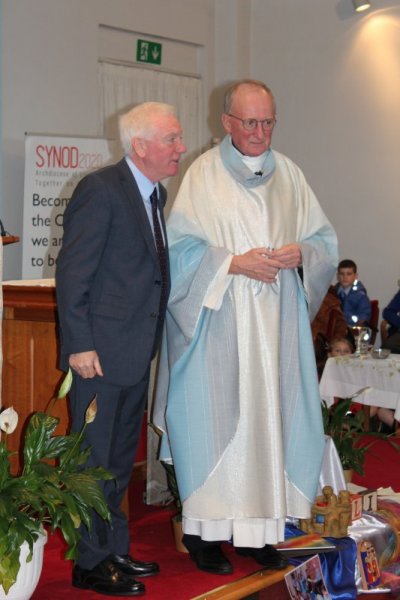 Mr Southworth said a few words of thanks to the staff, children, Governors and parents.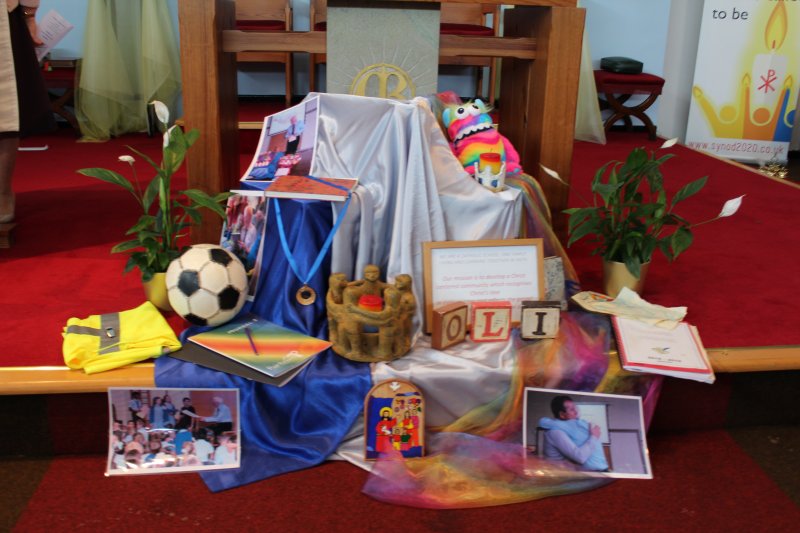 The children made a focus table of all the objects that had a significance for him.

It was lovely to see so many of our families come and wish him a happy retirement.
Please look at Our Gallery to see more photographs of this special day.