Please let Mrs Brown know if you would like to join our school Chaplaincy Group by the end of this week, Friday 22nd September 2017.
Meet our new Chaplaincy Group for 2017-2018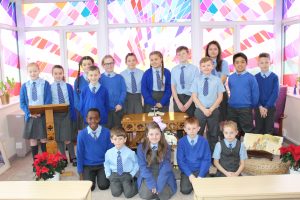 Thank you for saying that you would like to be part of the Chaplaincy Group this year. Do you know just how busy you will be?
Congratulations to the Year 6 members of our Chaplaincy Group!
This week they have been accredited with a Faith in Action Award for all the work they do in school planning, leading and delivering Worship throughout school, organising charitable works and sharing God's word through the school and parish.
They will receive their award at Lowe House, St Helens, in July.
School Feast Day 2017
Today the Chaplaincy Group helped to plan, prepare and lead through prayer our Feast Day Mass. Father Richard helped us to celebrate our Feast Day for the first time. We were delighted that members of our parish community were with us this morning.
The children read expressively with a clear voice.
Godly Play
Today we launched Godly Play on our Feast Day. Mrs Shepherd our parish catechist led us in the parable of the mustard seed.
Below are a selection of our responses in action to the questions we were asked. We all had different responses to the activity.
Next week the Chaplaincy Group will complete their activities.
Fans Supporting Food Banks
Today Mr Byrne, who is a governor of our school, joined us in assembly to collect the food, toiletries and warm clothing we have collected during Advent. All of the parcels will be distributed to children and their families who are in need.
The Chaplaincy Group and School Council have supported Miss Hughes in this appeal.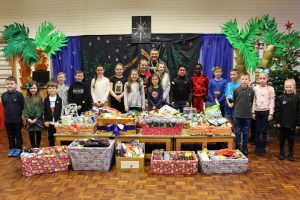 Mr Byrne was overwhelmed with the generosity shown by the children and their families. Every week there are supporters from Liverpool and Everton who collect for the food bank outside the football grounds.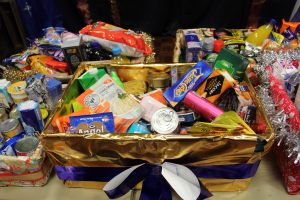 "Hunger doesn't wear club colours!"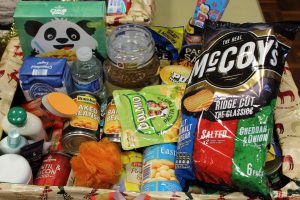 Thank you to all our children and families who have supported us in our Advent Appeal.
Thank You!
A huge thank you to our Chaplaincy Group who have helped lead our Advent and Christmas Liturgies.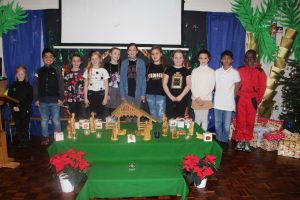 On our last day we came together as a whole school community and celebrated together the story of Christmas with a Carol Service. Mr Menzes also came along to accompany us on the piano and members of our Governors and our families also came too.